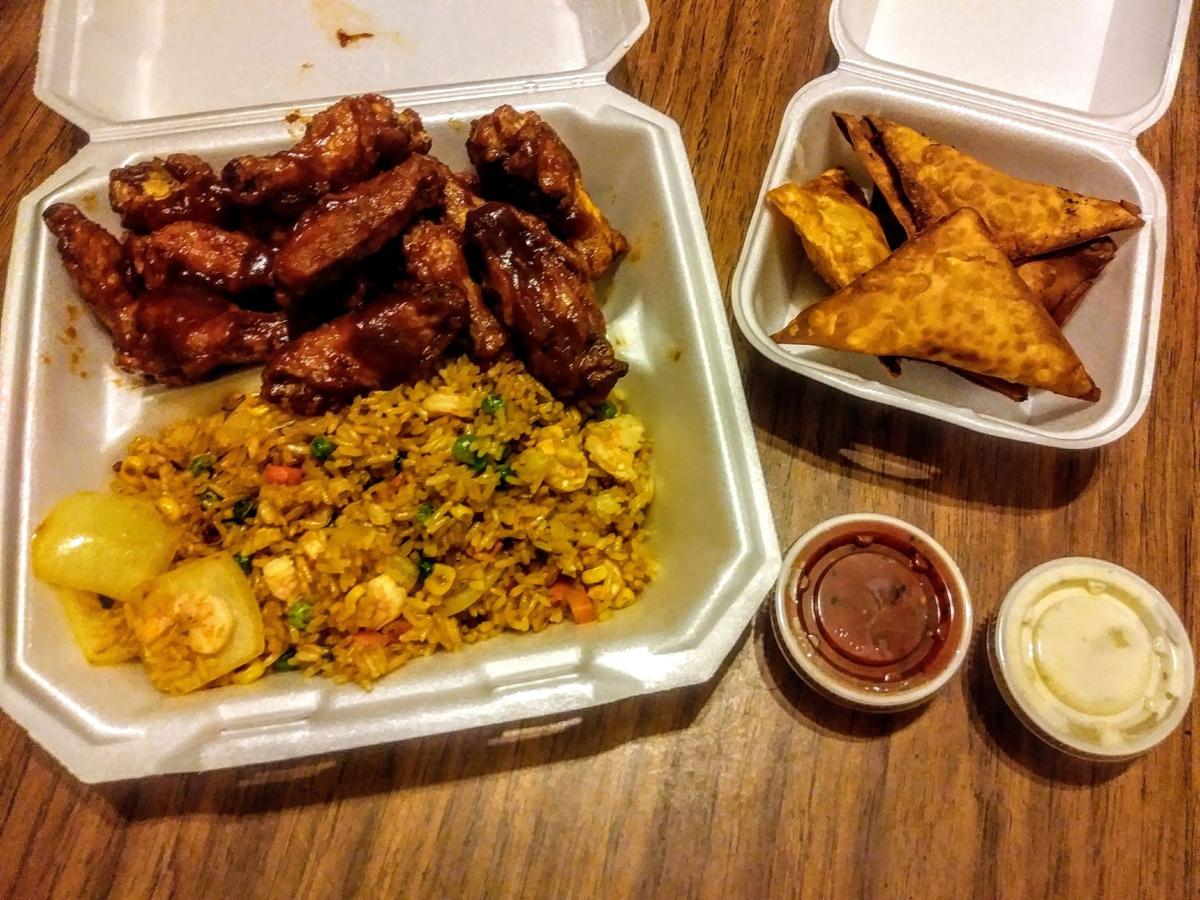 While nothing beats a fresh, home-cooked meal, or the relaxed atmosphere of going out to dinner with friends and family, some days call for a hybrid.
Tuesday was one of those days, with my work schedule putting me getting home a little too late to bother with meal prep or dining out. It was the perfect night for takeout, and the takeout I found led me to a new favorite place to eat: Wingers Sports Grill.
Located in the University Village shopping center on South College Street, the restaurant offers dine-in and carry-out of its menu items, which include wings, burgers, Philly cheesesteak sandwiches, seafood and some pretty awesome-looking appetizers. Other menu offerings include buffalo chicken fingers, butterfly shrimp, tilapia and salads.
I decided to try a variety of items, as I was sampling it for the first time. I ordered honey BBQ wings with a side of shrimp fried rice. Shrimp fried rice may sound like an odd side to pair with wings, but the tastes merged surprisingly well.
Wingers' appetizer menu contains "ultimate fries" – Cajun seasoned fries smothered in cheddar cheese and bacon bits; spicy jalapeno cheddar corn nuggets, and beer-battered mushrooms. But the one I opted to try this week is something I know I'll be craving from now on: nacho chip 'n' dippers.
These delicious little apps consist of meat and queso-filled wontons; an odd-enough combo itself, but especially not something I would expect from a wing place. One order contains six chip 'n' dippers and a cup of salsa to dip them in. I'm not sure where Wingers got the idea to blend Asian and Mexican cuisine into one delicious snack, but I sure am glad they did.
The prices at Wingers guarantee I'll be coming back. A combo special of 10 wings, fries and a drink costs $10.99, while an order of 15 wings with shrimp fried rice is $16.99. Larger orders of wings with celery sticks and ranch or blue cheese dressing can be ordered as well, including 100 wings for $68.99.
I plan on making Wingers a regular stop for me now when I order take-out, and absolutely will consider it the next time I host friends for a night in. The service was perfect, the food was great and the snackable-friendly menu offerings make Wingers a winner.
Accusations flying from Cavanaugh, Ainsworth in heated GOP runoff for lieutenant governor: Story, Page 2B.