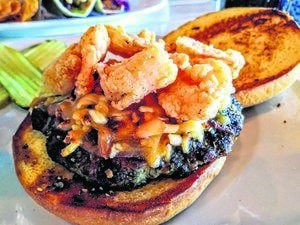 Stepping through the doors at The Blue Fin is like wading into the surf on a summer day.
The seafood restaurant, which opened in May off of Bent Creek Road, was a breath of a fresh sea breeze on my lunch break one day this week. The atmosphere in the restaurant is reflective of an upscale seafood place one might visit while on vacation, with blue tiles lining the bar, and high-top, shiplap tables, complete with a candle in the shape of a blue fin on it.
Our waiter, Chris, brought a bottle of water to the table and poured each of us a glass while we reviewed the lunch menu.
We ordered the Fin Fin Shrimp, which he said was the most popular appetizer, to start. It was fantastic. The flash fried shrimp was speckled with seeds and served on a bed of lettuce, with the restaurant's signature TBF sauce. It provided a nice little kick to begin the meal and was a pleasant tease for what was to come.
For my entrée, I ordered the BFN Burger. This surf-and-turf sandwich combines two of my favorite foods: shrimp and gourmet burgers. Over a patty cooked medium-well (my preference) was piled grilled shrimp, smoked Gouda cheese and the BFN sauce, all on a brioche bun. The burger was tender and juicy, the sauce provided a unique flavor, and the shrimp added a little something nautical to the traditional landlubber's grub.
The burger was coupled with The Blue Fin's house chips, which were light and crispy. While they were similar to house chips served at other restaurants, they didn't feel greasy. This made them very munchable and allowed me to fill up on my entrée, rather than the side dish.
While The Blue Fin has an upscale-casual feel, its prices reflect that and are accessible for a nice lunch. The Fin Fin Shrimp appetizer was $7, and the TBF Burger was $10. Other options on the lunch menu are Dauphin Street Tacos, two for $10, the Seagrove Grouper Sandwich for $14 and a variety of salads in the $8 range.
The dinner menu includes coastal treats like Maryland Crab Cakes for $24, Charleston Shrimp and Grits for $18 and Gulf Snapper with Pecan and Crab Relish for $28.
The staff was friendly, the food was on point and the atmosphere was calm and relaxing. This summer is just getting started, and I definitely plan on going back to The Blue Fin for more "coast-to-table cuisine."