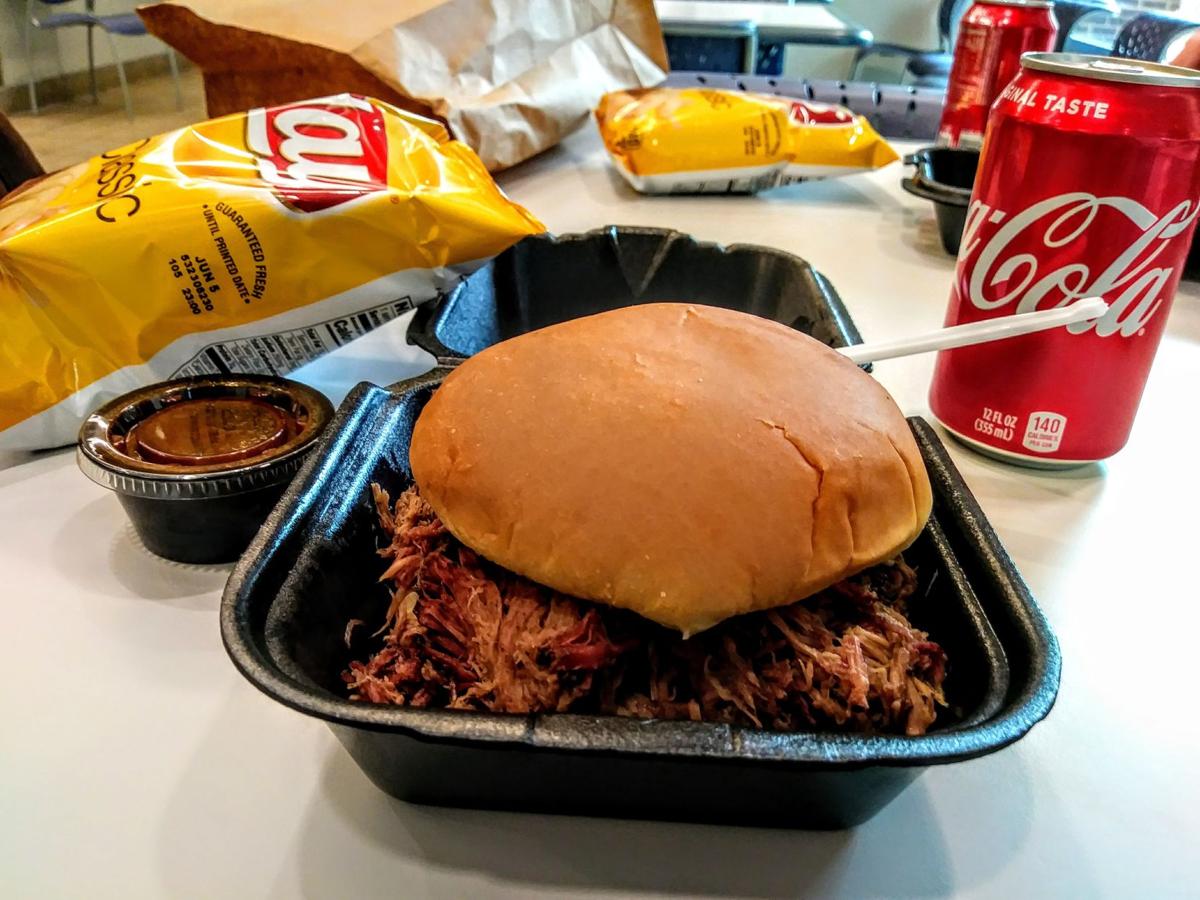 I'm not a "foodie," but I do consider myself something of a barbecue connoisseur. The smells that emanate from barbecue joints – whether big chains or hole-in-the-wall smokehouses – make my mouth water. So I was irrationally happy to discover a new place to add to my favorites list. But this barbecue joint is on wheels.
I saw a Facebook friend post about Butcher Paper BBQ, and I knew I had to try it. The food truck sets up camp in the Bubba's Medicine Shop parking lot twice a week and serves up the tenderest pulled pork I have ever tasted. Butcher Paper also is available for catering and events.
My fiancé is a barbecue enthusiast as well, so he joined me at the food truck, just outside historic downtown Opelika.
The menu was simple: sandwiches, mac and cheese, Brunswick stew and a few other smokehouse staples. We ordered two pulled pork sandwich combos, each one including a bag of potato chips and a can of soda. The menu prices were higher than I had anticipated – it cost $16 for two combos – but it was love at first bite.
The pulled pork on each sandwich was piled so high and the meat was so juicy, it was well worth the money. The truck offers bottles of sauces, including sweet barbecue sauce, spicy barbecue sauce and mustard, next to little take-out containers with lids. This allows customers to take the sauces they want to go, and add them to their sandwiches or sides.
We tried the sweet barbecue sauce. I drizzled it on my sandwich, and the flavor of the sauce paired perfectly with the flavor of the meat. Admittedly, I even dipped my potato chips in it.
I followed Butcher Paper BBQ on Facebook, so I can keep up with the special events and places it will pop up. The truck routinely is open by Bubba's Medicine Shop on Wednesdays and Fridays from 10 a.m. to 2 p.m., so I'm looking forward to spending many a springtime lunch break eating at the picnic table on the medicine shop lawn, or taking it to a park or a bench in downtown Opelika.
I can't wait to try the macaroni and cheese the next time I go to Butcher Paper BBQ. My only complaint is that there is such a limited window to enjoy the awesomeness each week. 
Accusations flying from Cavanaugh, Ainsworth in heated GOP runoff for lieutenant governor: Story, Page 2B.