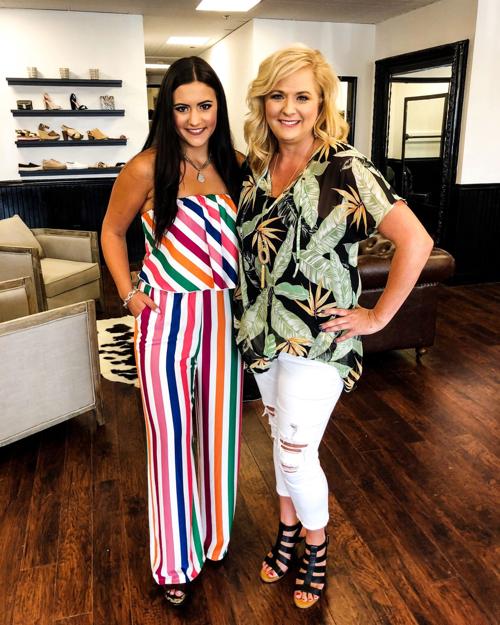 Operated by Kelsey Fuller and her mother Tanya, fab'rik Auburn is a boutique where everyone can afford to feel beautiful. Offering on-trend styles through effortless pieces and accessible prices, Fuller, the manager, wants to help create the best boutique shopping experience in the area. "The fab'rik mission is high style with heart, no attitude or sticker shock. We pride ourselves on a unique, personalized shopping experience where we aim to make every customer feel special," Fuller says.
At fab'rik Auburn, shopping is made easy and accessible—all items are priced under $100 (with the exception of designer items). They offer everything from clothing to handbags, all of which are inspired by runway looks. "Don't be afraid to look at the price tags," Fuller explains. "Our items look more expensive than they really are!"
Fuller and her staff at fab'rik Auburn wants to ensure every customer feels special. "We are always looking for ways to make our customers feel loved and special, or even just brighten their day. We aim to 'WOW' every customer who walks in the door to make them want to come back and shop with us regularly," Fuller states. One way Fuller and her staff 'WOW' their customers is through private VIP parties. These parties are held after hours and hosted by one of fab'rik Auburn's VIP customers. "The host invites 10-20 of her best girl friends to fab'rik for a night filled with beverages, personal styling tips from the fab'rik Auburn team, and 20% off all purchases," Fuller explains.
It's not just Fuller's commitment to first class customer service and fab'rik's on-trend products that allows fab'rik Auburn to stand out from other boutiques. You can book personal styling appointments to help freshen up your wardrobe with the newest trends, perfect for the modern woman who loves fashion but doesn't have time to stay up to date with the latest trends.
Dana Spinola, owner and CEO of fab'rik, opened the first fab'rik store in Atlanta in 2002. By 2006, she franchised the brand throughout the Southeast, and the fab'rik brand continues to grow nationally today. Over 40 fab'rik boutiques have opened across the U.S., making fab'rik a leading fashion franchise.
As much as Fuller and her mother loved shopping at fab'rik, it was the company's heart for giving back that made them want to open their own fab'rik store in Auburn. The fab'rik brand has a non-profit arm called free fab'rik, which hosts shopping sprees at various shelters and organizations and allows women in need to enjoy the thrill of boutique shopping but without the pressure of price tags. Fuller hopes to help bring the reach of free fab'rik locally. "We hope to grow free fab'rik in Auburn where we can partner with local organizations to host shopping sprees for local women in need," says Fuller.
With all it has to offer, it's no wonder that fab'rik has been voted "Best Boutique" by numerous hometown publications and featured nationally in the Wall Street Journal, Women's Wear Daily, Elle Magazine, and others. Spinola was even featured in Forbes's article "Five Great American Entrepreneurs You Haven't Yet Heard Of But Should Know."
Fuller loves her job of bringing an affordable, personalized boutique shopping experience to her customers. In fact, it doesn't feel like a job to her. 'If you love what you do, you'll never work another day in your life.' This quote is what fab'rik as a brand thrives off of. We believe that through exceptional customer service and great products, we can create an atmosphere that never really feels like 'work,'" Fuller says.
Stay up-to-date on all things fab'rik Auburn by following them on Instagram (@fabrikauburn) and Facebook. You can also visit www.fabrikstyle.com to learn more about the fab'rik brand, or you can follow the national Instagram account (@fabrikstyle).