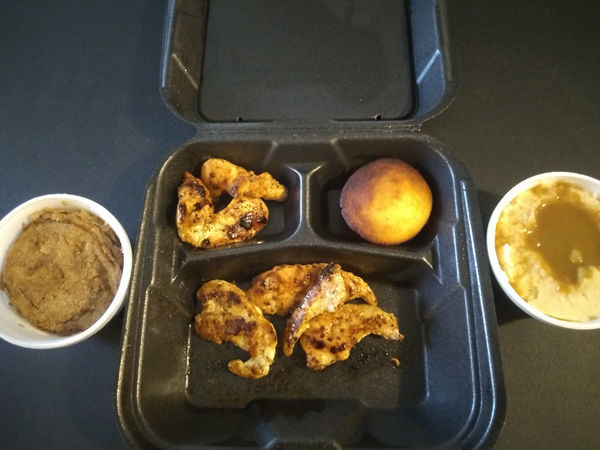 Forgive me if I sound like a broken record, but I'm all about comfort these days.
That was probably one of the factors in my restaurant choice for the food review this week — comfort food. But this time it was comfort food with kind of a twist…or at least a twist for me.
I went to Veggies To Go on Frederick Road in Opelika. The restaurant serves Southern cuisine.
When I think Southern food, fried chicken is first on the list, so when I looked at the list of meats I could order when I decided on a one-meat-two-veggies meal, my first instinct was to get the fried chicken fingers.
That's where the twist comes in. I ordered the grilled fingers instead.
It may not seem like much of a twist to you, but I normally would have gone for the fried fingers. I just prefer it.
The sides were quintessentially comfort, too — mashed potatoes and gravy and fried green tomatoes.
The verdict: Veggies To Go was a good choice. The chicken was really nice. It had a good seasoning, and I didn't regret not going for fried chicken. I was particularly impressed with the mashed potatoes and gravy. They tasted liked the ones you would get from your grandmother's kitchen.
And if you have read me at any length, you know fried green tomatoes are one of my all-time favorites. One look at the list of vegetables, and I knew I was getting those, and they didn't disappoint.
Veggies To Go has a number of meats and vegetables on its menu, as well as different types of plates, such as meat and three veggies or a four-veggie plate. It also has specials.
If Southern comfort food is what you're craving, Veggies To Go is worth checking out.