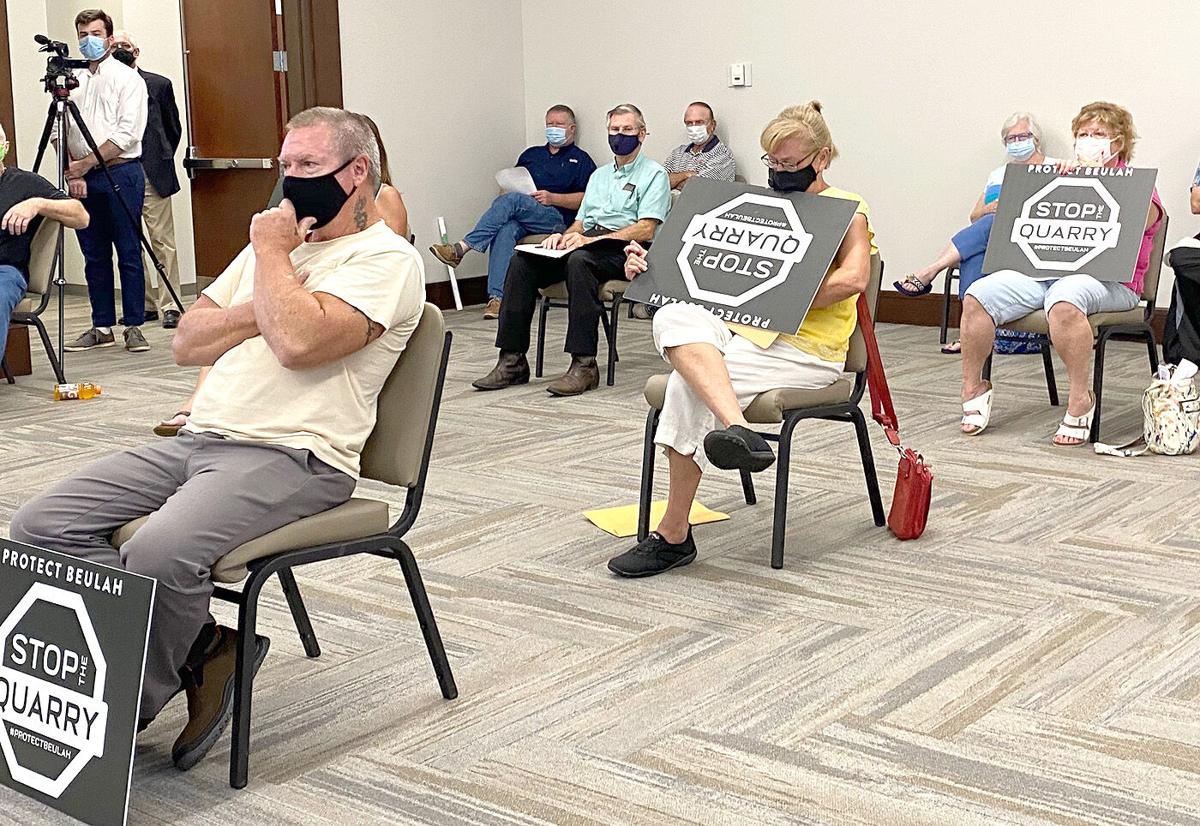 The Lee County Commission is expected to jump back into the fight Monday over a proposed granite quarry near Beulah in Beat 13.
The Lee County Planning Commission vetted a zoning ordinance last week that would exclude heavy industrial and mining uses for land in Beat 13. The recommended zoning language was sent to county commissioners, who can approve or reject it when they meet Monday at 5 p.m. at the Lee County Courthouse in Opelika.
Beat 13 voted overwhelmingly for zoning in a special election last week. The planning commission met the next night to consider a zoning ordinance drawn up by Jim Lehe, the Birmingham consultant hired to help the planning commission get going.
The ordinance would divide Beat 13 into RC Rural Center and RU Rural Use districts:
• RC would include the retail and other light commercial activity along U.S. 29 in the precinct, as well as farming and residential, according to Section 3.7 (a) of the ordinance;
• RU would include farming, seasonal retail activity, some light commercial, residential and forestry uses, according to Section 3.8 (1, 2);
Section 1.6 (b) explains the general purpose of the ordinance:
"The Master Plan, along with these Zoning Regulations share the general purpose of guiding and accomplishing a coordinated, adjusted harmonious development of Lee County, which will, in accordance with present and future needs, best promote health, safety, morals, order, convenience, prosperity, and general welfare, as well as efficiency and economy in the process of development, and promote safety from fire, flood, and other dangers, the healthful and convenient distribution of population, and the wise and efficient expenditure of public funds."
The planning commission will also form a zoning appeals board, as required by state law. 
The zoning move may be Lee County's last, best chance to keep CreekWood from opening its granite quarry on U.S. 29 near Bean's Mill.
Alabama Department of Environmental Management (ADEM) hosted a public hearing Thursday in Opelika's Municipal Court. Hearing officers Ange Boatwright and Pam Hunt acknowledged that CreekWood is likely to get the water (the NPDES Permit No. AL0084191) and air (206-0051-X001) emissions permits because its plans conform to state and federal requirements.
"The department understands that there are concerns surrounding the location of the facility and its proximity to Lake Harding and a residential subdivision. However, ADEM does not exercise zoning authority and may only consider comments relating to water quality in its final permitting decision," Boatwright conceded.
"ADEM's authority regarding mining operations is limited to the regulation of the discharges of treated effluent. The Department does not have the authority to regulate the mining activity itself," Boatwright conceded.
"The wet suppression systems that have been proposed for installation at this facility would be capable of meeting or exceeding all federal and State (air emissions) requirements found under these regulations," Hunt said. "Any dust generated from the facility's operation would be in quantities that would define the facility as a minor source under the State and federal Air Pollution Permitting Programs."
ADEM will continue taking written comments online until May 27, then make its final determination on the air and water permits after that. Video of Thursday night's hearing should be posted on the department's YouTube page.
Two different lawsuits were filed to stop the Beat 13 election last week. Both attempts failed, but there could be more in the offing.
Lee County Probate Judge Bill English, who chairs the Lee County Commission, said last week that he has been dealing with three different law firms hired to help the county with its fight against the quarry.
English told the planning commission Wednesday night that he expects more legal wrangling between the county and CreekWood over the next several months.