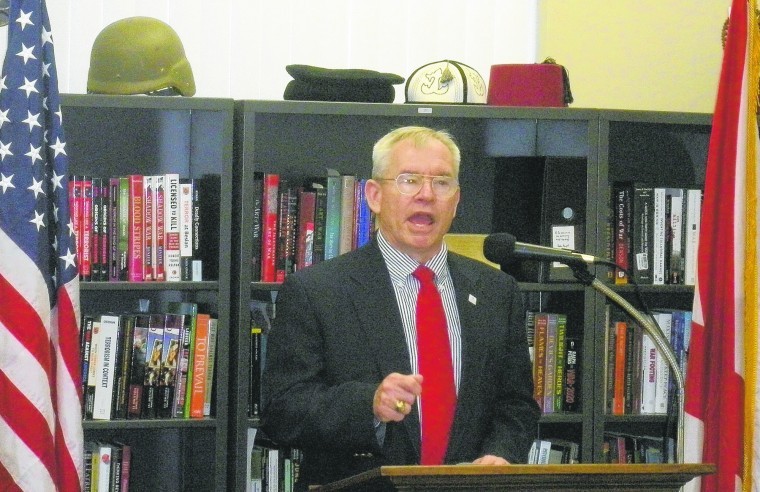 From protecting residents from the latest online phishing scams to safeguarding the nation's security online, these guys have got you covered.
Auburn University officially opened the doors to its Cyber and Security Center at the Auburn Regional Airport Wednesday, tapping retired Lt. Gen. Ronald Burgess to lead the university's cyber initiative.
"I can't tell everybody how excited I am to be here," said Burgess, former director of the U.S. Defense Intelligence Agency and AU alumnus, as he addressed an audience that filled the Cyber Center's open source intelligence lab. Burgess was officially appointed to his current position on Dec. 1.
The cyber and security center was previously housed on campus, Bob Norton, professor and faculty liaison to the AU Cyber Initiative said. Norton said the new facility should be fully functional in about a month
Larry Fillmer, AU executive director for program development, placed the university's capital investment in its cyber center at approximately $300,000.
Burgess will oversee a Cyber Analyst Program, an eight-week training program designed to prepare students for careers in the data protection industry. Students participating in the CAP training, which begins in February 2013, will possess a security clearance.
Burgess said crimes like industrial espionage conducted by foreign intelligence services and private individuals against major U.S. corporations are on the rise.
"States are not immune to this problem either," said Burgess. "New things are discovered every day that help people exploit so every time someone figures a way to exploit a protection we have, we have to figure another way to assure the protection of the university's, the state's and national information."
Earlier this year, the university's cyber initiative was endorsed by the governor and state legislature including Alabama House Speaker Mike Hubbard and Sen. Tom Whatley, both of whom were present at Wednesday's event.
"I am confident that this is going to result in jobs, economic development and security for the country and the private sector," Hubbard said.
Whatley echoed Hubbard's sentiments.
"When CEOs fly into Auburn, this is the first thing they will see and we can tell them that right here we have the cyber security initiative … and when you locate your business in East Alabama all your cyber security can be handled right here," Whatley said.
Fillmer said that in the future the cyber security center will hopefully relocate to a location within the AU Research Park.
Be the first to know
Get local news delivered to your inbox!