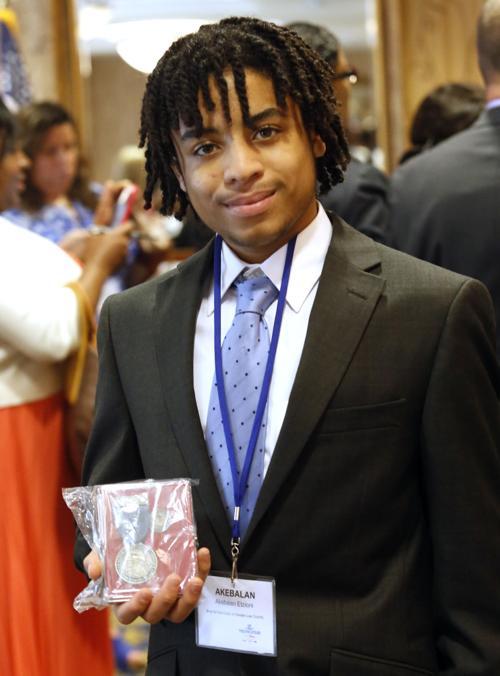 Retired Pittsburgh Steelers and former Auburn University football player Kendall Simmons stepped out from behind a podium at the Auburn University Hotel & Dixon Conference Center Friday morning to eliminate the physical barrier between himself and the roomful of ears waiting to hear him share his story.
"Podiums make me nervous," Simmons said.
Simmons was the keynote speaker at the Boys and Girls Clubs of America's State Youth of the Year awards breakfast, for which finalists from Boys and Girls Club chapters across Alabama gathered to find out who among them would go on to represent the organization on a regional level. This is the first time the awards for the club's State Youth winner have been held in Lee County.
But before one was declared a winner, Simmons talked to the young hopefuls about transitioning in life and the obstacles that can come with that transition. For him, one of those obstacles was being diagnosed with type 1 diabetes his second year in the NFL.
"I would not give it back at all because it has changed my life completely," Simmons said.
The Boys and Girls Clubs, a nationwide organization that seeks to equip young people with the skills necessary to become productive and contributing members of society, hosts a competition each year to recognize its top club members in each of its local chapters. Finalists from local chapters then go on to compete in the state competition, followed by the regional and then the National Youth of the Year competition each year in September in Washington, D.C.
"One of the positive influences you have is Boys and Girls Club," Simmons said. "I think this is special. I didn't have Boys and Girls Club growing up."
Club members who apply on the local level are judged based on leadership, service and academic success. Students must write essays and obtain recommendations from teachers and club staff before appearing before a panel of judges.
Finalists from local chapters then go to the state competition, where they go through an interview process and make three-minute speeches to judges on how the Boys and Girls Club has made an impact on their lives.
"It just celebrates young people," said Wanda Lewis, chief professional officer for the Boys and Girls Clubs of Greater Lee County. "And it brings them together. They begin to build relationships with young people, not just in their local clubs, but also just throughout the state."
Though he did not end up taking home the State Youth of the Year honor, Auburn Junior High School ninth grader Akebalan Etzioni attended the awards breakfast as the Youth of the Year finalist representing the Boys and Girls Clubs of Greater Lee County. Etzioni has been a member of the club for five years.
"At first I was really nervous about the speech and the interview, but it turns out, it's not as bad as you think," Etzioni said. "It's a lot easier."
Etzioni said the organization has helped him learn about potential colleges, allowed him to do volunteer work and has improved his grades in school.
"It feels quite an honor to be here," Etzioni said. "I know that seeing all these other youths lets me know that I'm not the only one that's being helped. The Boys and Girls Club is helping everyone, and it's bettering lives."
Lewis said that Etzioni, who excels as an artist, has created artworks as gifts for guest speakers and for silent auctions for events including the Mayor's Ball.
"He is just wonderful," Lewis said. "He's the sweetest kid, and he's such a leader in the club. The little kids, they call him Yao, and that's his middle name, but they just look for him all the time because he's so patient with the kids."
Etzioni and other local finalists each received a $1,000 scholarship, while the State Youth of the Year winner, 18-year-old Kelsie Kelley of Mobile, walked away with a $10,000 scholarship from the Beverly M. Burton Scholarship Trust and a $5,000 scholarship from Disney.
"It's definitely exciting, first of all, and I'm proud to be able to represent the state of Alabama," Kelley said. "It's an honor and a privilege, and the scholarship money is definitely going to help down the road."
Kelley, who has been a Boys and Girls Club member since she was in the second grade, plans to attend Auburn University this fall.
"It's definitely been a life-changing experience," Kelley said. "I've grown up in the club, and it's shaped me into the young woman that I am today. It's taught me dedication, compassion and innovation and how to integrate that into my daily life."
Runners-up included Anitra Haynes, Boys and Girls Clubs of the Lake Martin Area, third runner-up; Cameron Taylor, Boys and Girls Clubs of Central Alabama, second runner-up; Jacara Moore, Boys and Girls Clubs of the Wiregrass; first runner-up.
Isaiah Lewis of the Maxwell-Gunter Air Force Base Youth Program won the state's Military Youth of the Year, and will go on to compete at the regional level.