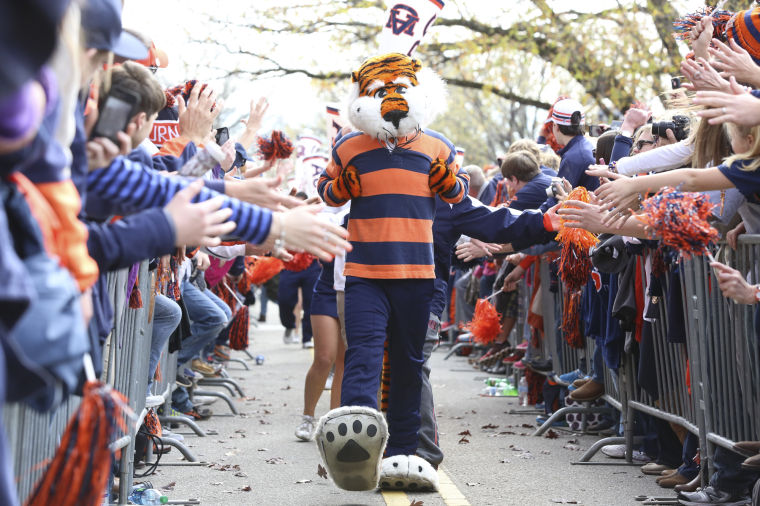 With just under nine minutes left in the fourth quarter of the 2013 Iron Bowl, a Tigers' trainer spotted a rip in defensive end LaDarius Owens' jersey. Owens peeled off the jersey, and equipment manager Dana Marquez went to work on a Viking Emerald Series 116 sewing machine.
CBS broadcasted Marquez sewing the No. 10 jersey across the country, and CBS sports reporter Tracy Wolfson tweeted a picture to her followers.
While it only took Marquez 30 seconds to repair the jersey, photos and video of him sewing have popped up across the Internet. USA Today's sports blog "The Big Lead" mentioned it in a story, and the hashtag #SewEagle appeared on Twitter.
"I've had more people call me about my sewing machine," Marquez said, laughing. "We use it at pretty much every game."
Not long after its television debut, the sewing machine had its own Twitter account, @ausewingmachine, with nearly 1,300 followers. Its tweets advocate AU Sewing Machine for Heisman and play host to a plethora of sewing puns like, "I'm not gonna let this fame get to my thread," and "A stitch in time saves 10. And by 10 I mean LaDarius Owens."
Marquez said the Tigers have four sewing machines, with each housing a different color thread. Having orange, blue, white and multifaceted machines allows Marquez to easily switch machines depending on the color of the jersey, rather than changing the bobbin.
One sewing machine even travels with the team to away games.
"We try to be proactive and prepared for anything," Marquez said.
Marquez, who does all of the alterations for the team's jerseys, said he usually hand-stitches uniforms on the sidelines. But the rip in Owens' jersey was too large to mend by hand.
"Even though I had a backup jersey right there, sometimes you get some players that are comfortable in a jersey," he said. "It worked itself out where we had some time… The timing was right… He didn't miss a play."
Marquez admitted keeping a sewing machine on the sidelines is "pretty unusual." But, for the Tigers, it's important to make the jerseys last.
"Our blue jerseys have taken a beating this year," Marquez said. "If you can sew it and alter it, that's great. Most people send it out."
He added the team will have 20 new jerseys going into circulation this week for Saturday's SEC Championship game.
While Marquez's sewing machine lit up social media, it was not the only unusual thing to appear on Auburn's sidelines.
Monday morning, Scott McElroy, Ph. D., an associate professor with the Department of Crop, Soil and Environmental Sciences at the university, met Director of Athletic Turf and Grounds Eric Kleypas on Pat Dye Field.
"I was looking at the destruction from everybody being on the field," McElroy, who is not a member of the Turf Team, said. "It looked like somebody had thrown up rocks."
But what McElroy and Kleypas had spotted were, in fact, cremated remains on the Auburn sideline at the 40-yard-line.
"There's no way to know if they're human remains or not," McElroy said. "You just don't know what it is. There's bone there. There's ash there… The turf has died."
McElroy added cremated remains destroy the turf, so Auburn's Turf Team will have to dig up the area and discard it.
"This is actually quite detrimental," he said. "… the grass won't grow in that area."
McElroy and Kleypas suspect the remains were dumped when fans rushed the field after the Tigers' last-second Iron Bowl victory.
"That seems the most probable," McElroy said. "But who knows?"
Although McElroy was unsure if cremated remains had been left on the field before, his guess is it's pretty likely.
"All Eric would say to me is, 'This is more common than you would think,'" McElroy said. "I think, if I started calling around to all the other field managers (in the SEC), I'd guess this has happened to them before."