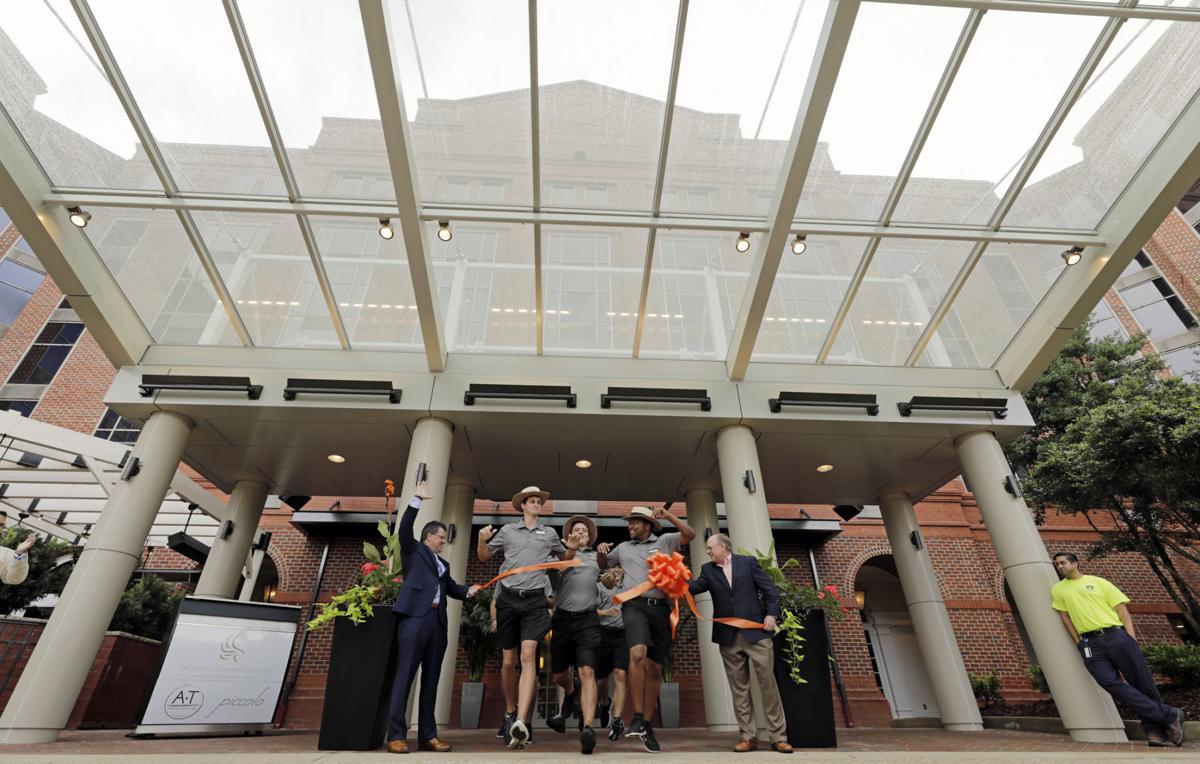 Guests at The Hotel at Auburn University and Dixon Conference Center will now be able to unload their bags shielded from the weather elements with the addition of a porte cochere at the front entrance.
Barriers, fences and construction equipment were gone on Wednesday morning in time for a ribbon-cutting ceremony for the new glass and steel awning after about five months of construction.   
"We've always been called the front door to Auburn and the front door to Auburn University, not by ourselves, but by our community and by (Auburn University President) Dr. (Jay) Gogue from the moment he arrived here 10 years ago," said Hans van der Reijden, managing director of the hotel.
"What I think you can see here today is that that front door just got enhanced quite a bit, and we hope you agree with that."
The hotel installed the awning as a step toward its goal of being recognized on AAA's Four Diamond List of hotels. Before today, according to van der Reijden, the hotel was the only one between Atlanta and Birmingham without a porte cochere.
While most porte cocheres are made of concrete with four posts, van der Reijden said he wanted to ensure the Hotel at Auburn had a different design.  The porte cochere extends from above the entrance at the hotel, covering the unloading deck with a primarily glass structure.
The design allowed the hotel to keep the roundabout filled with Japanese maple trees and allows light to flood into the lobby and under the awning. Fans and heaters were installed under the structure to regulate the temperature.
During construction, the hotel anticipated customer satisfaction to drop. However, customer satisfaction increased during the first five months of 2017, which van der Reijden attributed to the bellmen who greeted guests rain or shine under a white tent during construction.
Rather than cutting the ribbon, van der Reijden and Mayor Bill Ham held the ribbon while several bellmen ran through the ribbon after a countdown from the crowd.
Work to expand the hotel's main ballroom and add a functionality to connect both ballrooms remains underway. A temporary marquee has been constructed in the parking lot to accommodate events during construction, which is expected to finish in late November.