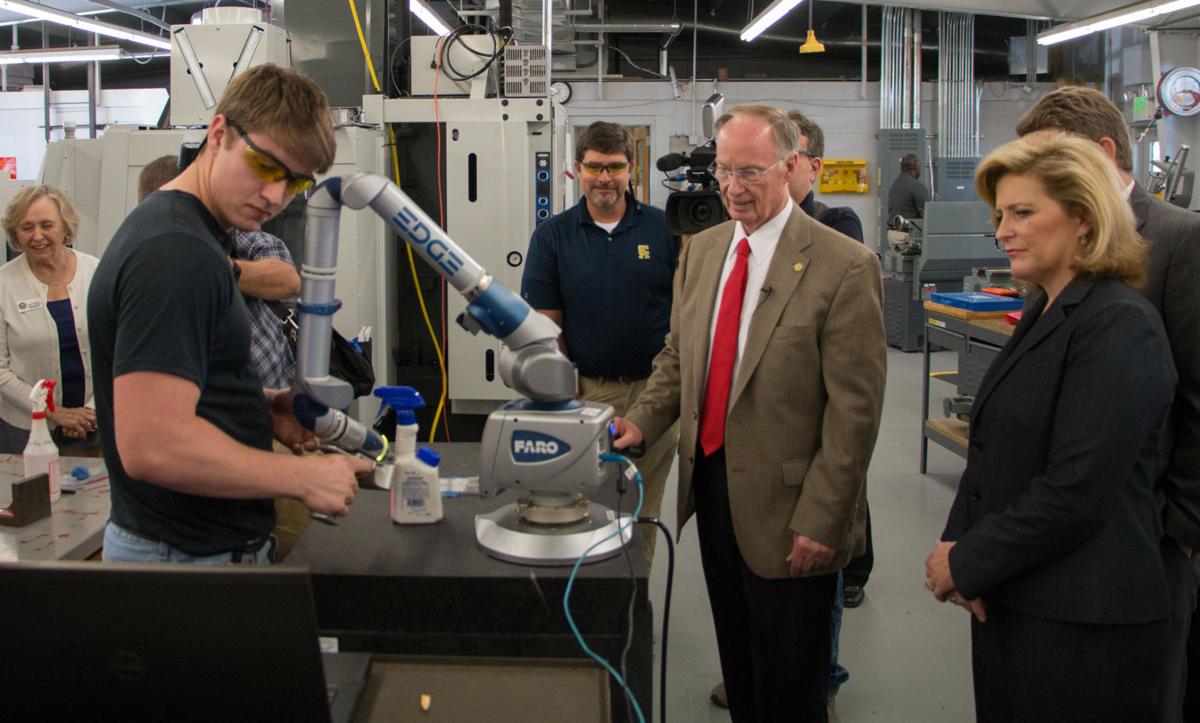 Gov. Robert Bentley visited Central Alabama Community College on Thursday to announce the college had been awarded two Appalachian Regional Commission grants totaling nearly $1 million.
The grants will allow the college to expand a classroom and purchase new equipment for students studying advanced manufacturing at its Alexander City campus.
"The community college system is extremely important in our workforce training program that we have in the state," Bentley said. "I've always said that it is the most important thing, and I truly believe that."
Susan Burrow, president of Central Alabama Community College, said the school was able to win the grants because of the support it had from state government matching funds.
The development of the advanced manufacturing course was funded by the state after firms started selecting east Alabama as a place to locate, Burrow said.
"We actually were able to leverage that through a project that congressman (Mike) Rogers brought to our attention," Burrow said. "It was to help an industry in Auburn, in the industrial park there."
The first grant is for a total of $150,000 that will go to funding new equipment to students. The second grant is for a total of $696,894 with an additional $298,669 and will go to replacing a roof and purchasing equipment for the college's Childersburg campus, according to Bentley's office.
The Appalachian Regional Commission was created by Congress in 1965 to provide grants and economic development to the Appalachian states. Thirty-seven counties in Alabama are in the Appalachian Regional Commission's area.
Bentley served as co-chair of the commission in 2012 and 2014.
Bentley toured the machine shop after the announcement where students demonstrated how they used the high-tech equipment to design and make products. The students were set to graduate in May.
"These students already have jobs," Bentley said. "…These are good high-paying jobs."