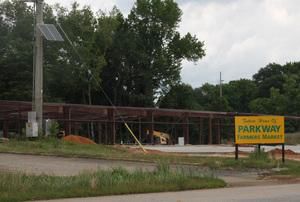 A family-owned market in Opelika will move to a new facility being built on First Avenue within sight of Gateway Drive.
Parkway Farmers Market has been serving customers at its current site on Pepperell Parkway for six years, according to owner Mitch Nix.
Nix said they started planning for the new site two years ago.
"It took about a year to find the right piece of property that we thought would work for what we needed with size and visibility," Nix said.
He said the cramped parking lot at the store's current location, along with access to busy Pepperell Parkway, have been problems.
"We've only got 25 useable parking spaces," Nix said. "At the new store, we'll have about 65 parking spaces. The second biggest issue we have here is getting in and out of the parking lot. That will be totally different, because you can pull out on First Avenue and then you can get on (U.S. Highway) 280. We lose a lot of business because a lot of our older clientele don't like pulling out where we're at now."
Nix said the new facility will have more space for food, as well.
"We'll have more room on the sales floor to carry more items, and the back room will have more room so we can keep it stocked better," Nix said.
The store carries a variety of fruits and vegetables as well as some locally made jams, jellies and relishes.
"I just hope we can provide the same service we provide now and just at a better ease for the customer," Nix said.
Nix said they hope to have the new facility open in the fall.
Daily updates are available on the market's Facebook page.