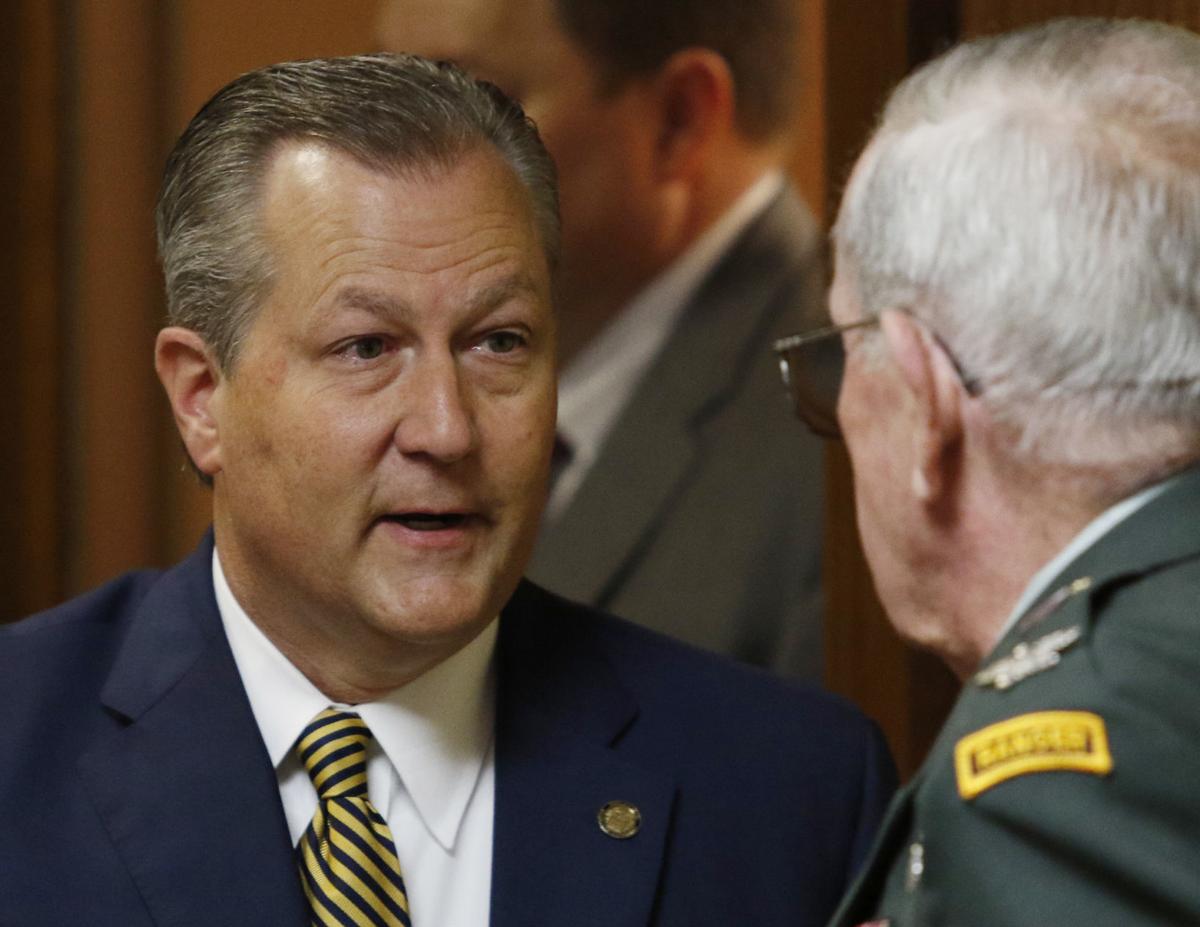 The Alabama Supreme Court upheld six ethics convictions Friday against former Alabama House Speaker Mike Hubbard of Auburn.
The court reversed conviction on five other charges.
"The court's decision reflects what we have argued from the beginning: Mike Hubbard's actions were corrupt and betrayed the public trust," Alabama Attorney General Steve Marshall said. "It is well past time for Mike Hubbard to serve the time he has so richly earned."
Hubbard was convicted in 2016 in Lee County court on 12 felony ethics charges of using his public office for personal gain, and he was sentenced Hubbard to four years in state prison and eight years on probation. In August 2018, the Court of Criminal Appeals affirmed 11 of the 12 convictions.
Hubbard appealed his charges to the Alabama Supreme Court. His appeal was heard by the court in June 2019.
He has yet to report to prison and remained free on bond as he awaited the Supreme Court's decision. No details were released on how the Supreme Court decision will affect his sentencing or if a new sentencing hearing will be required.
The high court reversed Hubbard's convictions regarding his dealings with Craftmaster, a printing company, in the majority opinion written by Chief Justice Tom Parker.
Hubbard solicited or received $150,000 investments in Craftmaster from eight investors, including Will Brooke, an executive of an asset-management firm and the then chairman of the Business Council of Alabama (the BCA).
The BCA retained lobbyists to represent its interests before the legislature, the opinion said.
Hubbard also solicited or received investments in Craftmaster from business executives who employ or retain lobbyists, which are called "principals" in the ethics law.
The state argued that Hubbard did not pay full value for the Craftmaster investments and thus received a 'thing of value' from a principal.
The court agreed with Hubbard's attorneys' argument that receiving the investments weren't crimes because Hubbard repaid the investor at 6 percent interest.
Count 23 was reversed because the high court found that Brooke was not a lobbyist merely because he worked with the BCA, which does, in fact, hire lobbyists.
The court ruled that the state failed to present evidence that the value of each investor's Craftmaster stock did not equal to full payment for the investments.
Count 23 referred to the idea of a principal and Hubbard's dealings with Brooke. The ethics law says a principal is a "person or business which employs, hires or otherwise retains a lobbyist."
Hubbard's attorneys argued that the BCA, not Brooke, was a principal and the court agreed.
"The state did not present any evidence that Brooke was the individual who employed, hired, or otherwise retained the BCA's lobbyists," the opinion reads.
Marshall added that he was disappointed with the court's interpretation of the definition of 'principal' in the ethics law.
"While I am pleased that the Supreme Court agreed that former Speaker Hubbard broke the law and will be held accountable for his abuse of power, I am also disappointed in the court's interpretation of Alabama's ethics law concerning the definition of a principal," he said. "While I can live with the court's insistence on a clearer definition of principal, going forward, that definition must also be strong."
The court affirmed Counts 6 and 10, which dealt with Hubbard's consulting contracts with Edgenuity, Inc. and American Pharmacy Cooperative Incorporated (APCI). Hubbard was paid $210,000 by Edgenuity and $95,000 from APCI from 2012 to 2014.
Hubbard argued that his contracts with the companies were not related to his position as Speaker of the House and "came within the Ethics Code's 'compensation' exclusion from the definition of 'thing of value,'" the opinion said.
The court said the state presented enough evidence to prove that the compensation exclusion did not apply to APCI's and Edgenuity's payments to Hubbard.
The court also held up Hubbard's guilt on Court 11 of the original conviction. Capitol Cups owner Robert Abrams, who owned several Lee County businesses, hired Hubbard because "he had ideas about companies that might be interested in Capitol Cups' products."
Hubbard and Abrams signed a consulting contract, under which Capitol Cups would pay Auburn Network $10,000 per month. Hubbard ultimately received $220,000 from Capitol Cups between 2012 and 2014.
As part of his consulting work, Hubbard emailed Publix Super Markets Inc. ("Publix"), to see if they would meet with Capitol Cups, which he called "a company here in Auburn (my district)" "that employs several hundred people." Hubbard identified himself to Publix as "Rep. Mike Hubbard[,] Speaker of the House[,] 46 1180047 Alabama House of Representatives." – he didn't disclose his business relationship with Capital Cups.
The court determined that "was sufficient to support the jury's conclusion that Hubbard "use[d] ... his ... official position or office to obtain personal gain."
The court upheld Hubbard's conviction on Counts 12-14.
Count 14 refers to Hubbard's dealings with CSP Technologies, Inc. (CPS), which was controlled by Abrams. CPS received notice that the United States Patent and Trademark Office (USPTO) had approved a patent that would resolve several issues in the litigation, the opinion said.
Abrams asked Hubbard if he knew anyone who could help speed up the issuance of the patent. Hubbard turned to his chief of staff, Josh Blades, and occasionally called him to check on the status of the patent.
"Hubbard said he "had 100,000 reasons to get this done," the opinion reads. "That comment was made shortly after Hubbard had received his 10th $10,000 check from Capitol Cups."
The court ruled that the state produced enough evidence to support that Hubbard used Blades' time and labor for his own private benefit that "would materially affect his… financial interests," the opinion reads.
Counts 12 and 13 deal with Hubbard representing, for compensation, SiO2 Medical Products in its dealing with state government. SiO2 was also controlled by Abrams. Hubbard got meetings with executive-branch officials on behalf of the company while consulting for Capitol Cups.
The court ruled that the state showed enough evidence to support the jury' conclusion that Hubbard represented a corporation before an executive department of agency for nonofficial compensation.
Gov. Kay Ivey stated that she supports and accepts the courts findings.
"As an elected official, our first priority is to be above reproach and avoid even the appearance of misconduct and abuse of office," she said in a statement. "I support seeking clarity on our state's ethics laws to ensure those who want to abide by them may not be unfairly targeted.
"However, let me be abundantly clear, I do not support weakening a system that is meant to hold our elected officials accountable. The rule of law must be upheld."
The Opelika-Auburn News reached out to Hubbard's lawyers but they did not respond to request for comment.​
Be the first to know
Get local news delivered to your inbox!