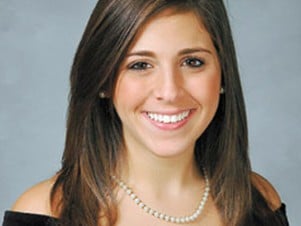 The Alabama Court of Criminal Appeals has affirmed Courtney Lockhart's conviction and death sentence for the 2008 murder of Auburn University student Lauren Burk.
In the 196-page opinion, which was released Friday, the court determined that "Lockhart's conviction for murder made capital because it was committed during a robbery" and that the death sentence was "affirmed."
Lockhart, who was a resident of Smiths Station and a Iraq War veteran, was convicted of capital murder in 2010 for the March 4, 2008, robbery and shooting death of Burk, 18, along Alabama Highway 147 (North College Street).
Burk, who was shot once in the upper body, was a native of Marietta, Ga., and a freshman at Auburn. Lockhart confessed to the shooting three days later.
During the trial, Lockhart's defense team argued he accidentally fired the gunshot that killed Burk and his prior military service caused him to suffer from mental illness. A Lee County jury had recommended that Lockhart receive a life sentence in prison. But in March 2011, Lee County Circuit Court Judge Jacob Walker III overturned the jury's recommendation and sentenced Lockhart to death by lethal injection.
The five-member court affirmed Walker's decision.
"The record reflects that Lockhart's sentence was not imposed under the influence of passion, prejudice, or any other arbitrary factor," the opinion stated. "We determine that Lockhart's sentence is neither disproportionate nor excessive to the penalty imposed in similar cases."
The opinion cited other cases, stating that two-thirds of the death sentences imposed in Alabama involve cases of robbery/murder. It also stated that the court "searched the record for any error that has or probably has adversely affected Lockhart's substantial rights and have found no plain error or defect in the proceedings under review."
Judge Liles C. Burke authored the opinion. Presiding Judge Mary Becker Windom along with Judge Samuel Henry Welch concurred. Judge J. Elizabeth Kellum concurred in the result while J. Michael Joiner concurred in part and dissented in part.
In a 2011 Opelika-Auburn News article, Walker said while the jury's unanimous recommendation of life without parole was a mitigating factor, the charges and indictments against Lockhart for crimes surrounding Burk's murder were compelling aggravating circumstances the jury did not hear during the trial phase.
Evidence regarding a series of robberies that began on Feb. 25, 2008, and lasted until March 7, 2008, when Lockhart was arrested in Phenix City, was presented during suppression hearings in early 2010, Walker said. He added the evidence would have likely had a bearing on the jury's decision.