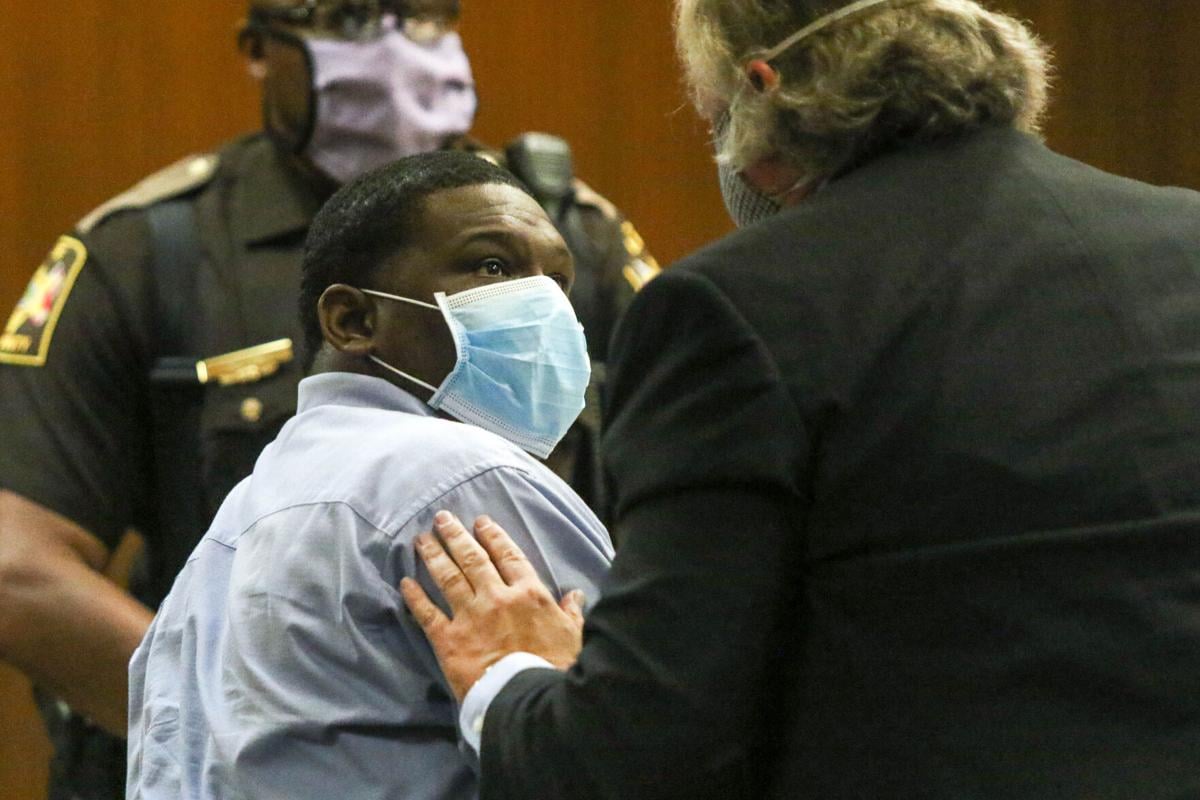 The case of the Montgomery man charged in the kidnapping and capital murder of 19-year-old Southern Union student Aniah Blanchard is headed to a Lee County grand jury despite new evidence and the question of where the crimes took place.
Ibraheem Yazeed, 30, appeared before Lee County Judge Russell Bush Wednesday afternoon. He is charged with capital murder – kidnapping and capital murder – use of a deadly weapon while victim is inside a vehicle.
Bush found probable cause to send Yazeed's capital murder case to the grand jury despite Yazeed's defense attorneys arguing that the prosecution had no evidence to prove the crimes took place in Lee County. Prosecutors are seeking the death penalty. He is being held in the Lee County Jail without bond.
"This case has changed from the day it started," William Whatley, Yazeed's attorney, said in court.
Lee County District Attorney Brandon Hughes, however, feels the evidence in the case shows that the crime occurred in Lee County.
"The judge disagreed (with Whatley) and he's the one who counts," Hughes said.
Yazeed was originally charged with first-degree kidnapping after the investigation into the Southern Union State Community College student's disappearance revealed that he forced Blanchard into her own vehicle against her will, according to previous reports.
Bush found probable cause in Yazeed's kidnapping case and forwarded it to a grand jury in November 2019.
There is no indication when a grand jury will hear the case.
Auburn police detective Josh Mixon testified Wednesday and brought new evidence to light.
Investigators found a witness who claimed to see a young woman matching Blanchard's description with a man near her 2017 black Honda CR-V parked in the Chevron lot, according to an arrest affidavit. However, Mixon did not present that evidence in court on Wednesday.
After leaving the Chevon gas station on the corner of South College Street and Shug Jordan Parkway in Auburn on Oct. 23, 2019 at about 11:32 p.m., Blanchard is believed to have driven Yazeed to the Murphy Oil Gas Station located further south on South College Street, Mixon testified.
Police obtained video surveillance of the gas station, which showed Blanchard's vehicle pulling up to a gas pump and Yazeed getting out of her vehicle on the passenger side. He then goes to the window, gets a cigarette or a cigar and gets back in the car. The two are then seen leaving the gas station together, Mixon testified.
Blanchard was communicating with her roommate via Snapchat on her phone during this time. At 11:09 p.m. she tells her roommate that she is close to being home. Then at 11:38 p.m. Blanchard says that she was smoking a blunt, testified Mixon.
The pair continues to exchange messages. At 11:40 p.m. Blanchard tells her roommate that she is with a man named Eric, whom she just met. Blanchard's phone activity ended at 11:47 p.m. when it was determined that it either died or was powered off in the area of the Clarion Inn on South College Street, Mixon testified.
Mixon added that Blanchard's cell phone has yet to be recovered.
The phone records also reveal that Blanchard's phone went in the direction of Longleaf Drive and Cox Road in Auburn towards a subdivision after leaving the Murphy Oil gas station. The phone then traveled down Wire Road to Shug Jordan Parkway back to the area of the Chevron gas station, Mixon testified.
The phone then traveled north on South College Street towards Auburn Camp Road for a brief period before going dark in the area of the Clarion Inn, added Mixon.
Blanchard's vehicle was last seen on video on a tag reader just south of Veterans Boulevard and South College Street near Interstate 85.
Blanchard's Honda CR-V was found Oct. 25, 2019, at an apartment complex parking lot in Montgomery and had sustained damage since it was last seen.
A large amount of blood, which was later forensically identified to be Blanchard's blood, was found in the passenger side of the car. A bullet hole was found in the passenger side door and an unspent shell casing was left in the cup holder, Mixon testified.
Mixon said the vehicle seemed to be in disarray. There were chips scattered all over the floor, Blanchard's cell phone was missing and the car had an odor of cleaning solution.
"Just some type of odor of like an ammonia or Clorox," he said. "Alcohol-based solution."
Antwon, also known as Antwain, "Squirmy" Shamar Fisher, who was previously charged in the case, told investigators that Yazeed showed up to the home of David Johnson, Sr. between approximately 5 a.m. and 6 a.m. on Oct. 24, 2019, Mixon testified.
Fisher was living at Johnson's home at the time and told investigators that Blanchard's vehicle was parked near some bushes when Yazeed arrived that morning, testified Mixon.
Fisher then took Yazeed to a gas station because Yazeed said he needed to get more gas for what was Blanchard's vehicle. Fisher paid for the gas, filled a canister with gas and took Yazeed back to Johnson's residence, Mixon testified.
Yazeed then put the gas in Blanchard's vehicle and drove it to Park Place Apartments in Montgomery with Fisher following him in another vehicle. Fisher took Yazeed back to Johnson's residence. Fisher said Yazeed left a short time later, Mixon testified.
Fisher said Yazeed, however, returned to the residence and said he needed to pick something up. Fisher, who had just taken a narcotic, drove Yazeed north on Interstate 85 towards Shorter. The pair stop somewhere in Montogmery where Yazeed picks up an item, Mixon testified.
Fisher told investigators that he heard a thud in the pack of the pick-up truck. Yazeed told him it was his chopper, also known as type of assault rifle, Mixon testified.
Fisher then said they continued to drive north towards Shorter on Interstate-85, however, he started to swerve all over the road due to feeling tired. Yazeed then took over driving. They end up at a church cemetery off of Interstate-85 in Shorter, Mixon testified.
"When he (Fisher) looked in the rear view mirror, he saw Yazeed dragging something wrapped in a comforter," Mixon testified. "It appeared to be two legs."
Yazeed spends some time in the woods before he returned to the vehicle.
"He (Fisher) said something to the effect of 'tell me that's not a body,'" Mixon testified. "Yazeed replies 'it won't come back on you and your family.'"
The two then leave the area and return to Montgomery. Fisher said Yazeed leaves the Johnson residence shortly after their arrival, testified Mixon.
Blanchard's remains were not located until Nov. 25 in the 38000 block of County Road 2 in Shorter.
When investigators searched the area where she was found they discovered skeletal remains and clothing similar to the clothing Blanchard was wearing when she was last seen. They recovered her skull, which had what appeared to be a bullet whole in the top, Mixon testified.
Investigators also recovered a lead projectile from the ground.
Whatley argued that despite the evidence, the prosecution could not prove that she was kidnapped and killed in Lee County.
"There's no evidence that anybody was put in the car," Whatley said in court. "They have a serious problem because they got the Murphy Oil video tape by all indications showing that she was not being bound or forced to do anything against her will."
"She drove into the Murphy Oil, he got out, presented his divers license…came back in and got in the passenger car. There's no evidence from anyone in Lee County that can say that Mr. Yazeed drove that vehicle."
He argued that the physical evidence showed that she shot in the vehicle but it is not clear in which county the incident occurred.
"The evidence that they got and they presented… is that the pool of blood was on the passenger side and appears to be a gunshot that happened to a person in the passenger seat," Whatley said. "There's no evidence that she was in the passenger seat in Lee County."
In fact, Whatley pointed out that Mixon testified that the video from the Murphy Oil gas station in Auburn didn't show anything that usual.
Hughes argued that Mixon's testimony revealed that Blanchard had no ties to Montgomery and had no reason to be in Montgomery that night.
"No one we could talk to could give us a reason for why she would be there," Mixon testified about the investigation into why Blanchard was in Montgomery.
Yazeed appeared in court one week ago for a second-degree assault charge in connection to a jail altercation, in which he is said to have bitten a corrections officer.
He appeared before Lee County Judge Steve Speakman May 27. Speakman found probable cause to send Yazeed's second-degree assault case to a grand jury.