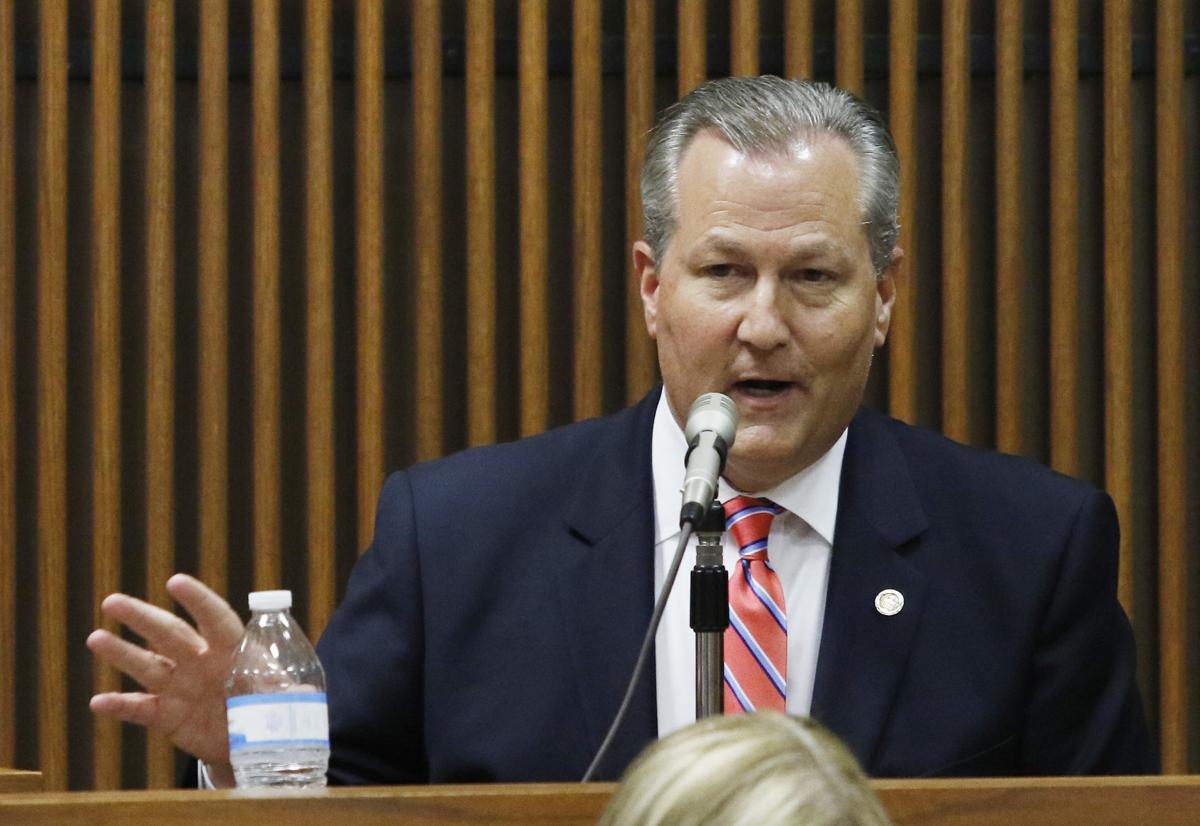 Former Alabama House Speaker Mike Hubbard's attorneys are asking to overturn his ethics conviction, claiming that Hubbard "simply did not violate the law as the legislature enacted it."
Hubbard's attorneys filed the appeal Wednesday morning in the Alabama Court of Appeals, asking the court to reverse the June 2016 judgment where Hubbard was convicted of 12 felony ethics charges by a Lee County jury. The appeal comes exactly a year after the trial began at the Lee County Courthouse in Opelika.
Hubbard, an Auburn Republican, was indicted on 23 felony ethics charges of using his office for personal gain in October 2014. Hubbard has maintained his innocence since the indictment.
Hubbard was removed from office, ordered to pay $210,000 in fines and sentenced to four years in prison. He is free on bond while he appeals the conviction.
"We're very confident that we're right and that he's going to be totally vindicated on appeal," said Bill Baxley, Hubbard's lead defense attorney and former lieutenant governor and attorney general. "I think that he is like a horse in the Kentucky Derby waiting for the bell to ring—he's so anxious to get his day in court."
A 'broad' reading of laws
In the 118-page brief, attorneys said Hubbard did not violate the law, but was charged because prosecutors with the Alabama attorney general's office read the laws broadly "in a way that was not settled or understood at the time Hubbard acted."
Attorneys claimed Hubbard did not violate Alabama law by obtaining investments in Craftmaster Printing because investors received full value for their money. They also said Hubbard did not violate ethics laws when Auburn Network entered into contracts to provide out-of-state consulting services to the American Pharmacy Corporation, Inc. or when he worked on behalf of other corporate entities in his legislative district.
"The prosecutors argued, and the jury accepted, a 'conflict of interest' standard that appears nowhere in the ethics law," attorneys said in the appeal. "When this court applies the law, rather than anyone's intuition, it is clear that Hubbard did not knowingly violate the law in any respect."
Attorneys also claimed the trial court was wrong to allow James Sumner, former Alabama Ethics Commission director, to testify about the meaning or intent of the ethics laws. The appeal argues that "the law comes to the jury from the judge, not from the witness box."
They further argued that the court erred in its decision to not investigate juror misconduct. Hubbard requested a new trial after misconduct was reported by a juror that at least one other juror indicated they were convinced Hubbard was guilty during the trial.
The Alabama attorney general's office did not return requests for comment from the Opelika-Auburn News on Wednesday.