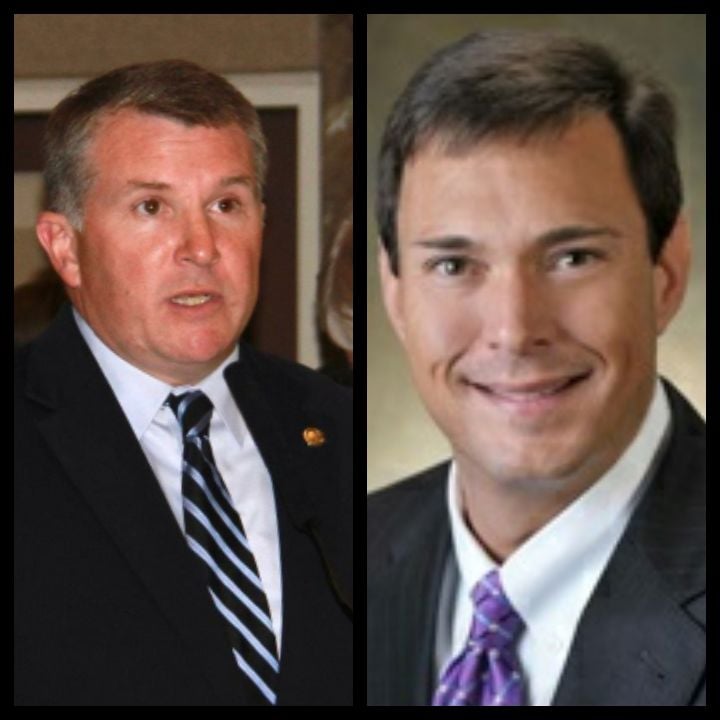 State Representatives Joe Lovvorn (R-Auburn) and Chris Blackshear (R-Phenix City) are giving Lee County a greater voice as committee chairmen.
Lovvorn, of District 79, is head of the Technology and Research Committee for the 2019 legislative session, and Blackshear, of District 80, leads the Financial Services Committee.
"Having two committee chairmen from Lee County gives the county and East Alabama a seat at the table when it comes to leadership for the overall functioning of the House," District 27 Sen. Tom Whatley (R-Auburn) said. "They'll have a say in not only their committee, but they will have a say in the direction of the day for the House of Representatives."
Technology and Research Committee
As chairman, Lovvorn leads members in discussions of innovative technological advancements of the state or businesses, and two of their subcommittees focus on green energy, biomedical and manufacturing technologies.
"Bills we've handled in the last couple of years in the committee have been consumer protection through the cyber attacks, and a bill to have companies notify consumers of a breach of personal information they have on file to let people know they may have a compromise in their privacy," Lovvorn said.
Another bill for the Alabama space-port authority, pertaining to the future of flight, emphasized utilizing the upper atmosphere for travel as the Federal Aviation Administration creates guidelines for takeoffs and landings.
"Those are bills that we handled in the brief past," Lovvorn said. "We haven't had a full pre-filing of bills going into this year. Some of the bills and interests are an advance in broadband connectivity throughout the state - specifically rural Alabama - and some bills pertaining to that technology could happen."
Installing broadband in off-the-grid areas around Lee County will be a challenge, according to Lovvorn, but he expressed a desire to find a cost-effective solution to serve the entire state of Alabama.
"We passed a couple of items last year to make it a little easier for companies to serve those areas, but we are still not getting the results we need," Lovvorn said. "I think as costs continue to go down and economies scale for corporations, we will have more opportunities. I'm excited about more wireless opportunities that are coming. Having that access for the people of Alabama is something that's continually in the conversation with all of my colleagues."
Lovvorn mentioned the legislature has an interest in reinvesting and developing state infrastructure such as roads, bridges and utilities, and the challenge derives from using tax dollars effectively.
Financial Services Committee
"The Financial Services Committee is anything dealing with banking, lending – like payday lending – and things such as that would come through our committee in the House," Blackshear said. "You never know what may transpire in four years, but fortunately, we really haven't had any hot-bed issues that have been lingering or may come back up starting with this session in March."
With regulations in place, Blackshear expressed satisfaction for the current state of the committee, but he plans to prepare for unforeseeable circumstances possibly arising in the future.
"This isn't giving you where I may be on the matter, but in the past, there's one thing that may come up that didn't get a resolution," Blackshear said. "It's some type of additional regulations around payday lending and title pawn. We saw that back in the 2017 session, and we kind of left it where it is. You may see something in that arena at some point."
Blackshear said having strong area representation is a good thing as lawmakers strive to make changes in the state.
"All 105 members of the House have a seat at the table when it comes to legislation and changing things for their community and state as a whole, but it gives us an additional seat at the leadership table with Joe and his committee," Blackshear said. "Not to mention, Senator Whatley with his rank as far as tenure and seniority in the Senate, and you bring Senator Randy Price on board as well. It's nothing but positives that can come from it."