Justin Lewis stood quietly in Opelika's Courthouse Square Monday afternoon, holding a small bouquet of yellow gerbera daisies as his husband Shawn Williams slid a ring onto his left hand.
"Let's have a cheer for our happy and brave couple," officiant Angela Farmer, an ordained pagan minister at Nine Worlds American Kindred in Auburn, said to the small crowd gathered around the square's fountain.
Farmer then turned to the couple.
"This is real, this is happening, and I hope this is more marvelous than you ever imagined," she said.
Salem residents Williams and Lewis arrived at the Lee County Courthouse in Opelika at 8 a.m. Monday to find a small group of same-sex marriage supporters with signs and balloons. The couple also found a copy of Alabama Supreme Court Chief Justice Roy Moore's Sunday night order mandating probate judges to not issue same-sex marriage license taped to the courthouse door.
"Effective immediately, no Probate Judge of the State of Alabama nor any agent or employee of any Alabama Probate Judge shall issue or recognize a marriage license that is inconsistent with...the Alabama Constitution," the order reads.
For now, Lee County is not issuing marriage licenses to same-sex couples.
Moore issued the order at 8:18 p.m. Sunday, less than 12 hours after a stay on U.S. Federal District Judge Callie Granade's – who joined the court in 2002 following a nomination by then-president George W. Bush – ruling overturning Alabama's same-sex marriage ban was set to lift.
When Williams and Lewis stepped up to the window at the Lee County Probate Office, they were handed another copy of the order.
"I am not going to defy a direct order from the Chief Justice of the Supreme Court of the state of Alabama," Lee County Probate Judge Bill English told the couple, adding he will not issue the licenses until he receives another direct order. "...We'll modify our position at that point. It's the only direct order I've gotten in this thing.
"It's not fair. I'm very disappointed in an 8 o'clock Sunday night ruling. I'm also disappointed in a 5 o'clock Friday evening ruling."
Williams, Lewis and the small group of same-sex marriage supporters praised English for his "polite and respectful" answer.
"I guess I'll go on an adventure to find a probate judge in the State of Alabama" who will issue same-sex marriage licenses, Williams said. "…A sheet of paper, it's good to have, but we didn't need the sheet of paper to validate our love for each other. But everybody has a right to get that sheet of paper."
As of Monday afternoon, Russell and Tallapoosa counties were also refusing to issue same-sex marriage licenses. Chambers County, like Mobile and Shelby counties, did not issue any marriage licenses, same-sex or otherwise.
Granade ruled Monday afternoon the Mobile County Probate Court would not be held in contempt for refusal to issue any marriage licenses.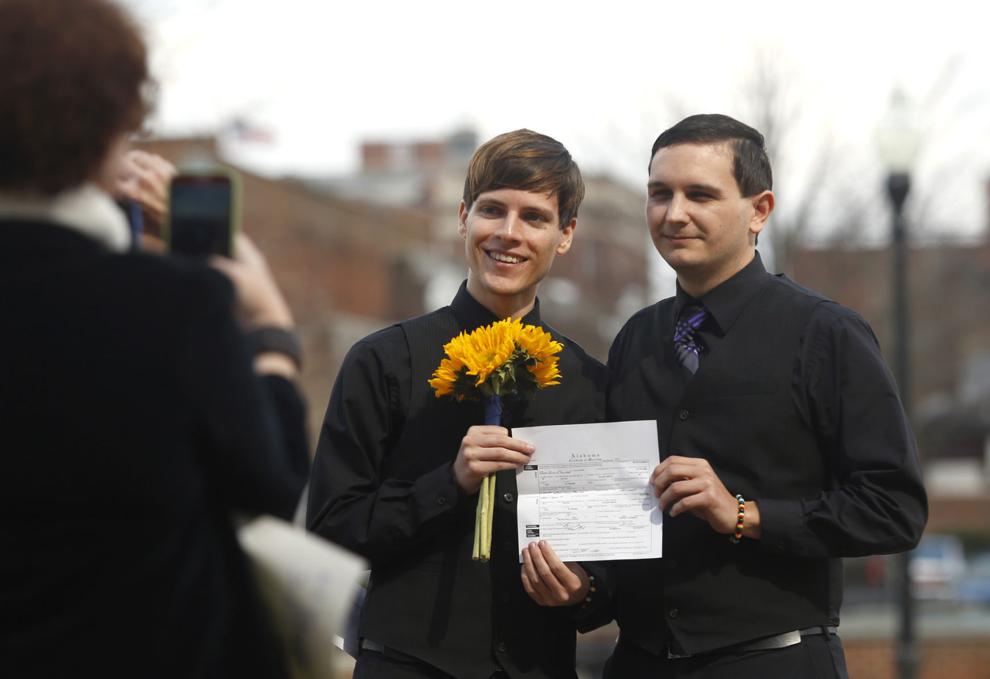 A judge in Montgomery County, however, spent the morning issuing marriage licenses to same-sex couples, including Williams and Lewis, who drove to Montgomery after they were denied the license in Lee County. The pair said the atmosphere in Montgomery was a stark contrast to that in Lee County.
"It was in and out in five minutes. Their probate judge did a little shimmy," Williams said. "…The staff in there, all the clerks, they were really excited, happy, helpful. People outside, just like here, very friendly. They had cupcakes for everybody. They had little packages and things. It was a good experience up there, and having our ceremony here…it was a good day. It was a really good day."
Still, Williams said, after seven years together and a six-year engagement, the couple was frustrated by Lee County's stance on the issue.
"It's really frustrating, especially after the stay had been lifted," he said. "The court up in Atlanta said that no, it applies to everybody statewide. But Supreme Court Justice Moore, he had a different opinion about things. It was frustrating to have to drive an hour out of the way, make everybody here wait. They showed a lot of support for us, so I really appreciate everybody that was here and everybody that was at Montgomery, too."
Auburn University graduate student Erin Crozier spent all morning at the courthouse in support of same-sex marriage. Crozier and her wife were married in British Columbia in 2012. She said the legalities of marriage – including tax breaks and next-of-kin benefits – are hugely important to same-sex couples.
"It cost us a couple hundred dollars in taxes. Our accountant ran it both ways," she said of her 2013 taxes. "For us, it's huge."
Although Crozier did not know Williams and Lewis prior to their arrival at the courthouse, she and other new friends cheered when Farmer announced the pair spouse and spouse.
Auburn resident Michael Key, a straight ally, stood in the rain Monday morning with rainbow balloons.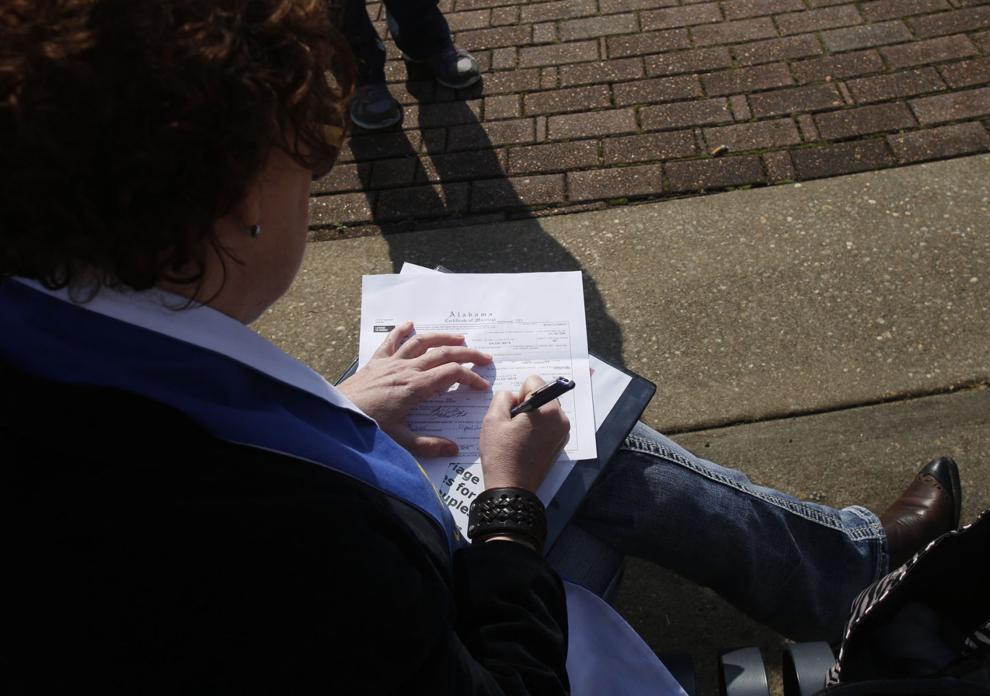 "From a newlywed straight couple's perspective, there are advantages to having that piece of paper. It definitely helps, especially when you're just starting out," he said. "It's about being treated equally."
While a handful of same-sex marriage supporters stayed on the courthouse steps into early afternoon, a pair of opponents left shortly after English announced his decision not to issue the licenses.
"We don't want to see our nation destroyed," said same-sex marriage opponent David Floyd of Opelika. "...We're not here because we hate people. We're here because we love people. We're here because we want to call people into repentance. … I just want to be a voice that says, 'Hey, there's a better way to live.'"
Lewis, who remained quiet most of the morning, said he was surprised there were so few protestors.
"It felt wonderful. I was honestly worried it was going to be the opposite, that there were going to be a lot of people here picketing with signs. To see so many warm people… they've come out to support us, it means the world," he said.
After the ceremony, the couple showed off their State of Alabama certificate of marriage.
"Honestly, equal is the best word," Williams said. "We knew what our love was, and a lot of supporters knew what our love was. It was real; our love was real. Just being able to do what everybody else can do is just something special."
'This is Real, This is Happening'