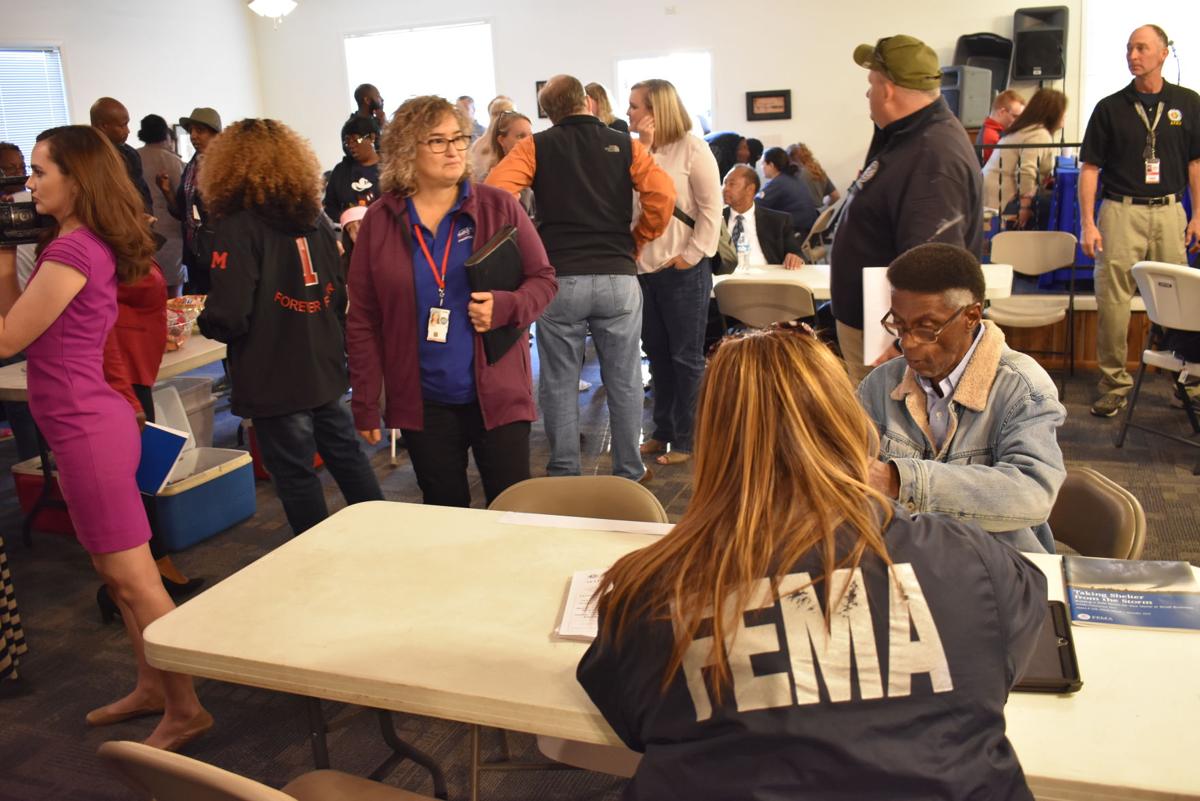 National and local agencies, administrations and nonprofit organizations collaborated to share pertinent information to Smiths Station and Beauregard storm survivors in Pierce Chapel United Methodist Church at their town workshop.
"We had one of the ladies in our church lost her granddaughter, so we've come to try to get some information for her," Christ Temple Holiness Church member Mattie Clark said. "It's a lot of information in there, so if people are not coming, they should come because they are not leaving anybody out."
Survivors entered the church assembly room, signed in and approached tables with designated representatives from the Lee County Emergency Management Agency, the Federal Emergency Management Agency, the U.S. Small Business Administration and the American Red Cross.
"We have held a town workshop tonight, and we coordinated that with all of our local officials, federal representation, Veteran Affairs, the Red Cross, Salvation Army, United Way, different agencies here representing what they can offer to these citizens affected," Lee County EMA specialist and public information officer Rita Smith said. "Our main goal is - if we've missed somebody, or they don't have internet right now - to give them some answers."
Smith emphasized the importance of the event and urged non-attending survivors to visit these agencies and organizations Monday, March 25 at 6 p.m. Eastern at Smiths Station Baptist Church as an opportunity to have questions answered and concerns addressed.
"You also have the opportunity to go to the disaster relief recovery centers," Smith said. "One at Mount Olive Missionary Baptist Church in Smiths Station from 7 a.m. to 7 p.m., Monday through Saturday and 1 p.m. to 5 p.m. on Sunday. The other one is at Providence Baptist Church, 7 a.m. to 7 p.m. Central time, 1 p.m. to 5 p.m. on Sunday."
Small Business Administration
The U.S. Small Business Administration had a team of representatives interviewing survivors and explaining the collaborative process of providing loans for extensive property damages not covered by insurance companies and FEMA.
"The SBA is here to hopefully answer some questions for people who are unsure why they have been referred to SBA as part of the FEMA registration process," SBA public affairs specialist Karen Knapik said. "That confuses folks. Sometimes they'll look at their cell phone, and they see their incoming call from the U.S. Small Business Administration, and they say, 'What the heck is that?'"
For long-term recovery with an income-based, four-month deferred loan, the SBA will provide these loans to eligible home, business and nonprofit-organization owners affected by the storm. Low interest rates ensure the loans are affordable in a great time of need, according to Smith.
"FEMA is here to help their citizens get through our process," FEMA media relations manager Mike Wade said. "If they haven't registered, we can help register them tonight, or if they have registered, then we have people here to answer their questions. It's kind of like a mini disaster recovery center. The only difference is if they have paperwork to submit, we can't accept that. They would have to go to one of the disaster recovery centers."
As the federal representative, Wade attended a meeting among other agencies and organizations to create a workshop as the singular goal for addressing survivor concerns, and FEMA was available to provide resources to these agencies, create a process and identify the important topics to discuss at the workshop.
"If survivors need help, please register because if they don't, they'll never know if they were eligible for any assistance," Wade said. "They can do that by calling 1-800-621-3362, or if they want one-on-one help, please go to one of the two disaster recovery centers here in the county."
Clark said the American Red Cross was available to answer questions and register survivors. If assistance is needed, they can visit Red Cross locations at St. Ellis Full Gospel Church, Rising Star Baptist Church and Nazareth Baptist Church from 11 a.m. to 5 p.m.
"They are an incredible resource with a lot things at their fingertips like money, actual items, lodging, assistance with housing and things you may need," Smith said.
Wielding a large book of information to share with her storm survivor, Clark declared a call of action for survivors to attend the Smiths Station Baptist Church workshop. If they are unable to visit, she recommended they send a representative in their stead.
Get local news delivered to your inbox!
Subscribe to our Daily Headlines newsletter.