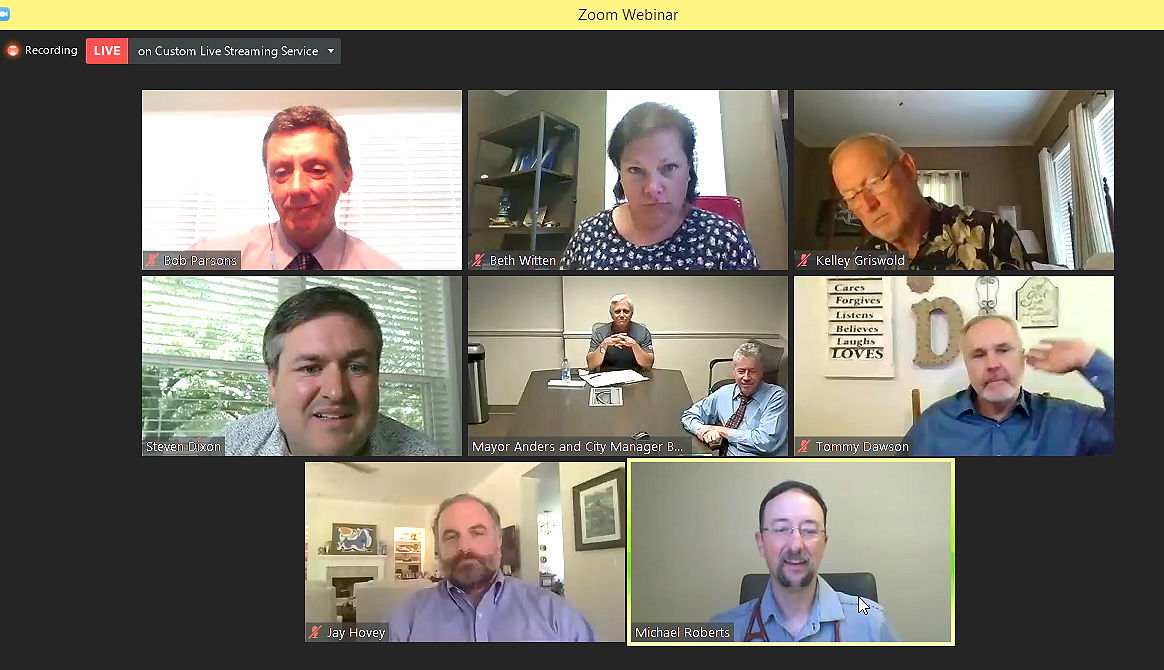 There is strong support on the Auburn City Council for public mask wearing, but several members sounded skeptical during Monday's work session of making it mandatory.
The draft ordinance given to council members to consider includes a $25 fine for not wearing face coverings in public buildings and gatherings. However, there are several exceptions listed, including for restaurants, public safety workers, athletic facilities and churches.
SkepticismCouncilman Kelley Griswold said all the exceptions render the ordinance useless. He and Mayor Pro Tem Beth Whitten suggest reaching downtown merchants and the Auburn Chamber and trying a public education campaign first, before resorting to passing a local ordinance, however temporary.
Former city police chief and current council member Tommy Dawson was wary of compelling police officers to ticket people for not wear face masks.
"I just don't think it's something we need the police involved in … I can see where officers could be sued," Dawson said. "It's a rough time for police officers in America right now."
Dawson and colleague Brett Smith also questioned requiring children ages 8 and under to wear masks. Smith brought up the possibility of police having to ticket students at bus stops if they aren't wearing face masks.
Steven Dixson and Bob Parsons were the two council members who supported a face mask ordinance. Parsons dismissed the concern over policing kids at bus stops.
"It is unreasonable to think a police officer is going to arrest a 9-year-old at a bus stop for not wearing a mask," Parsons said.
Parsons went on to question why the council should have another work session, when a majority of the members are plainly opposed to passing the face mask ordinance. He did indicate, however, that he would be online for Wednesday's follow-up work session.
Getting worseThis discussion came after a briefing from Michael Roberts, chief of staff at East Alabama Medical Center.
He explained that he stepped away from Intensive Care Unit duties to impress upon the council just how serious COVID-19 has become again in Lee County.
"Over the past two weeks, it has been skyrocketing," Roberts told the council. "Our calls went up dramatically."
There's been an increase to 30% of tests coming back positive at EAMC testing sites which, in turn, has meant more hospitalizations and an increase in critically ill COVID-19 patients.
"And it doesn't show any signs of slowing down," Roberts warned.
Roberts said EAMC hasn't hit its early April peak yet, but it is getting close.
"We're getting more younger people testing positive. … There have been some 40- to 50-year-olds getting sick and passing away," he said.
Griswold asked the doctor about the recent internet rumor that masks can cause carbon dioxide poisoning. Roberts called it "nonsense."
"Our surgical staff wears masks all day. … It could affect you — maybe — if you go out and run a marathon," Roberts said.
Meeting againNo vote was taken since the meeting was only a work session, but the council agreed to meet again Wednesday after city staff had time to answer questions raised during Monday's session.
Also, Mayor Ron Anders wants to give Councilwoman Connie Fitch-Taylor a chance to respond. She was the only member absent from Monday's Zoom teleconferencing session.