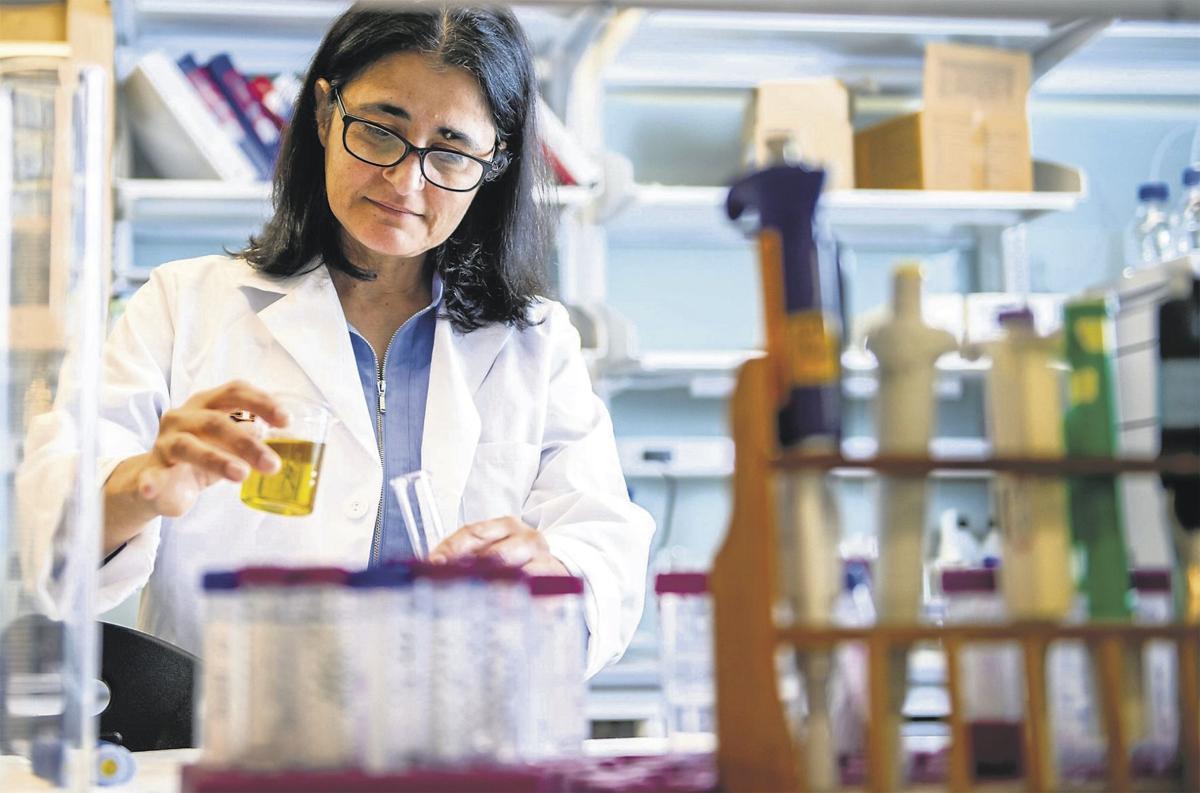 Auburn University is striving for world-changing research every day and the Auburn faculty makes up the faces behind it, say school administrators.
Faculty joined with guests recently to present samples of the research happening every day within the university, during the Faculty Research Symposium.
The event lasted all day and included poster presentations and a panel discussion — Auburn Talks.
Chemical Engineering Associate Professor Allan David presented his research on "Nanoparticles for Cancer Diagnosis and Therapy." He discussed cancer, how it affects the cells, how treatment is given and how complicated the process can be.
The researcher admitted that Auburn wasn't high on his list when he was looking for university teaching posts. He had applied to the university and forgotten about it until he heard back.
David said he's glad the school called him back.
"After coming here and getting to know the faculty, getting to know individuals across campus, seeing the potential for interdisciplinary research, seeing the growth potential here on campus, I'm really excited about what we can do," David said.
Sarah Zohdy, assistant professor in the department of disease ecology for the School of Forestry and Wildlife Sciences, presented "What's the Buzz? Disease Emergence in a Changing World."
"Infectious diseases have completely shaped our history," Zohdy said. "We can talk about tuberculosis in ancient Egyptians, we can talk about plague in Europe, Spanish flu, it's been everywhere. But what has changed is since the 80s, we've begun to see a shift in what these infectious diseases are and where they come from."
Zhody went through different ways the diseases can spread from habitat loss of animals, weather changes, poverty in different areas and travel to other countries.
Mollie Mathis, assistant professor in the school of accountancy in the Raymond J. Harbert College of Business, presented her research on "U.S. Taxation of Foreign Earnings: Tax Cuts and Jobs Act."
Mathis explained the 2017 Tax Cuts and Jobs Act, which changed the U.S. to a modified worldwide tax system.
"Worldwide tax system means that the earnings of U.S. firms are going to be taxed in the U.S. no matter where they are earned in the world," Mathis said. "And in the U.S., just to make things nice and complicated added a modified portion to this.
"So what that meant is that U.S. firms could avoid paying these U.S. taxes on their foreign earning if they kept those earnings abroad."
These earnings parked offshore amounted to approximately $2.8 trillion before the 2017 Tax Cuts and Jobs Act, Mathis said.
A toll tax was put on those foreign earnings kept abroad, and now Mathis and her team are researching how the cash is used.
Political Science Professor Steve Brown presented his research on Alabama Justice: The Cases and Faces That Changed a Nation.
Brown shared with the audience how little many of American youths (and adults) know about the justice system.
Brown was asked what people should take away from what he teaches.
"Well, No. 1, Judge Judy is not on the Supreme Court," Brown said to laughter in the audience. "Besides that, that rights are important, (and) you need to know them in order to protect them."