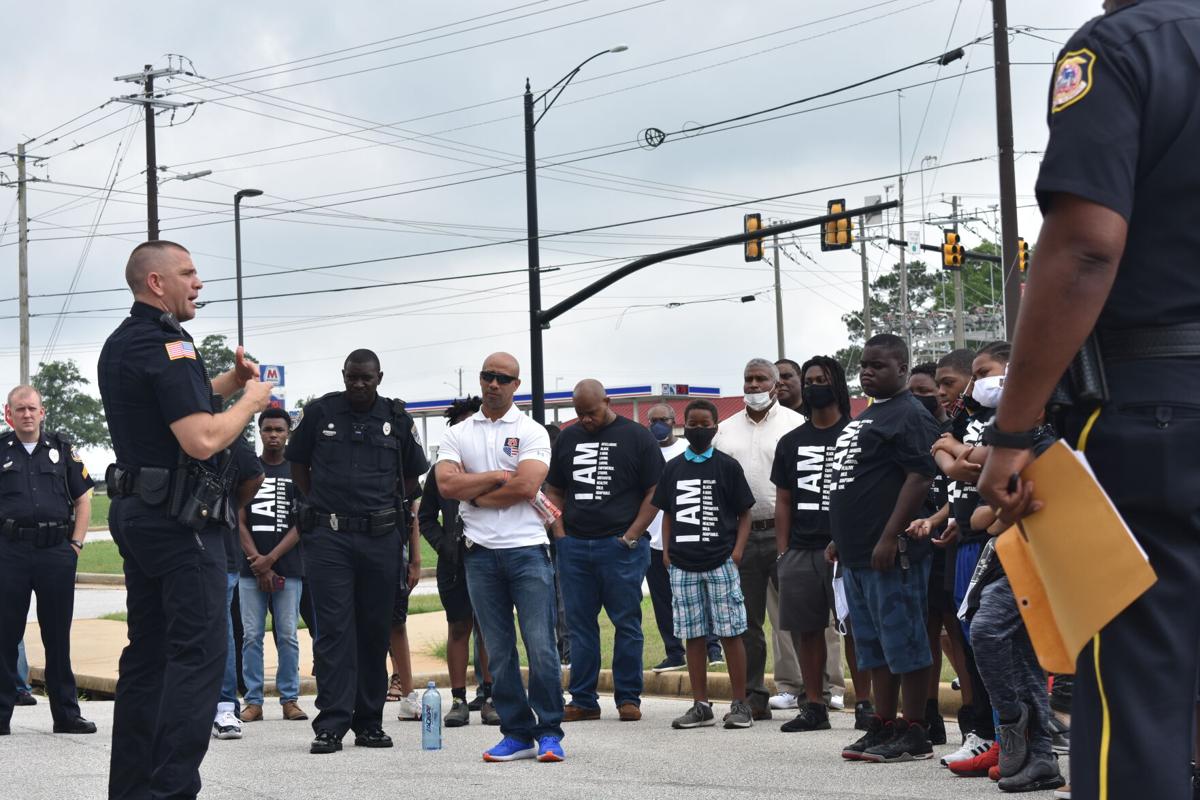 Dozens of young black men showed up to Opelika High School Saturday for talks on policing, mental health, voting rights and more for the 4th annual Black Male Summit.
Alabama State Representative Jeremy Gray kicked off the event by speaking to the young men gathered about the importance of community helping each of its members succeed in life.
"I wouldn't be in the position that I am without the people around me, without this village," Gray said. "This village created areas and paths to take me on to succeed when I was a young boy. … I didn't get here by myself, my momma didn't get me here by herself. It was a collective group of people."
While Gray stressed the importance of a collective effort in bettering lives, he also told the young men that it takes resiliency and being "unreasonable" in order to enact change for the better, and quoted Irish playwright George Bernard Shaw.
"'The reasonable man adapts to the world, and the unreasonable man persists to adapt the world to himself. Therefore, all progress is owed to the unreasonable man,' because he's going to continue to push the buttons," Gray said. "You have to be unreasonable, and you have to think unreasonably sometimes, because those are the things that'll get you to the mountaintop, not being like everyone else."
Edward Reynolds with Alpha Phi Alpha spoke to the group about the importance of voting and staying informed about current events in order to make a change for the better of the community and warned of the dangers of policies designed to take away the right to vote for young black men like restrictions on absentee voting, polling location closures and the narrowing of voting time frames.
"Elections have consequences. … Without the right people in office, things can be taken away from us. The right to vote can be taken away from us if we don't have the right elected officials in place," Reynolds said. "Your vote is your voice. Without voting, you are voiceless. ... If you don't get out there and vote, you will have other people making decisions for you that will affect your life."
Opelika Police Capt. Tony Amerson delivered a talk about the do's and don'ts of traffic stops by law enforcement officials and encouraged the young men to slow down safely and turn on their turning signals and cooperate with officers if they were ever pulled over, including lowering all the car windows, turning down any music, keeping your hands on the steering wheel and trying their best to speak in a calm manner.
"It's all about trying to keep you safe as well as the officer safe," Amerson said. "Believe it or not, I'm 6 foot 3 and 240-pounds and I still get scared also. Just because I wear this bullet-proof vest and have a gun at my side doesn't mean that I don't feel fear, so if both of us understand the guidelines, then hopefully everyone can leave that traffic stop safe."
In an outdoor demonstration, Opelika Police Sgt. James Daniel showed four different traffic stop scenarios to those in attendance, including an example of a regular traffic stop, a traffic stop with an angry driver, a traffic stop where an officer smells marijuana and a felony traffic stop.
In all scenarios, Daniel stressed the importance of remaining calm, being respectful and complying with orders given by police.
The free event was put on by Dream Day Foundation, a local nonprofit started in 2009 and dedicated to helping and empowering the black community.
Marion Sankey, founder and executive director of the Dream Day Foundation, said the Black Male Summit was all about empowering young black men by educating them about issues they are facing now in order to help them lead better lives.
"We just want to be a beacon of light in the Lee County and surrounding areas with a focus on our young people," Sankey said. "We want to cultivate them to be innovators – leaders can be change makers – and we try to do that through arts, service and whatever we can do to help."