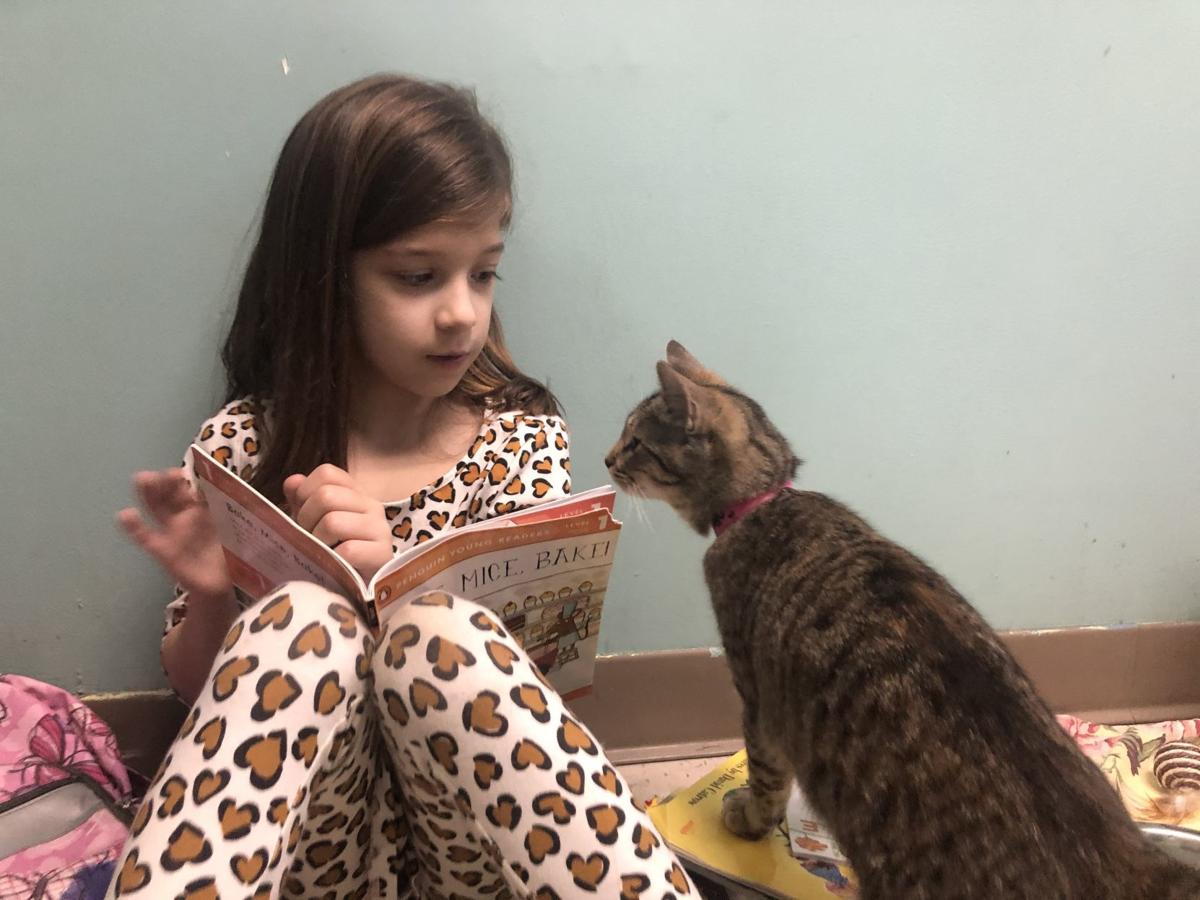 The Lee County Humane Society's Books and Barks program helps the cats and dogs at the shelter and gives local children the chance to show off their reading skills.
"Books and Barks is a fantastic opportunity for children to get involved and interact with our shelter animals in a way that is both safe and meaningful for everyone involved," said Kelly Daniel, volunteer coordinator.
Children bring in books to read to dogs and cats at the shelter once a month from 3-4 p.m. Parents have to sign their children up beforehand at www.leecountyhumane. org/books-barks.
"I love dogs, and I have two at my house," said Carter Grace, 7. This was his first time to come read at the Lee County Humane Society.
His favorite books are in the "Geronimo Stilton" and "Harry Potter" series, though he chose others to read to the dogs in the kennels, such as "Pig the Pug."
"It's fun to read, and it helps you learn how to read other words," Carter said.
Hazel Ward read "The Gruffalo" to a 1-year-old pup named Dodger.
"Dogs are my favorite," said Ward, who has two dogs at home.
She picked one book out of the stack she brought, "Lily to the Rescue," which she said is her favorite.
"Through Books and Barks, our dogs can be exposed to more people and more experiences while they're here in the shelter, and they really enjoy it," Daniel said. "They just know somebody's talking to them and they absolutely love it."
Dodger lay contentedly on the floor while Ward read to him.
"I believe that it's a great way to learn more about what animal shelters do and to learn more about animal welfare by coming in here," Daniel said. "And kids always, or a lot of the time, have this natural affinity with animals. They want to interact with animals and be their friend, so this is a great way to do that."
Sienna Zabala read to the cats while her younger sister, Maya, listened and petted the animals.
Sienna's mother is allergic to cats so she said this is a way her daughter can interact with one of her favorite animals.
"It's great to see everyone's face light up, to see a kid's face light up when they see a sweet dog that they want to read to," Daniel said.
"And then the same thing on the side of the dog as well. They see a sweet person who wants to interact with them, and I think just any kind of interaction we can provide in the shelter is great for everybody, and they may also find a new best friend while they're here."
Get local news delivered to your inbox!
Subscribe to our Daily Headlines newsletter.