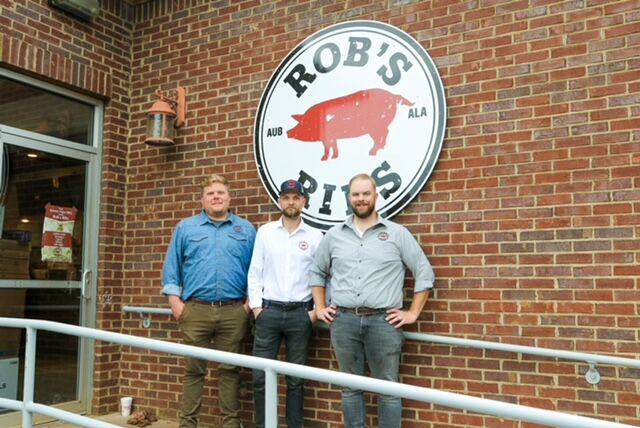 Rob's Ribs began with a dream and a name. Mark and Anna Coxwell of Opelika's Butcher Paper did not plan to expand their beloved barbecue business, but when the stars align, Mark says, some offers are too good to pass up.
"I never thought I would have the opportunity to get into a building of this size and location," Mark said of the former Auburn home to Mike and Ed's Bar-B-Que at 307 North College Street. "A building like this with a built-in smoker seemed so far out of reach. This went from a logistical step forward to a massive step forward."
Mark's "small scale" plans for Butcher Paper BBQ's growth stalled at the beginning of the coronavirus pandemic in March 2020 when payroll and product became the focal points, he said. The opportunity, broached six months ago by J.P. Lemay, the former owner of the Mike and Ed's franchise and owner of the North College Street building, is now coming to fruition.
"It's super exciting, and it's super scary, too," executive chef Alex Bradfield said. "Moving from a small home in Opelika at Butcher Paper to an actual, commercial building is pretty terrifying, but it's exciting to have a great barbecue and alcohol scene."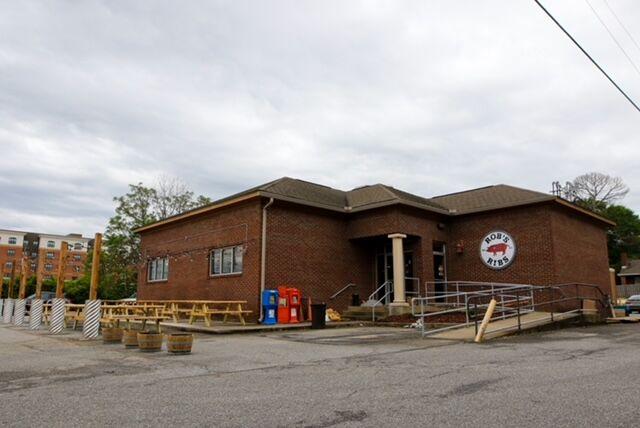 Rob's Ribs was open over the weekend for curbside pick-up. It will host a soft launch on Monday from 11 a.m. to 9 p.m. Once enough staff is trained, Rob's Ribs will open for breakfast, with plans to be ready for a 6 a.m. to midnight schedule by mid-May.
"We're excited to offer something different and a different type of setting," general manager Rob Goodwin said. "Hopefully we can bring a vibe to Auburn that maybe it hasn't seen in a while."
At Butcher Paper BBQ, Coxwell hand-built two smokers made out of propane tanks, which is "more of a Texas-style way of cooking." All three men draw a consensus: the built-in smoker at Rob's Ribs is "a lot more true to what barbecue is in the Southeast."
"There are not a whole lot of these buildings," Coxwell said. "To get a pit built in a building is not a cheap thing, so I always said if I ever had the opportunity to have a restaurant in a building with a built-in pit, I was going to jump at it. That was my dream — that was what I wanted to do."
That dream was originally on a "much, much smaller" scale for Coxwell. He likes tray orders and Butcher Paper's size. Handling an operation of Rob's Ribs size is "not necessarily" something Coxwell ever went out searching for as an owner, he says. But all three men are grateful for the opportunity.
"This is something that's really pushed me personally and professionally and it's been quite an experience, and I'm sure it's going to continue to be quite an experience," Coxwell said. "This has been such a point of growth."
The space looks like a barbecue restaurant. Outside, new benches and string lights face downtown Auburn with abundant room to host live music and large gatherings of family and friends.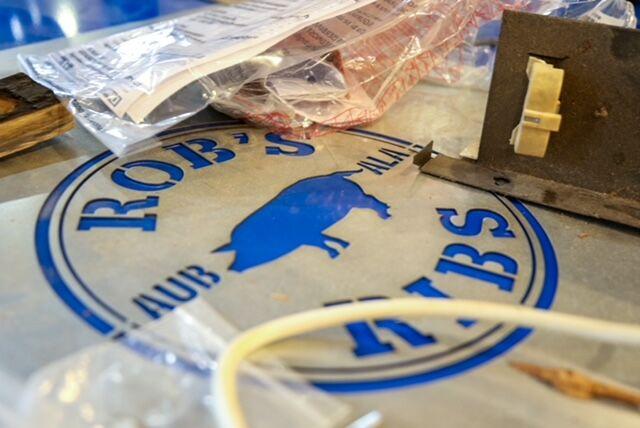 A handcrafted, torched, oiled and lacquered bar complete with a 10-tap beer tower anchors the inside of the restaurant. The bar, built by Coxwell, will feature regional beer and Opelika's John Emerald Distilling Company.
"I know he's not going to say it, but Mark sells himself short as a glorified handyman," Goodwin said. "He's an artist. When I first saw the bar, I thought it was done. It was just plain lumber and then you turn around and it looks this beautiful. To have the confidence to give it a try, and the success that you see – the artistic value he brings and the creativity is invaluable."
The team at Rob's Ribs worked hard to preserve pieces of Mike and Ed's in Rob's Ribs, they say. The original, unrecoverable red 'Mike & Ed's Barbecue' sign finds a new home as 'Beer & Cue' near an ADA-compliant entrance to the joint.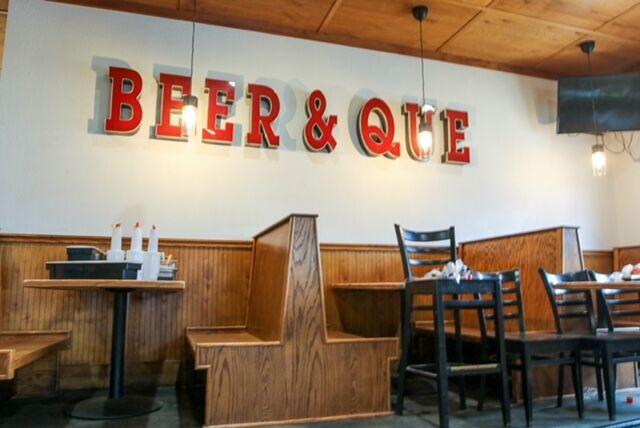 "A lot of the stuff was already here," Coxwell said. "The Coke signs, half of the Coke bottles, J.P. was kind enough to let us hang the original clock hands of the Samford Hall Tower — we want to make sure we honor the history of those who came before us."
Rob's Ribs also wants to honor its new history. Right off the side entrance, three wooden shelves hang above Coke signs and a framed photograph of Pat Dye, Bo Jackson and Cam Newton to be filled with family photos of Alex, Mark and Rob, and their parents and grandparents for a memorabilia wall. There's a framed photo spotlighted left of the counter service of the three men, and the newly built outdoor patio and bar serve as a reminder of the six months of work put in for Auburn residents.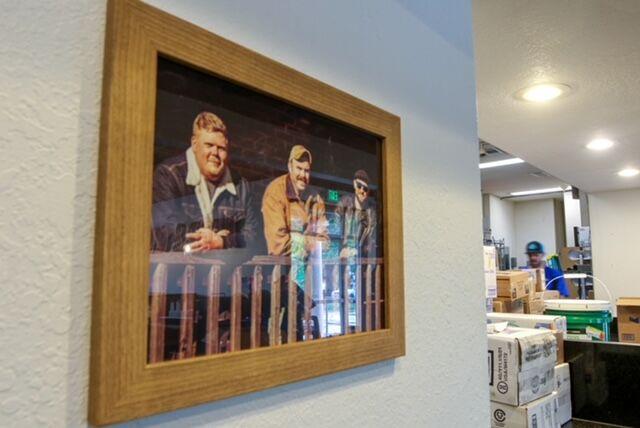 "We want anyone of any walk of life to come in here, have a good time, feel comfortable as soon as they walk through the door and have something they can afford and enjoy," Goodwin said.
Adding barbecue nachos, hush puppies, house and Cobb salads, three types of ribs—St. Louis style, baby back and beef ribs—and "the huge demand" for French fries among other items, Bradfield reiterated that everything on the Butcher Paper Menu will be at Rob's Ribs as well.
"We will have a larger, more in-depth, more elevated menu here," Bradfied said.
Calling themselves "knuckleheads," Coxwell and crew praise co-owner Anna Coxwell for being the point-person for the project, saying, "I cannot say enough how important Anna has been at getting this restaurant to where it is and to where it needs to be to open."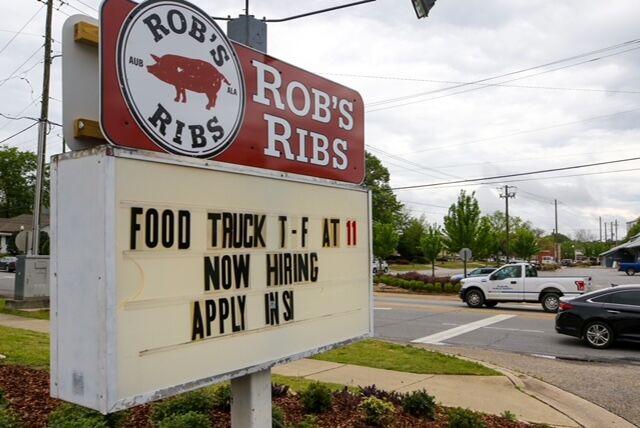 A menu, announcements and further information can be found at robsribsauburn.com or on the restaurant's social media: Rob's Ribs Auburn on Facebook and @robsribsauburn on Instagram.
"I really loved this building, but it took me a long time to be convinced that this was the direction we need to go, but with the help of these two guys and Anna, they said it was a good idea," Coxwell said. "Still waiting to find out."