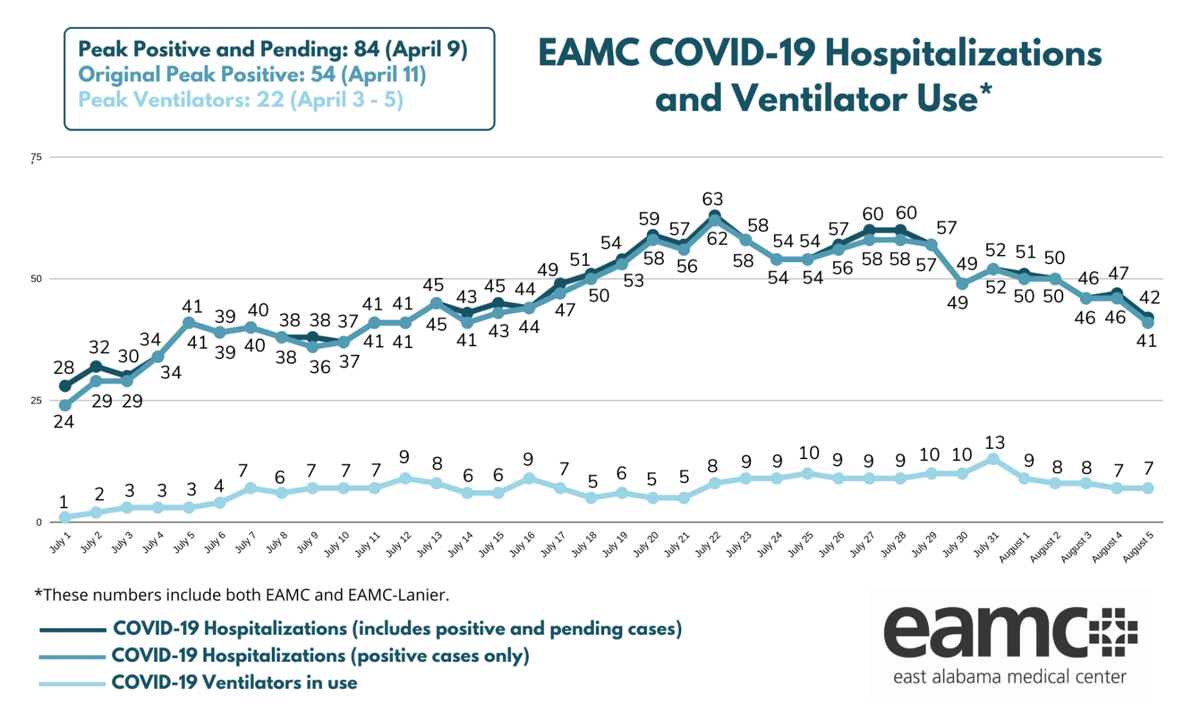 East Alabama Medical Center saw its lowest number of COVID-19 patients since July 14 on Wednesday as a pivot point in time approaches: back to school.
There were 42 COVID-19 patients hospitalized Wednesday, 41 of which were confirmed to have the virus, according to the hospital data.
Hospital officials see the decline as both a good and bad thing.
"We have had fewer COVID admissions as well as patients discharged home to recover, but we have also had loss of life and that is devastating to all involved," John Atkinson, EAMC spokesman, said. "Talking about death is not pleasant, but we cannot forget those who have passed because of COVID-19. Each of them leave behind a family who is grieving and a story that ended too soon because of this virus."
With back to school looming, hospital officials are reminding the community that this not a time to relax.
"If anything, we need to be much more vigilant as we approach the opening of schools as well as possible athletic events and Labor Day," Atkinson said. "COVID-19 is not going to simply disappear; we have to adjust to it."
Back to school
Students will begin taking to the classrooms in the coming weeks, and students in second grade and higher will be required to wear a mask through at least August.
"This is a big change for students, and parents should be spending time in the remaining days to both model the practice of wearing a mask correctly and having their children practice," Brooke Bailey, EAMC's Infection Prevention director, said.
Bailey suggested that parents should help prepare their students to wear masks during the school day.
"Practicing mask-wearing at home in small blocks of time will better prepare them for school when they will need to wear them for longer periods of time," she said.
Bailey added that students and teachers returning to classrooms is a pivotal time in the fight against COVID-19.
"Because students will be exposed to other children and teachers while at school, it will be important to think about possibly social distancing and/or masking away from school even more," Bailey explained. "Children may have had limited exposure risk during the summer.
"With school starting back, this means students will be around many more people from outside their household. So, extra precautions should be taken to keep family members and others who are more vulnerable safe."
Local numbers
The Alabama Department of Public Health (ADPH) is still confirming new COVID-19 cases in east Alabama counties.
There were 832 confirmed cases in Chambers County, 2,554 in Lee County, 316 in Macon County, 1,267 in Russell County and 827 in Tallapoosa County as of Wednesday evening, according to ADPH.
Lee County's new COVID-19 cases confirmed per day average over the past 14 days continues to decline despite being the highest average among local counties. The county is averaging about 28 new cases per day, according to ADPH data.
The following is the average number of new cases confirmed in east Alabama counties over the past 14 days:
Chambers County — 5
Macon County — 3
Russell County — 20
Tallapoosa County — 7
There were 91,776 confirmed cases and 1,639 virus-related deaths in Alabama as of Wednesday night, according to ADPH.
Of the 1,639 reported deaths, 38 are from Chambers County, 42 from Lee County, 13 from Macon County, two from Russell County and 78 from Tallapoosa County.
EAMC update
The number of calls and tests to both EAMC and the Auburn University Medical Clinic has declined since Alabama's mask mandate went into effect on July 16.
EAMC tested 213 patients, of which 24 tested positive, on Monday and Tuesday. The past two Monday/Tuesday combinations accounted for 310 and 302 tests, of which 53 and 51 were positive, respectively.
"Two weeks ago, the positivity rate was 16.9 percent, and it was 15.2 percent last week," a news release from EAMC reads.
The Auburn University Medical Clinic tested 409 on Monday and Tuesday, of which 24 were positive. The positivity rate was 5.9 percent, EAMC added.
Testing center
ADPH will be testing for COVID-19 in Lee County on Thursday. The specimen collection clinic will take place from 9 a.m. until noon Thursday at Nazareth Missionary Baptist Church in Opelika.
Those who wish to be tested must meet the following criteria to qualify for testing:
The person is a resident of a long-term care facility and the facility has laboratory-confirmed cases in residents or staff
Person with symptoms
Healthcare facility workers, workers in congregated living settings and the first responders with symptoms
Persons without symptoms who have underlying medical conditions or disability placing them at a higher risk of complications
Screening of other asymptomatic individuals based on a case-by-case review and approval by the state health department or local health jurisdiction.
People who wish to schedule an appointment may call 334-745-5765. Nazareth Missionary Baptist Church is located at 4454 Lee Rd. 166 in Opelika.
Concerned about COVID-19?
Sign up now to get the most recent coronavirus headlines and other important local and national news sent to your email inbox daily.