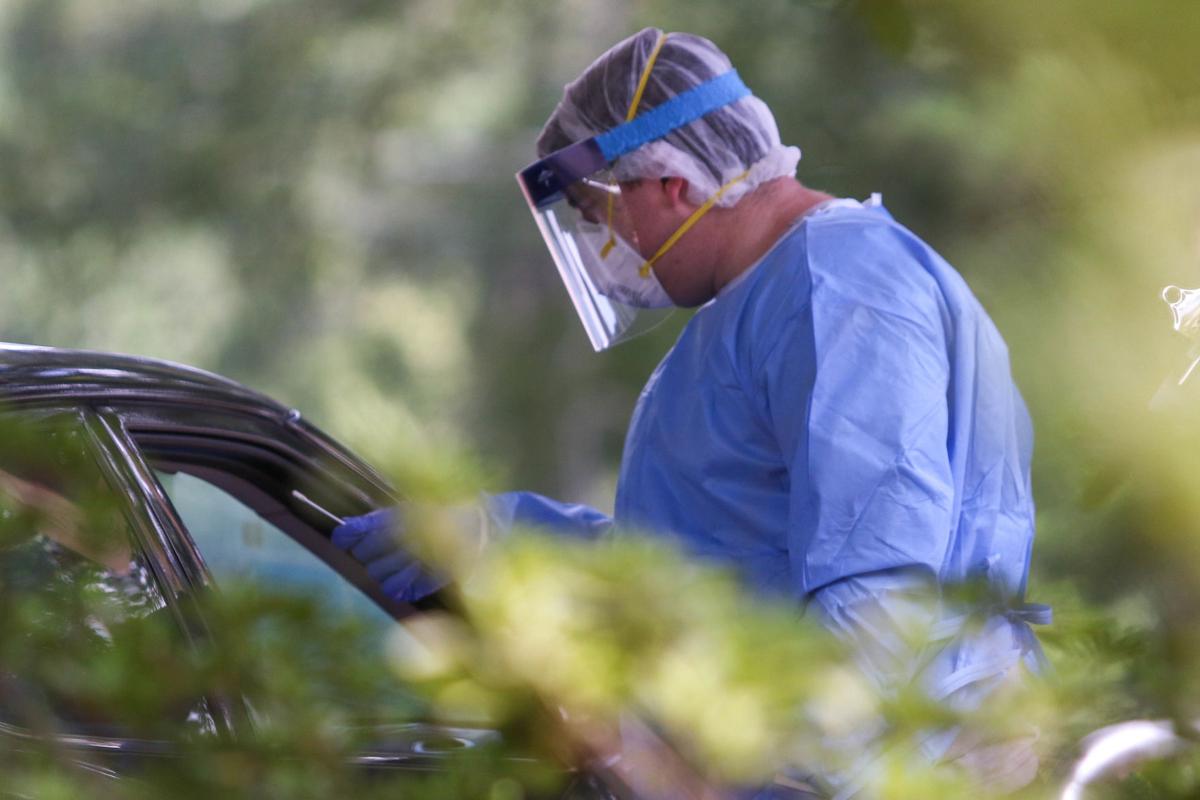 Lee County eclipsed more than 7,000 COVID-19 cases on Thursday as East Alabama Medical Center's COVID-19 hospitalizations rose to its highest level in nearly a month.
The Alabama Department of Public Health (ADPH) reported 91 new COVID-19 cases in Lee County from Tuesday to Wednesday. There were 4,474 confirmed virus cases and 2,569 probable cases for a combined total of 7,043 total COVID-19 cases in Lee County on Thursday.
The county is one of eight Alabama counties to have more than 7,000 total COVID-19 cases. Only Baldwin, Jefferson, Madison, Mobile, Montgomery and Shelby counties have more total cases than Lee County, according to ADPH.
Lee County's average number of new COVID-19 cases reported per day during the past two weeks also continues to rise. The county was averaging about 29 new COVID-19 cases per day on Thursday. Lee County was averaging about 18 new cases at the end of October, according to ADPH data.
EAMC and EAMC-Lanier have seen their combined COVID-19 hospitalizations rise from 20 on Nov. 5 to 32 on Thursday. Ventilator usage for virus patients also rose to five on Thursday, the highest number in use since late October, according to EAMC data.
"We're attributing this rise in hospitalizations to the rise in community cases the past 2-3 weeks," John Atkinson, EAMC spokesman, said. "And that falls right in line with what we are seeing nationally. The number of new cases in the United States has hit record highs several days in a row — over 100,000 each day — and earlier this week, the number of patients hospitalized in the U.S. surpassed 60,000 a day for the first time during this pandemic."
EAMC reminds the community that although its drive-thru testing location at the Auburn University Medical Clinic was the main COVID-19 testing locations in the area at the beginning of the pandemic, it no longer is.
EAMC tested 294 individuals through its 334-528-SICK hotline from Nov. 2-6 with 31 testing positive but there were more than 31 new COVID-19 cases reported in Lee County during that time frame.
"Most of our 31 cases were probably from Lee County, but likely not all. But even if all 31 were from Lee County, that's just 21 percent of the cases in Lee County." Atkinson said. "There were 165 new cases in Lee County that week, but only 16 of them came through our call center for just 9.7 percent of the positives."
Atkinson said the Auburn University Medical Clinic reported 20 positive virus cases last week but combining that number with EAMC's 31 cases only accounts for 51 out of the 147 virus cases reported. That means the 96 other cases likely came from testing at urgent care offices or doctors' offices.
"It's important that people have a clearer picture of the caseload and how it is rising again," Atkinson said.
EAMC is urging community members to do everything they can to limit the number of new COVID-19 cases in the area. The hospital had seven units at EAMC in Opelika that were full Thursday morning, including the intensive care unit and the cardiovascular intensive care unit.
"Not all beds are created equal," Atkinson said. "What I mean by that is patients are assigned to units where the staff is specially trained to care for them. You wouldn't put a heart patient on an orthopaedic floor, and a COVID patient in need of critical care cannot be put on a childbirth unit.
"Therefore, it's imperative that we as a nation and we as a community do everything we can to limit the number of new COVID-19 community cases."
Local numbers
Many east Alabama counties also saw a steady rise in new COVID-19 cases reported. ADPH reported 12 new virus cases in Chambers County, 13 in Macon County, seven in Russell County and 35 in Tallapoosa County from Tuesday to Wednesday.
The following is a look at the total number of confirmed cases, probable cases and combined total cases for east Alabama counties:
Chambers County – 983 confirmed, 531 probable, 1,514 combined
Macon County – 554 confirmed, 76 probable, 630 combined
Russell County – 1,860 confirmed, 173 probable, 2,033 combined
Tallapoosa County – 1,215 confirmed, 327 probable, 1,542 combined
The following is the average number of new cases in east Alabama counties over the past 14 days:
Chambers County — 10
Macon County — 6
Russell County — 4
Tallapoosa County — 13
Alabama added a combined total of confirmed and probable virus cases of 4,040 cases from Tuesday to Thursday. There were 178,013 confirmed virus cases and 32,624 probable cases as of Thursday in Alabama. The combined total of COVID-19 cases was 210,637.
There were 2,970 confirmed deaths and 243 probable deaths in the Alabama, according to ADPH.
Of the 2,970 reported deaths in Alabama, 41 are from Chambers County, 51 from Lee County, 16 from Macon County, three from Russell County and 86 from Tallapoosa County. Of the 434 probable deaths, seven are from Chambers County, 14 from Lee County, four from Macon County and one from Tallapoosa County.