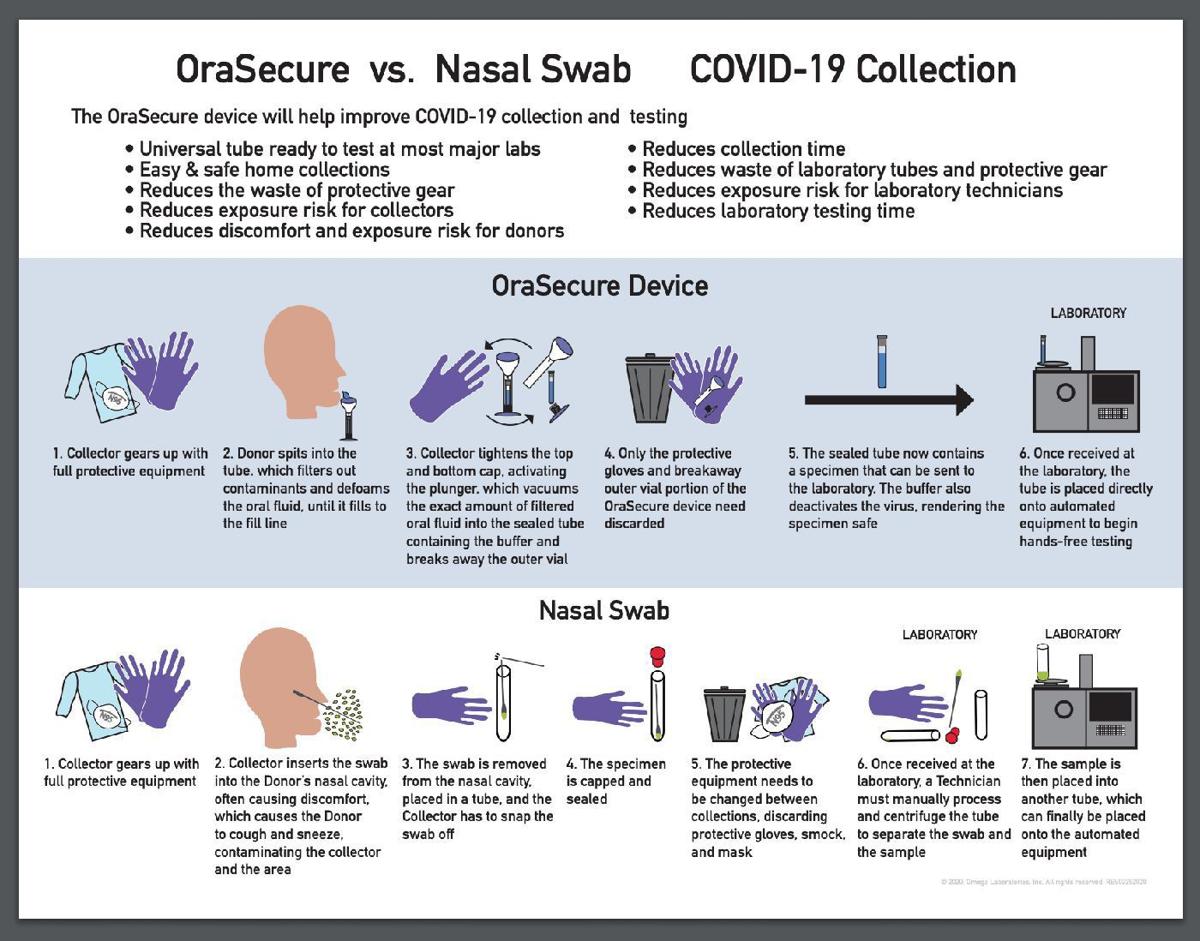 The city of Auburn and state officials are helping a local manufacturer in the battle against COVID-19.
OraSecure LLC's will get $250,000 to develop a saliva collection device awaiting federal approval, Auburn officials announced Wednesday morning. The product is intended to be an alternative to the nasal swabs now used to collect samples from people for COVID-19 testing.
The Alabama Department of Commerce will spend $200,000 and the city another $50,000 on the effort, which will be based in Auburn. The announcement didn't reveal how many local jobs would be created.
Made in Auburn"It's great to see innovative products being manufactured here in Auburn that will aid in public health efforts and the fight against COVID- 19," said Auburn Mayor Ron Anders. "OraSecure is a perfect example of the types of new technologies that we work to foster in our local businesses."
The support will help OraSecure to begin mass producing its devices and complete validation with the FDA, according to a press release.
"The Alabama Innovation Fund is a key component in our efforts to spark the creation of high-impact Made in Alabama products by stimulating breakthrough research," said Greg Canfield, secretary of the Alabama Department of Commerce. "With this support, we are helping OraSecure speed the development of a specimen collection device that can make a difference in the pandemic response while simultaneously raising the state's profile in the bioscience industry."
More state helpWednesday's press release preceded an announcement by Gov. Kay Ivey to offer small businesses $100 million in grants to help with unplanned expenses caused by the coronavirus outbreak.
The money will come out of the $1.9 billion of federal COVID- 19 funding the state received this spring. Alabama Act 2020-199 designated up to $300 million of the Coronavirus Relief Fund for individuals, businesses, nonprofit and faith-based organizations directly impacted by the coronavirus pandemic, according to the news release from Ivey's office.
Qualifying businesses may receive up to $15,000 to reimburse these expenses, and the grants will be awarded on a first-come, first-served basis until the money runs out.
Concerned about COVID-19?
Sign up now to get the most recent coronavirus headlines and other important local and national news sent to your email inbox daily.