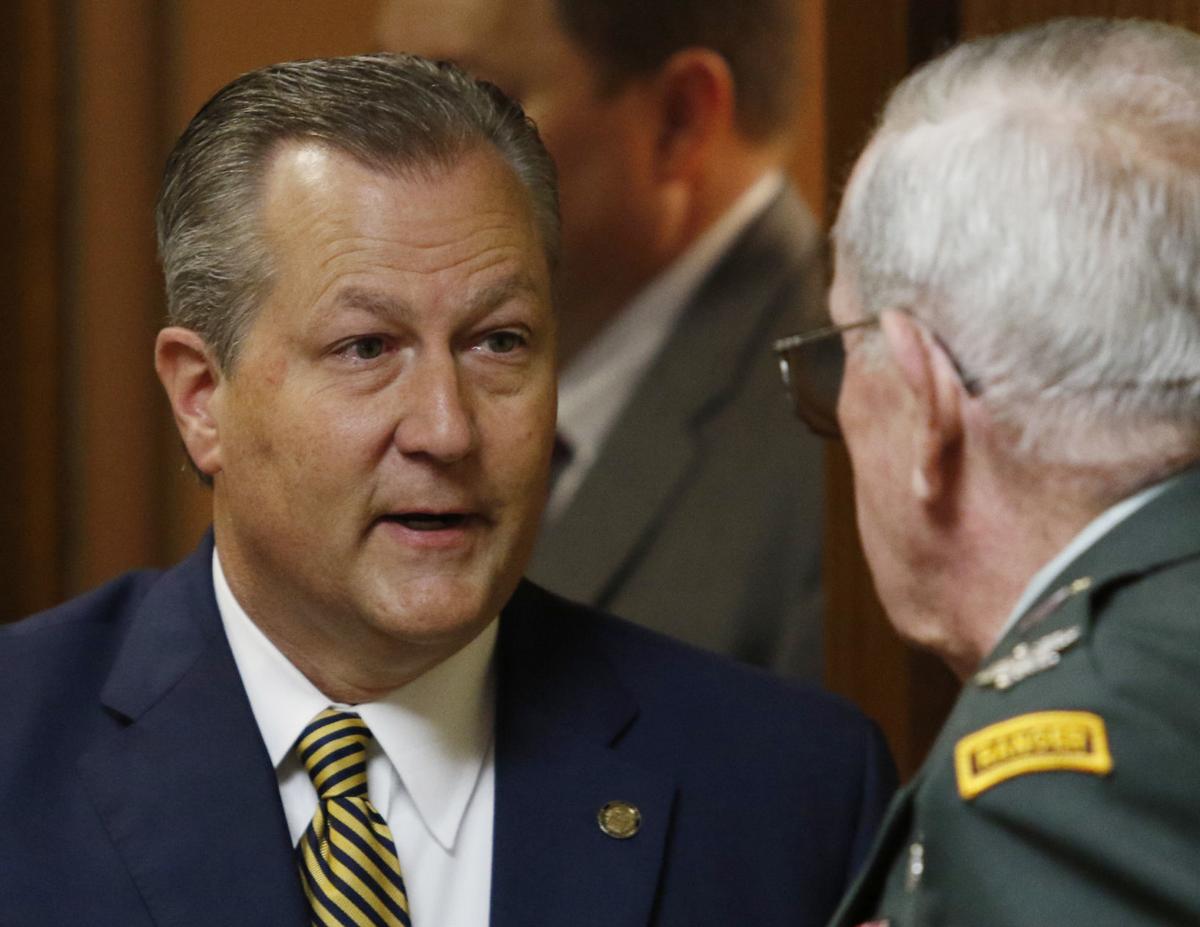 The Alabama Supreme Court has rejected former Speaker of the House Mike Hubbard's request to reconsider the six convictions it upheld earlier this year in his ethics case and ordered him to begin serving his prison sentence.
Attorney General Steve Marshall said Hubbard has run out of options for avoiding prison.
"The long road to justice is finally nearing its end for former Speaker Mike Hubbard," said Marshall. "Today, the Alabama Supreme Court effectively reaffirmed its April 10 ruling upholding six counts of Mr. Hubbard's conviction of violating Alabama's ethics law. The court denied Mr. Hubbard's application for rehearing and issued a certificate of judgment requiring the former speaker to report to begin serving his prison sentence."
Hubbard must report to the Lee County Sheriff's Office within 15 days to be processed and turned over to the Alabama Department of Corrections.
Convictions
Hubbard was convicted in Lee County Circuit Court in 2016 on 12 of 23 counts of violating state ethics laws. Judge Jacob A. Walker III sentenced him to four years in prison and eight years of probation, and assessed a fine of $210,000.
Hubbard's appeals process seemed to have ended in May, when the Alabama Supreme Court upheld the convictions on six of those counts. However, he later filed a request for reconsideration.
Gov. Kay Ivey endorsed the court's upholding of the convictions.
"As an elected official, our first priority is to be above reproach and avoid even the appearance of misconduct and abuse of office," she said in a May statement. "I support seeking clarity on our state's ethics laws to ensure those who want to abide by them may not be unfairly targeted.
"However, let me be abundantly clear, I do not support weakening a system that is meant to hold our elected officials accountable. The rule of law must be upheld."
The Opelika-Auburn News has not been able to reach Hubbard or his legal team for comment since the Supreme Court's ruling in his case.
Edgenuity
The high court affirmed convictions related to Hubbard's consulting contracts with Edgenuity, Inc. and American Pharmacy Cooperative Incorporated (APCI). Hubbard was paid $210,000 by Edgenuity and $95,000 from APCI from 2012 to 2014.
Hubbard argued that his contracts with the companies were not related to his position as Speaker of the House and "came within the Ethics Code's 'compensation' exclusion from the definition of 'thing of value,'" the opinion said.
The court said the state presented enough evidence to prove that the compensation exclusion did not apply to APCI's and Edgenuity's payments to Hubbard.
Edgenuity was contracted to provide remote learning support to Auburn City Schools. Parents complained to the school board earlier this month that the vendor was not providing the services they were promised when they chose to keep their children home as safeguards against COVID-19 exposure.
Capitol Cups
The court also held up Hubbard's guilt on Count 11 of the original conviction. Capitol Cups owner Robert Abrams, who owned several Lee County businesses, hired Hubbard because "he had ideas about companies that might be interested in Capitol Cups' products."
Hubbard and Abrams signed a consulting contract, under which Capitol Cups would pay Auburn Network, owned by Hubbard, $10,000 per month. Hubbard ultimately received $220,000 from Capitol Cups between 2012 and 2014.
As part of his consulting work, Hubbard emailed Publix Super Markets Inc. ("Publix"), to see if they would meet with Capitol Cups, which he called "a company here in Auburn (my district)" "that employs several hundred people." Hubbard identified himself to Publix as "Rep. Mike Hubbard[,] Speaker of the House[,] 46 1180047 Alabama House of Representatives." He didn't disclose his business relationship with Capital Cups.
The court determined that "was sufficient to support the jury's conclusion that Hubbard "use[d] ... his ... official position or office to obtain personal gain."
SiO2
The high court also upheld counts related to Hubbard's paid work for SiO2 Medical Products in its dealing with state government. SiO2 was also controlled by Abrams. Hubbard got meetings with executive-branch officials on behalf of the company while consulting for Capitol Cups.
The court ruled that the state showed enough evidence to support the jury' conclusion that Hubbard represented a corporation before an executive department of agency for nonofficial compensation.
SiO2 made local news this summer when it and the city of Auburn announced a $143 million federal contract and site expansion for the company. The city council voted in July to give tax breaks and sell land to accommodate SiO2's expansion in the Auburn Technology Park West.
The firm will provide safe vials for the COVID-19 vaccine now under development, a move that could add 220 new jobs locally.
The city council also voted last month to remove Hubbard's name from a street leading into the Auburn University Regional Airport, renaming Bent Creek Road to line up with street that extends south from the airport.
Sara Palczewski contributed to this report.
Sign up for our Crime & Courts newsletter
Get the latest in local public safety news with this weekly email.