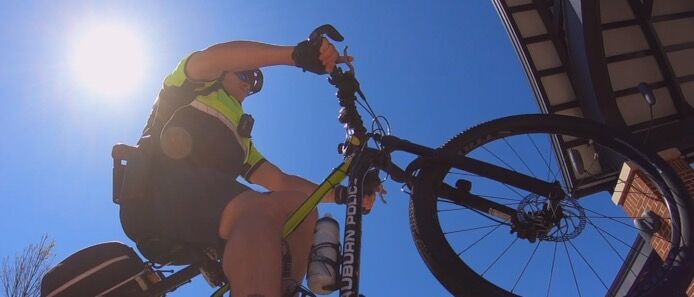 The Auburn Police Division plans to train more officers for bike patrol in order to increase its visibility throughout the city and engage with the community.
Assistant Chief Clarence Stewart said the increase in bike patrol officers was one part of a larger plan to increase community relations and build trust with the citizens the division serves.
"The plan is to have more bike officers on campus as well as off campus so we can be more effective, more proactive and more reachable for the community," Stewart said. "If you have an officer assigned to your area, we want to give officers the option to get on a bicycle and ride around."
Stewart said some of the advantages of having more officers on bikes is that it allows them to get out into the community and speak with people, as opposed to spending their shifts inside their patrol cars and mostly interacting with community members when something goes wrong.
"There's a lot of research that shows that [bike officers] are really good for being transparent, community relations and being proactive and visible, too," Stewart said. "People tend to see us riding around in vehicles and you've got that metal all around you, and you're not approachable as much as if you're on a bike."
The plan to increase the number of bike officers, which was thought out by Auburn Public Safety Director Paul Register and APD Chief Cedric Anderson, was originally supposed to begin in 2020 but has been postponed due to the coronavirus pandemic, Stewart said.
"Unfortunately with the pandemic and everything else that's going on, we've had to push things back," Stewart said. "The actual bikes are still on backorder right now, and that's one of the things that's holding us up … as well as having to adjust personnel to other areas, so we're really now starting to get some traction with this again."
Stewart said the plan is to have most of the on-campus police officers trained and certified for bike patrol as well as two to three bike officers on every shift throughout the city.
"We've gotten a lot of positive feedback about the bike officers on campus, so we want to extend it out to the off-campus citizens," Stewart said. "A lot of our constituents live on campus, but we have more that live off campus, so we want to provide that same service to them as well."
The division recently certified two more officers to be able to patrol on bikes when they previously only had four, and Stewart said while the process of training, certification and getting the right equipment was gradual, he hoped to have "as many as we can" by this fall.
The increase in bike officers is just one aspect of a larger push for the APD to better engage with the community, and Stewart said the division plans to increase its ability to communicate with the public online and provide more information and resources to victims of crimes all in the name of transparency.