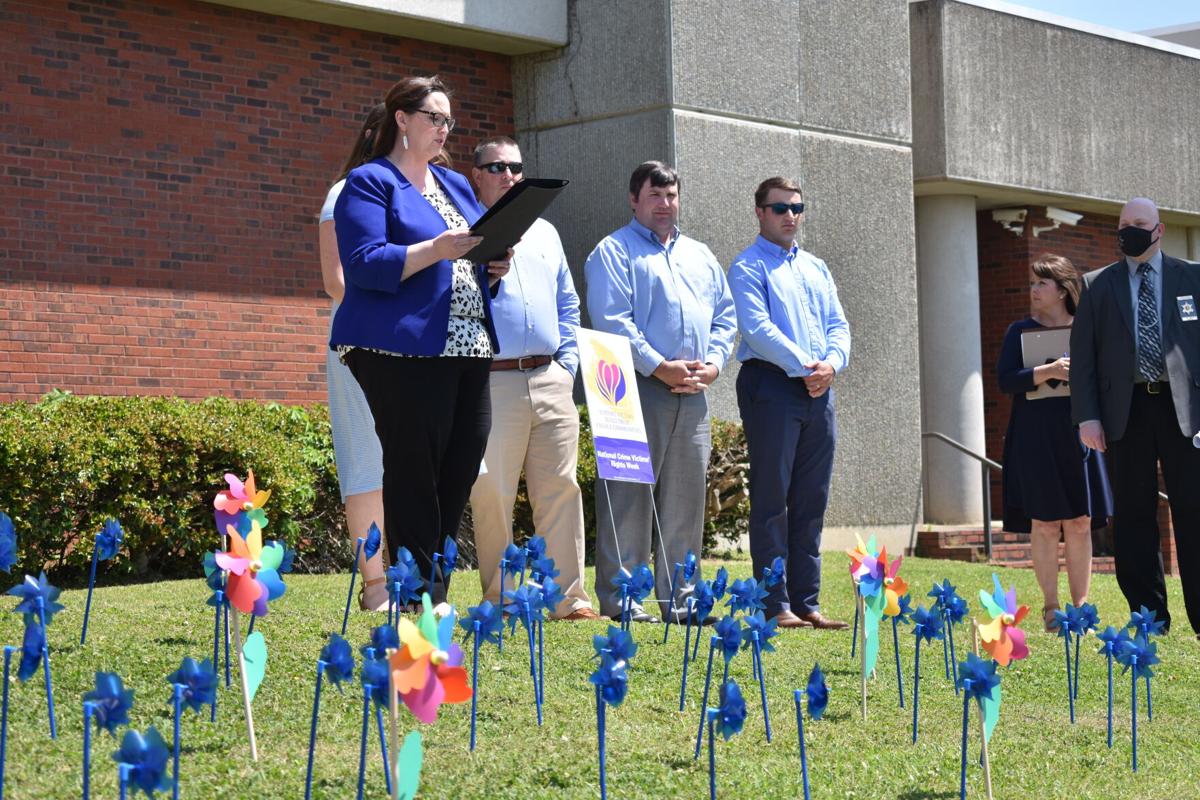 This week has been dedicated to all of the victims of violent crimes, and the Lee County District Attorney's Office is making sure they receive the support and awareness they deserve.
District Attorney Pro Tem Jessica Ventiere said recognizing the rights of victims was important to her both personally and professionally after she lost her grandmother to violent crime as a child and is now the leading prosecutor of Lee County.
"It's important for me and my office to put the focus on the victim," Ventiere said. "I think, a lot of times, there is continued focus on the offender because they're still here. There are articles about them and pictures about them and people follow the trials, and sometimes through all of that the victim gets lost."
Throughout the National Crime Victims' Week, each day is dedicated to victims of different categories of crime, including days for elder abuse, sexual assault, domestic violence and child abuse.
So far, the cities of Auburn, Smiths Station and Opelika have issued proclamations declaring the week National Crime Victims' Week and several law enforcement agencies and organizations dedicated to providing support for victims and their families have banded together with the DA's office to spread the word.
On Tuesday, law enforcement officials and local leaders wearing blue gathered in front of the Lee County Justice Center by a pinwheel garden to show their support for victims of child abuse.
Katherine Cochrane, program coordinator with the Twin Cedars Child Advocacy Center in Opelika, said the pandemic has worsened the risk for child abuse and neglect in Lee County over the past year, with the county's Department of Human Resources receiving 745 calls about child abuse involving 1,200 children in 2020 alone.
"Many families have had to battle the challenges of school closures, isolation and increased financial instability, creating the perfect storm for increased risk for child abuse," Cochrane said. "Child abuse thrives in secrecy behind closed doors, which is why increased awareness and collective action is necessary to assist in preventing the occurence."
Lee County Sheriff Jay Jones said it was important to recognize the victims of all crimes, but especially the children affected.
"[Children] don't understand, and I think it's incumbent on all of us to take care of them, look out for them and protect them as best we can," Jones said. "When we hear their stories, I think we all know how heartbreaking they can be and how much it affects not only those victims but us, as well, and it should galvanize our resolve to do everything we can to ensure we're protecting our young people."
On Thursday in the parking lot of the Lee County Justice Center starting at 5:30 p.m., the district attorney's office will host a resource fair with food trucks and vendors representing nonprofits that provide helpful resources and outlets to those affected by crime. The fair will be followed by a vigil at 7 p.m. to remember all of those who have been victimized.
"This is a time to bring victims back to the forefront, and not just homicide victims, but anyone who has suffered as a result of the criminal actions of somebody else," Ventiere said. "We want to bring them back into focus and remind everybody about their needs, and what we as a community can do to support victims and prevent crime."