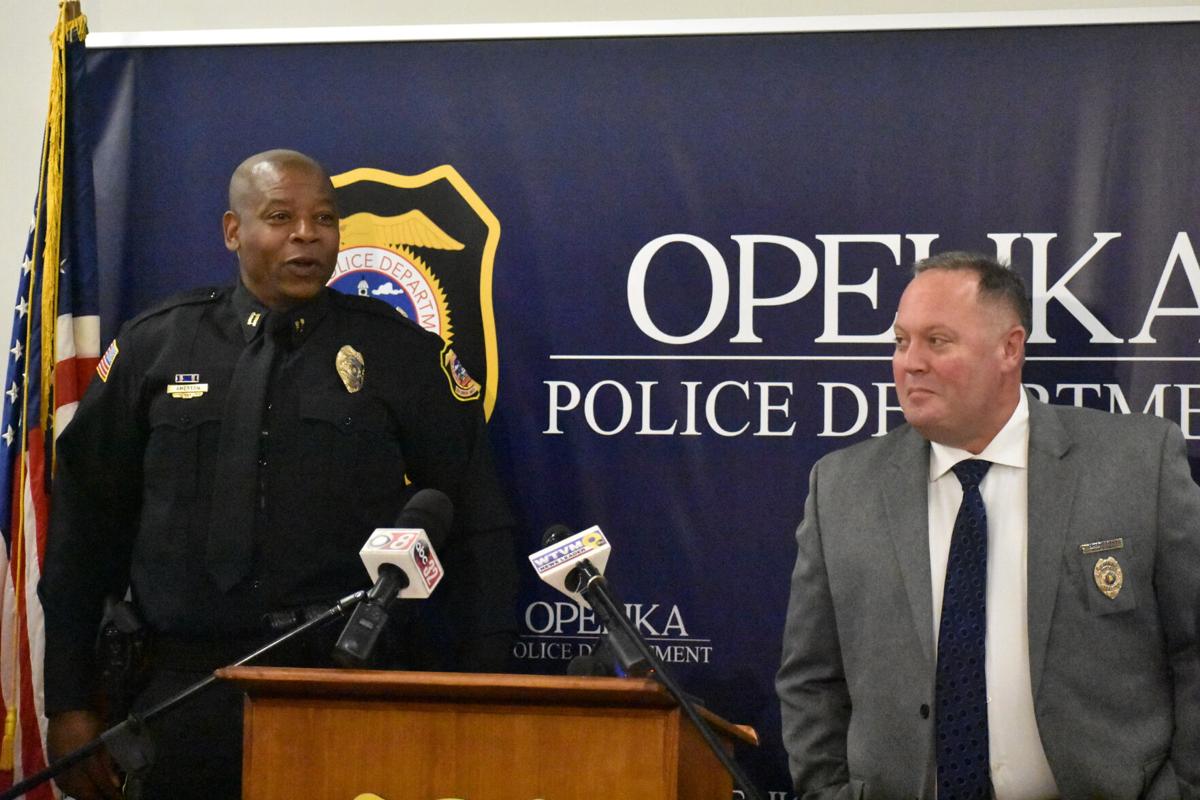 Half a year after the Opelika Police Department announced its "Together, Opelika" campaign, police leaders updated the community on their department's progress in public outreach and training as well as their efforts in lowering the overall crime rate in the city.
According to the department's annual review, the amount of nonviolent crimes throughout the city dropped by over 30% in 2020 compared to the 2017-2019 three-year average.
While violent crimes increased by 11.8% percent in 2020 compared to the three-year average, total crimes decreased by about 26% percent, which Opelika Police Chief Shane Healey in part contributed to an increase in trust and cooperation from the public.
"Since the start of our campaign, we have seen a decrease in robberies and thefts compared to the previous year as well as an increase in the community's involvement in helping us solve crimes," Healey said. "We have got people in the community that are standing up and saying, 'enough is enough, we want to take our neighborhoods back,' and they're helping us solve crimes."
Moving forward, Healey said he hopes to bring more technology and analytical tools to the department to allow them to better communicate with the Opelika community through things like providing real-time calls for service and up-to-date crime statistics to increase their transparency with the public, including the launch of a smartphone app.
"The app offers quick access to items of public interest and is easy to use," Healey said. "In just a few clicks, users can submit a tip, receive push notifications, search Opelika's most wanted, connect to the organiztion on social media, read the latest news and press releases, view sex offenders in the area and a whole lot more."
Along with upgrades to tools and transparency efforts, Healey said a large goal of the "Together, Opelika" campaign has been improving the department's community outreach efforts.
"I was shocked by this number when we sat down the other day preparing this and learned that since October of last year, our department has participated, hosted or attended over 75 community events," Healey said. "We've been developing new ways to engage, communicate and, most importantly, to listen to our community."
The Opelika Police Department has also more than doubled the required training hours required by the state and hopes to quadruple it in the near future to address the potential for officer misconduct, excessive use of force and unconscious bias, Healey said.
"So far, just in 2021 as of last Thursday, we have already conducted over 4,000 hours of training within the Opelika Police Department," Healey said. "We're optimizing every tool at our disposal in order to have more accountability in our officers' training and development."
OPD Community Relations Capt. Tony Amerson said part of the outreach efforts included providing community liaison positions through all of the city's wards to help breach the gap between the city's residents and the police department.
"We think there's definitely a need, and the community liaisons can help come up with different ideas and we'll devout all of our time to try and help make Opelika great," Amerson said.
Amerson said the department has several different community events planned for the coming months to help with its youth outreach, including talks about traffic enforcement and what to do when pulled over by an officer on June 12 in partnership with the Dream Day Foundation.
"What we'll try to hit on are the simple things, try to train these youth on when to get out of the car, when to stay in the car," Amerson said. "Some of the important incidents you're seeing in the news today we'll try to cover down on."
Other events include a program in partnership with Opelika City Schools to start this fall called "Policing and Me" to educate students about police procedures, the 20-under-20 Police Explorer Academy later this year at the Opelika Police Department to teach youth what police officers do and the "Together, Opelika: Game On" flag football game on June 19 for kids aged 5-18 playing with professional athletes and volunteers, Amerson said.