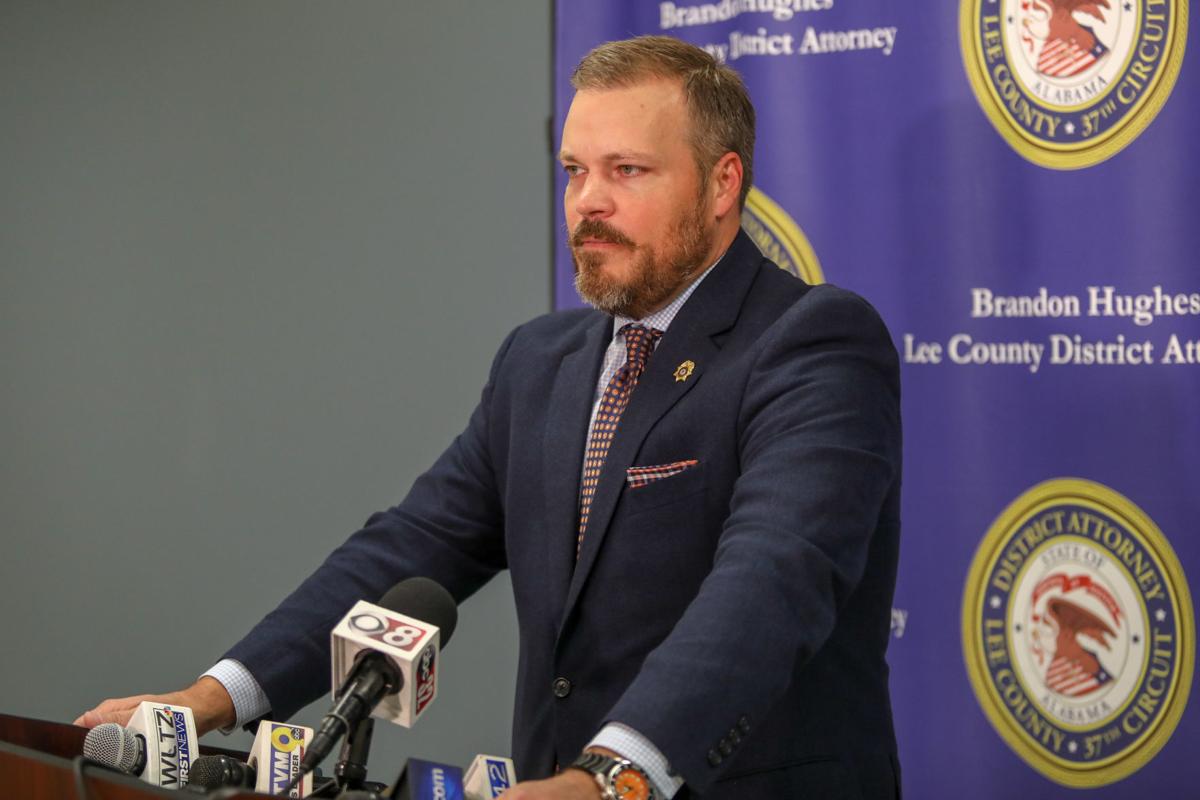 What is next for Lee County District Attorney Brandon Hughes?
Hughes was charged with eight felonies this week, including five counts of ethics violations, one count of conspiracy and two counts of first-degree perjury. He turned himself into the Lee County Jail, then Montgomery County jail and eventually posted bail.
Suspension is the next step for Hughes, according to Alabama law.
"When it shall be made known to any court that an indictment is pending therein against the person who is acting as district attorney of the county in which the court is held, the court shall make an order suspending such district attorney," the law reads. "The district attorney so suspended shall not act as district attorney until such order of suspension shall be set aside."
It will be up to Lee County judges to select an interim district attorney in order to handle the cases Hughes will be unable to once suspended, according to Mike Lewis, an official with the Alabama Attorney General's Office.
"The Lee County Circuit Court judges have to make a decision [on] who would be the interim district attorney, so that would be the process: the court orders a suspension and also appoints an interim," Lewis said. "If it turns out the district attorney is convicted and ousted from office, then it would be up to the governor to announce his successor."
Alternatively, if Hughes is proven innocent and exonerated of the eight felony charges, Lewis said he would be reinstated as district attorney.
On Monday, four of the five judges elected in Lee County - Russell Bush, Steven Speakman, Mike Fellows and Jacob Walker - have recused themselves from Hughes' case. If all of the judges in the county recuse themselves, Lewis said a judge from another county can be selected to come to Lee County to preside over the case.
"When officials have recused [themselves], they can bring [judges] in from neighboring counties," Lewis said.
Lewis was unable to comment on the legal proceedings regarding Hughes' case after that point, though a state representative said he wanted the Attorney General's Office to expand their investigation.
"I call on the Alabama Attorney General's Office and the U.S. Department of Justice to open an inquiry into possible other instances in which Hughes misused the power of his office against the people of Lee County," a statement from Alabama Representative and Opelika resident Jeremy Gray said. "That investigation should include a thorough review of all convictions and indictments procured by Hughes and should allow the people of Lee County an opportunity to report any additional instances of Hughes misusing his office."
Gray said he was shocked when the charges were announced, and said he wanted an extra look at the cases Hughes has acted as prosecutor in light of the circumstances.
"When you think about it from an ethical standpoint … you have to look at the cases he's had over the last three or four years," Gray said. "If you have counts of basically being dishonest and using your position to gain, then I think that at least should at least ignite some kind of investigation where we can look closer into the cases. To me, it's just about doing due diligence."
Gray said there was already mistrust of the criminal justice system before the charges leveled against the county's district attorney were filed, and the news certainly doesn't help.
"There may be some people who are incarcerated right now that may not have actually done anything, so I just want those in power to do a thorough investigation just to make sure that no one is being overlooked. Incarceration is a big deal in Alabama," Gray said. "In general, people don't trust the justice system because it wasn't built for everyone. It's not one-size-fits-all."
Despite the call for an expansion of the Attorney General Office's investigation, Gray said if Hughes were found innocent then things could be "business as usual."
"This is the land of second chances," Gray said. "From a citizen's standpoint, once you have that mark on your name of doing things that seem unjust, then that's always going to be in the back of someone's mind. But for me as a legislator, I wouldn't have a problem with him if he was innocent of all charges."