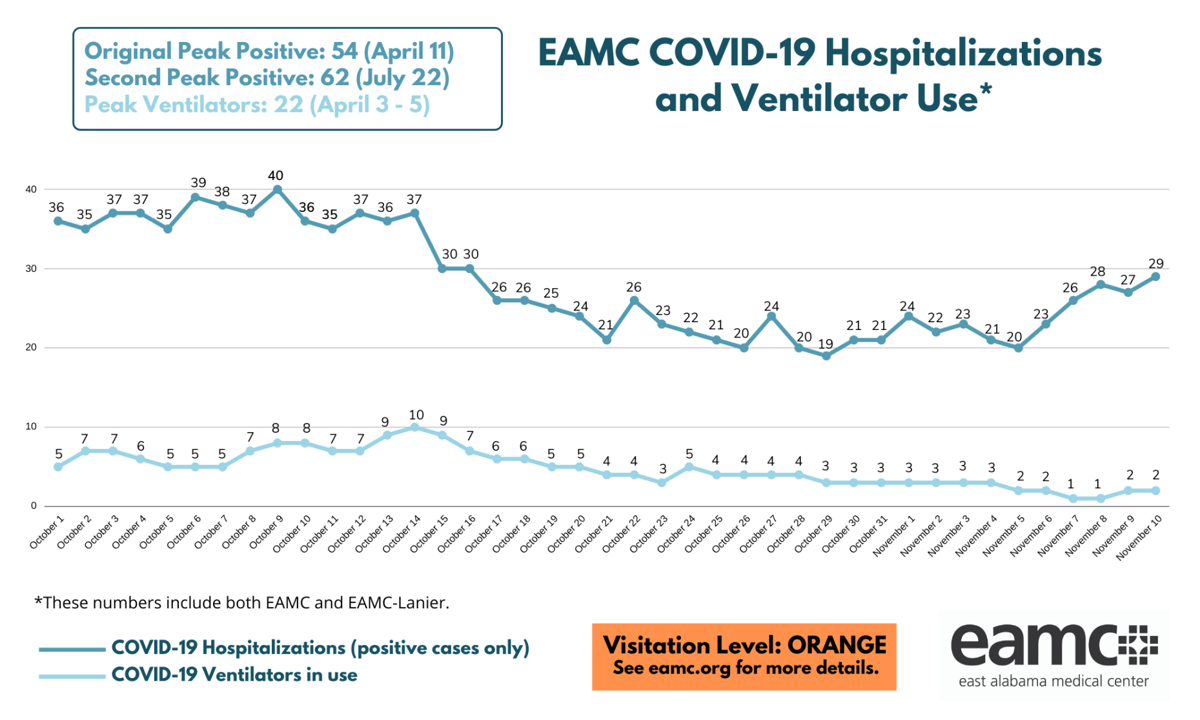 East Alabama Medical Center logged its highest number of COVID-19 hospitalizations in nearly a month on Tuesday. Hospitalizations also rose by nine in five days.
There were 29 COVID-19 patients hospitalized on Tuesday, the highest since 30 patients were hospitalized on Oct. 15-16, according to hospital data.
"We have been spared a little over the past month or so, while many areas of the state have been increasing, but are now trending upward a little" John Atkinson, EAMC spokesman, said. "According to the Alabama Department of Public Health (ADPH) website — which includes all new cases in the community, not just through EAMC — we have seen higher numbers the past two weeks compared to the three previous weeks."
Atkinson added that COVID-19 hospitalizations in Alabama were at 1,206 Tuesday morning, the highest total since 1,201 on Aug. 19.
Atkinson also noted that based on the number of new COVID-19 cases in the community during the past two weeks, there is a steady increase in cases within Lee County.
"These are not sharp increases, but slow increases in community cases lead to slow increases in hospitalizations, and that's where we find ourselves now," said Atkinson.
The ADPH reported 105 in Lee County new COVID-19 cases in Lee County from Friday to Monday. There were 4,448 confirmed cases and 2,504 probable cases for a combined total of 6,952 virus cases in Lee County.
EAMC's COVID-19 testing positivity rate also nearly doubled during the past week. EAMC tested 294 individuals through its 334-528-SICK hotline from Nov. 2-6 with 31 testing positive, which yields a 10.5 percent positivity rate, the hospital system said.
Last week's positivity rate rose from the previous week's rate of 5.9 percent.
Auburn University
Although the number of new COVID-19 cases on Auburn University's campus remain relatively low, the number of new COVID-19 cases tripled that of the previous week.
The university said that 24 new virus cases were self-reported to the school during the week ending on Nov. 8, exactly three times as many as the week ending on Nov. 1. The school also reported a 0.48 percent positivity rate among those tested through its voluntary sentinel testing, according to data released Tuesday afternoon.
All 24 new cases were reported on Auburn's main campus. There have been 1,444 reported COVID-19 cases since Aug. 17, according to Auburn University data.
The university said eight campus community members self-reported positive COVID-19 tests during the week ending on Nov. 1. It also reported a 0.49 percent positivity rate during the same timeframe among those tested through sentinel testing.
Auburn University tested 627 people through the sentinel testing program last week. A total of 4,338 Auburn students, faculty and staff have been tested through the program since it began.
Data provided Tuesday represents students, employees and contractors who self-reported positive test results to Auburn University and those who tested positive through the AU GuideSafe Sentinel testing, according to the school's COVID-19 data dashboard.
Schools
The number of new COVID-19 cases reported by area school systems to the ADPH and the Alabama State Department of Education rose in some places and fell in others.
Chambers County Schools and Phenix City Schools each reported seven cases, while Lanett City Schools reported five cases, according to the Alabama's K-12 COVID-19 School Dashboard.
Lee County Schools, Opelika City Schools, Russell County Schools each Tallapoosa County Schools each reported less than five cases. Macon County reported no cases.
The number of new COVID-19 cases reported by Auburn City Schools rose for the first time in several weeks.
The school system reported 17 cases of the virus to the ADPH from Nov. 2-6. There were 216 students and staff members completing the required quarantine due to the potential of close-contact exposure, according to a Sunday news release from Auburn City Schools.
Local numbers
Many east Alabama counties saw a steady rise in new COVID-19 cases reported during the weekend, according to ADPH.
ADPH reported 37 new virus cases in Chambers County, 21 in Macon County, 11 in Russell County and 55 in Tallapoosa County from Friday to Monday.
The average number of COVID-19 cases reported in the past two weeks rose in Chambers, Lee, Macon and Tallapoosa counties during the weekend. Chambers County's average rose from about 9.1 cases on Wednesday to about 10.1 on Tuesday, according to ADPH.
Lee County's average rose from about 23.6 cases on Wednesday to about 28.6 cases on Tuesday. Macon County's average rose from about 4.3 on Wednesday to about 5.7 on Tuesday and Tallapoosa County's average rose from about 10.3 on Wednesday to about 12.4 on Tuesday.
Russell County was the only east Alabama county to see its average drop. The county's average dropped from about 6.9 on Wednesday to about 5.4 on Tuesday.
The following is a look at the total number of confirmed cases, probable cases and combined total cases for east Alabama counties:
Chambers County – 993 confirmed, 514 probable, 1,507 combined
Macon County – 541 confirmed, 77 probable, 618 combined
Russell County – 1,863 confirmed, 165 probable, 2,028 combined
Tallapoosa County – 1,190 confirmed, 316 probable, 1,506 combined
There were 174,987 confirmed virus cases and 31,580 probable cases as of Tuesday in Alabama. The combined total of COVID-19 cases was 206,567.
There were 2,890 confirmed deaths and 230 probable deaths in the state as well, according to ADPH.
Of the 2,890 reported deaths in Alabama, 41 are from Chambers County, 51 from Lee County, 16 from Macon County, three from Russell County and 86 from Tallapoosa County. Of the 230 probable deaths, seven are from Chambers County, 14 from Lee County, four from Macon County and one from Tallapoosa County.