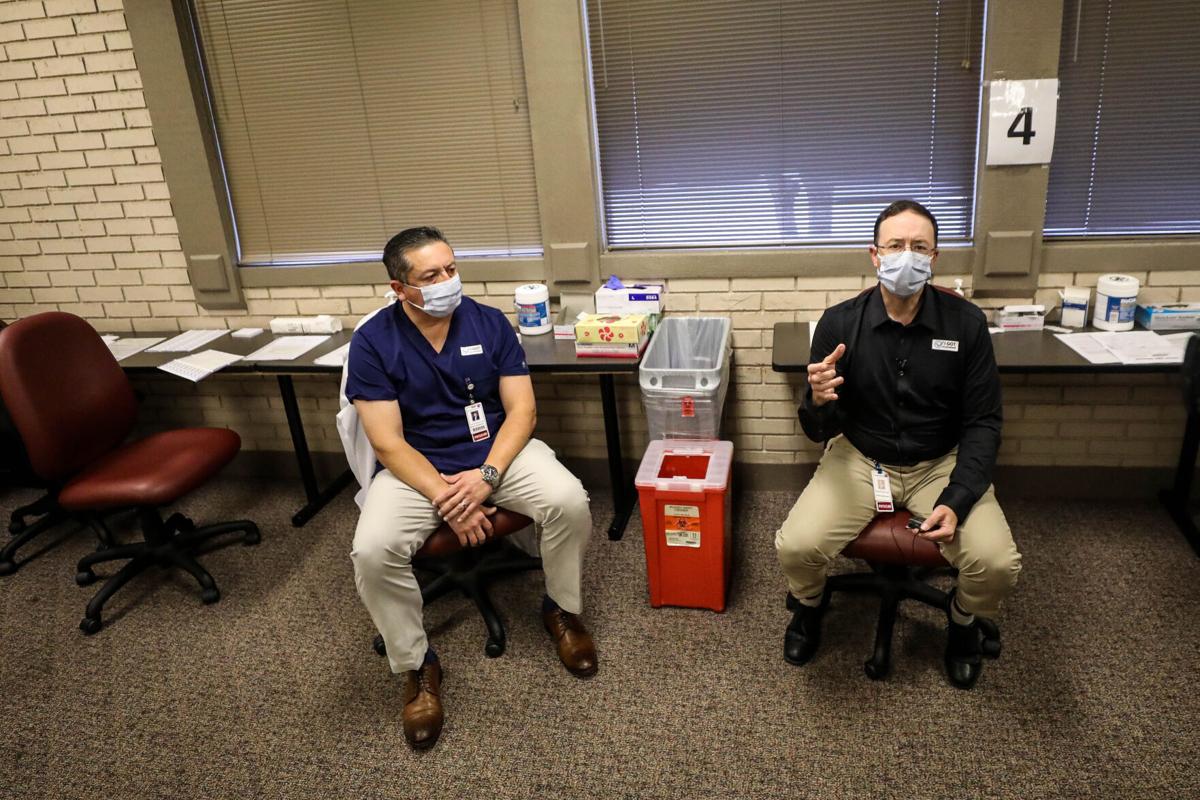 The number of COVID-19 hospitalizations rose on Tuesday from 74 to 77 at East Alabama Medical Center in Opelika and EAMC-Lanier in Valley, while COVID patients on ventilators remained at 16 for the third straight day.
Seven days ago, 62 patients at EAMC were hospitalized with COVID and six of them were on ventilators. That's a one-week increase of 24% for hospitalizations and 167% for patients on ventilators.
The most COVID patients on ventilators since the start of the pandemic was 22 from April 3-5 of 2020, as EAMC approached its first peak.
Two weeks ago, on Aug. 10, EAMC had 44 COVID patients hospitalized but only one on a ventilator.
At the time, Dr. Michael Roberts, EAMC's chief of staff, pointed to the average age of COVID-19 patients, which was dropping. "Prior to vaccines being available," he said, "the majority of our patients were 65 and older and therefore more likely to have health issues that—when combined with COVID-19—can make it difficult for their body to keep up."
Roberts said people in the 65-and-up age group had been more willing to accept the vaccine as soon as it became available than other age groups.
"At EAMC, we've had many in their 30s, 40s and 50s," Roberts said of the hospitalized COVID patients in mid-August. "So while ventilator usage is down, we still have patients who become very sick from COVID, and, sadly, some across several age brackets who die from COVID."
As the Delta variant's spread intensifies, the number of ventilated patients has skyrocketed, and their age has dropped.
"We're seeing a lot of younger patients needing ventilators with this surge, including ones in their 20s and ones who are (pregnant)," said Dr. Meshia Wallace, a pulmonologist and critical care physician at EAMC. "They tend to have less comorbidities than patients in previous surges, but still need help because the Delta variant just seems to be making patients sicker."
She said that people who are vaccinated and experience a breakthrough case "are very unlikely to be admitted to the ICU or to need to be placed on a ventilator."
EAMC's call center, at 334-528-4YOU (4968), is open Monday to Friday from 8 a.m. to 4:30 p.m. Give them a call for information on the following:
COVID testing: The call center staff can schedule free testing for people who currently have symptoms.
COVID infusions: If you test positive and qualify for an infusion of monoclonal antibodies, they can schedule you for that infusion appointment, which is free of charge. COVID home test results are not accepted for the scheduling of an infusion.
Vaccine locations: All COVID-19 vaccines are free, regardless of vaccine location. If you need to know where to find a location near you, they can help direct you.