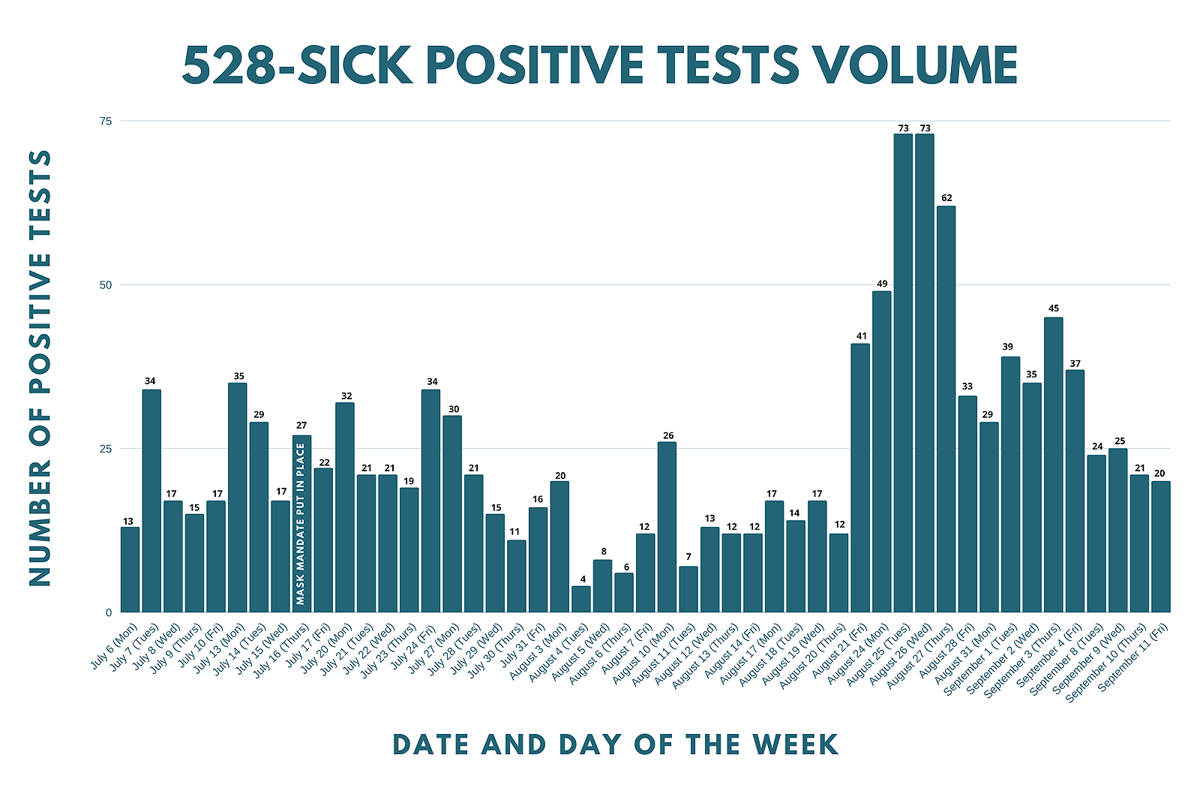 COVID-19 cases continue to be recorded but are leveling off – for now – according to East Alabama Medical Center officials.
EAMC has had between 25-30 COVID hospitalizations for the last nine days.
"When you consider that we were at 30 or more COVID inpatients every day between July 4 – Aug. 28, including 62 on July 22, being between 25-30 is definitely an improvement," said John Atkinson, EAMC spokesman.
Test results have been on the decline the past two weeks, he said. From Aug. 31 – Sept. 4, EAMC tested 772 people and 185 were positive for a positivity rate of 23.9 percent.
Last week's testing was shortened by Labor Day, but the positivity rate dropped to 18 percent (90 positives out of 499 tests).
Rollercoaster
That is a respite from the month of August, when the COVID-19 positivity rate among people tested through EAMC's 528-SICK call center was "on a rollercoaster ride," Atkinson said.
From August 3-7, EAMC conducted 483 tests and 50 were positive for a positivity rate of 10.3 percent, the lowest weekly rate following the mask mandate that went into effect on July 16.
However, over the next two weeks saw modest increases, coming in at 16.2 percent (70 positives from 433 tests Aug. 10-14) and 17.8 percent (101 positives from 566 tests Aug. 17-21), respectively.
The rollercoaster peaked Aug. 24-28, when 290 of the 752 tests conducted came back positive for a positivity rate of 38.5 percent, Atkinson said.
"The opening of schools saw the increase in community cases that most people expected," said Atkinson. "We seem to be over that initial spike of cases, and the good news is that hospitalizations didn't mirror that sharp increase."
Statewide
As of Wednesday afternoon, there have been 141,087 cases reported (confirmed and probable) across Alabama, out of more than 180,000 people tested. Of those people, 2,392 have died (confirmed and probable).
Lee County has had an infection rate of 155 per 100,000 for the last two weeks. The infection rate since the COVID-19 outbreak in March is 2,196 per 100,000.
Surrounding counties have had the following COVID-19 infection rates:
Russell – 41 per 100,000 (two weeks); 57,961 per 100,000 (since March);
Auburn University
Auburn University reported a steep drop in new, self-reported COVID-19 cases Tuesday, but that trend could change soon, a doctor warned.
"I was expecting the numbers to go down this week, but I want to be clear it's not going to last," said Dr. Fred Kam, who runs the Auburn University Medical Center, during a YouTube briefing Tuesday.
Self-reported cases fell from 598 in the week of Aug. 30-Sept. 6 down to 109 last week. Auburn's random testing program also saw a drop in positive results, down from 6.4 percent to 1.8 percent.
Kam credited mask-wearing and social restrictions across campus as contributors to the lower numbers.
Concerned about COVID-19?
Sign up now to get the most recent coronavirus headlines and other important local and national news sent to your email inbox daily.