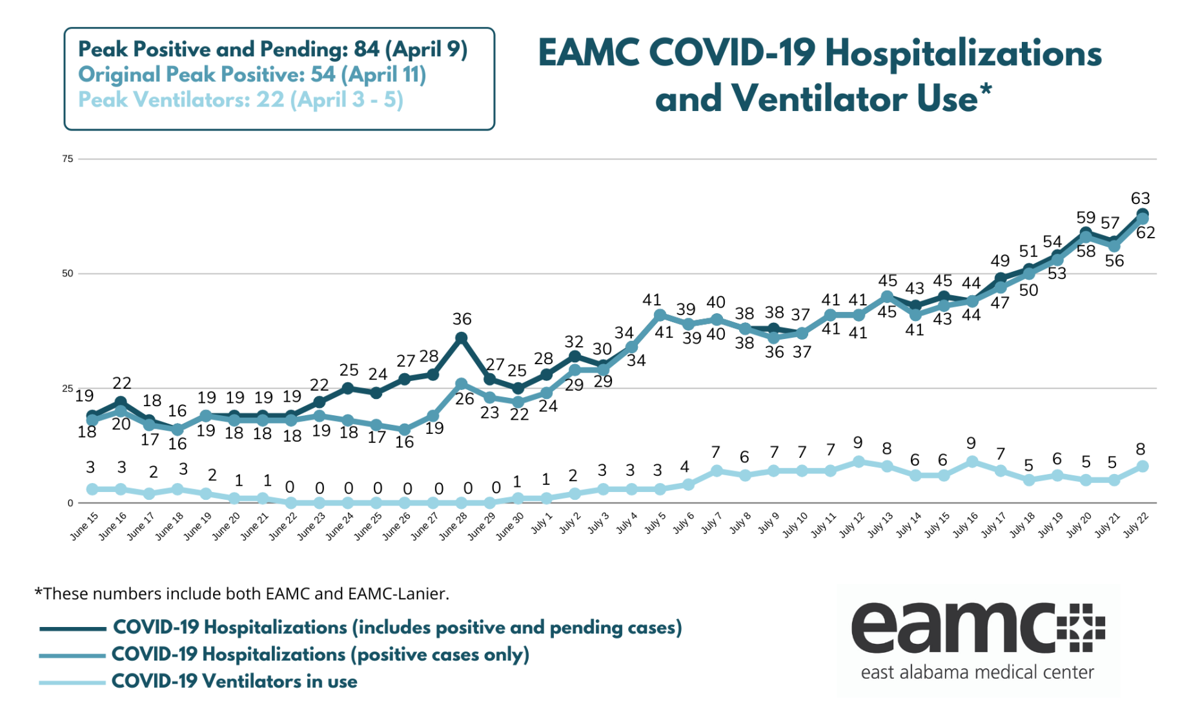 East Alabama Medical Center set another record for COVID-19 patients hospitalized Wednesday as virus cases continue to climb in the community.
There were 63 COVID-19 patients hospitalized, of which 62 were COVID-19 positive, Wednesday. That number of hospitalizations is up from Monday's 59 patients and Tuesday's 57 patients, according to hospital data.
"We liked the decrease yesterday, and hoped it would continue today," John Atkinson, EAMC spokesperson, said Wednesday. "As Dr. (Ricardo) Maldonado mentioned on Monday, we expect to reach a peak in the next few days. It's too early to expect a decline based on the statewide mask mandate — hopefully we will start to see the impact from it early next week."
Eight COVID-19 patients also were on ventilators Wednesday.
There were 1,547 COVID- 19 patients hospitalized throughout Alabama on Wednesday, according to the Alabama Department of Public Health.
The number of new COVID- 19 cases in east Alabama continues to rise.
There were 748 confirmed cases in Chambers County, 2,117 in Lee County, 269 in Macon County, 965 in Russell County and 724 in Tallapoosa County as of Wednesday night, according to ADPH.
Lee County is averaging the most new COVID-19 cases in the last two weeks in east Alabama with about 45 new cases per day, according to ADPH data.
The following is the average number of new cases confirmed in east Alabama counties over the past 14 days:
There were 70,413 confirmed cases and 1,338 virus-related deaths in Alabama as of Wednesday night.
Of the 1,338 reported deaths, 34 are from Chambers County, 38 from Lee County, 11 from Macon County, one from Russell County and 74 from Tallapoosa County.
EAMC update
EAMC's emergency department is also seeing an increase in the number of people coming in for COVID-19 related symptoms.
The department is currently seeing about 34 to 38 patients per day who cite COVID-19 symptoms as their primary reason for visit. The emergency department tested 34 patients for COVID-19 Tuesday and nine were positive, which yields a 26.5 percent positivity rate, EAMC said.
The positivity rate is up significantly from last week when the rate was 7-11 percent each day.
The department has admitted an average of four COVID-19 patients a day thus far in July. The number, however, is beginning to rise. The average rate is now up to six patients per day this week, which includes nine patients admitted Sunday, EAMC said.
EAMC's average number of daily visits to the emergency department was 117 through the first three weeks of July. Friday through Monday tends to be the busiest days on average with 120-140 visits per day, EAMC added.
Patients needing emergency care should still visit the emergency department. EAMC, however, recommends for testing needs alone that people check with their primary care physician, an urgent care office, local pharmacies or by calling 334-528-SICK to see if they are eligible for testing.