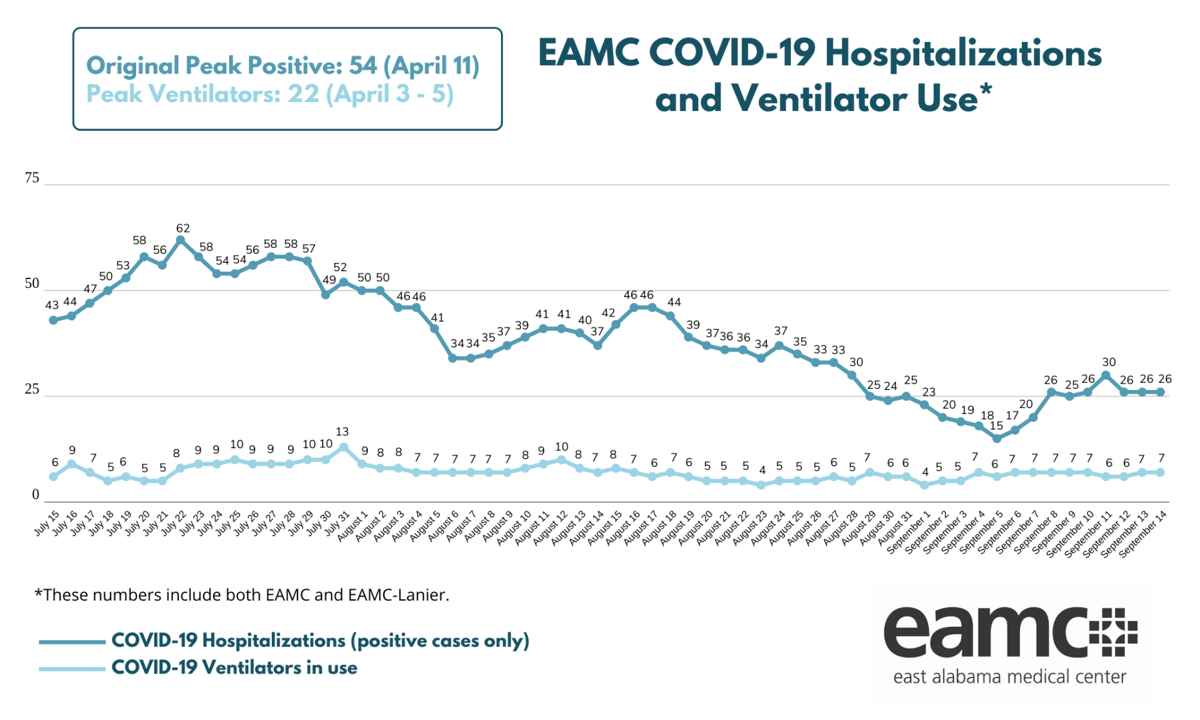 A feared spike in COVID-19 cases after the Labor Day holiday weekend hasn't materialized yet, at least not at East Alabama Medical Center.
EAMC, which reported a jump of 15 new hospitalizations last week, appears to have leveled off. There were 26 patients hospitalized there with coronavirus Monday, down four from Friday.
Auburn University is expected to release Tuesday its COVID-19 numbers from last week.
All told in Lee County, nine new cases were reported Sunday, bringing the total number of cases reported to 3,622 – up nine cases from last week – and 49 deaths since the outbreak began in March.
Chambers County (864 total cases) and Macon County (421) each reported one new case last week.
Another virus threat is about to descend upon Lee County, according to EAMC Chief of Staff Michael Roberts – flu season.
"The arrival of influenza and its complications, hospitalizations, and mortality take on added importance in the setting of the COVID-19 pandemic. The symptoms of influenza and COVID-19 can be very similar, particularly early in the course of illness. Fever, cough, shortness of breath and fatigue are all common symptoms of both diseases," Roberts wrote Monday on the hospital's website.
"Differentiation between the two can be difficult, and typically requires additional testing. It is important to make a distinction between the two because the course of illness and options for treatment can be quite different."
Roberts urged that everyone over the age of six months get a flu shot this year. In addition, he said people should continue to wear masks and social distance as a hedge against both COVID-19 and the flu.
But, most importantly, vaccination could mean that someone has one less health risk to worry about.
"In short: Get your flu shot. It is a simple, safe, and effective tool in limiting the spread of influenza and its effects on a medical system and a country who are still reeling from the effects of the COVID-19 pandemic," Roberts wrote.
Get local news delivered to your inbox!
Subscribe to our Daily Headlines newsletter.