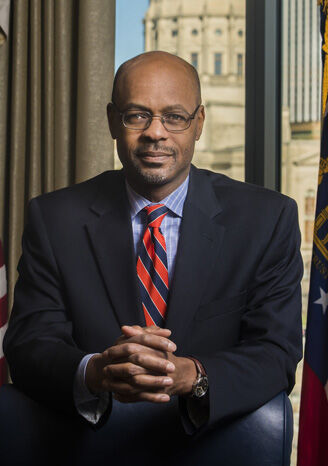 Harold Melton made history when he became the first black Student Government Association president at Auburn University, and he's about to make more history on campus.
It was announced during Friday's Board of Trustees meeting that the campus student center will be renamed in honor of Melton, who was appointed Chief Justice of the Georgia Supreme Court in 2018.
It will be the first campus building named for an African American.
"Auburn University has already given me everything I ever could have hoped for in a university, and more," Melton told the Opelika-Auburn News via email. "This honor is beyond my furthest imagination."
Melton was elected SGA president in 1987 and graduated from Auburn in 1988 with a bachelor's degree in international business. He went on to law school at the University of Georgia, then embarked on a career that led to his appointment Georgia's highest court in 2005 as an associate justice.
'Couldn't be happier'
"The issues we face require input from our stakeholders, a fact-based examination of campus diversity and equality and a vision for meaningful, impactful change," said trustee Elizabeth Huntley after the board meeting.
"I couldn't be happier now that the hub of student activity is named for an accomplished graduate who represents Auburn with such distinction."
Trustee James Pratt, who serves with Huntley on the trustees' task force looking into diversity and inclusion issues on campus, called the naming "a powerful statement to all on Auburn's commitment to diversity."
More work ahead
Pratt and Huntley's task force has been busy over the summer. It has surveyed all Auburn University properties around the state for memorials, markers on the like which could construed as racist or insensitive to people of color. Pratt said that work turned up one marker that merits further attention with regard to whether it should be removed, but he declined to identify it.
Pratt went to say that the task force is assembling portfolios on campus buildings – including Wallace Hall, Comer Hall and others named for supporters of Jim Crow, segregation and violence against people of color. He emphasized that any deliberations or actions taken on such buildings would "fact-based", but declined to elaborate further.
Huntley strongly endorsed the work done so far. She said the current student experience is getting a good bit of attention, as well as building names and statues, with an eye toward addressing the campus atmosphere today for people of color and everyone else.
"I had no idea it was going to be a part-time job … there's a tremendous amount of work done thus far," quipped Huntley.
Be the first to know
Get local news delivered to your inbox!