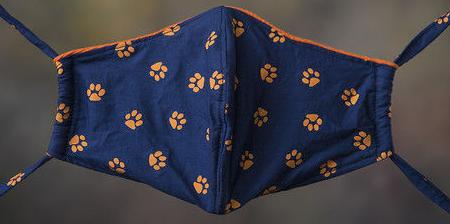 In-person classes resumed Monday on the Auburn University campus for most students and faculty, with no apparent problems regarding masking and social distancing.
Some classes have been meeting in person since students returned in mid-January, with no problems to speak of.
"I've been teaching face-to-face since Jan. 11. I've got a 70-person linear algebra class. They all mask up and distance fine," said Hal Schenck, professor and Rosemary Kopel Brown Eminent Scholars Chair in the math department. "I told them the first day, 'You don't do it, and we'll all end up back online.' They've been great."
Students could be seen chatting on phones without their masks while walking across campus, but they appeared to put on their masks before entering campus buildings. One faculty member, who asked not to be identified, said staff and faculty members were diligent about masks inside and out.
"I looked out at Langdon Hall earlier and saw a tight collection of students waiting to go in for their class. About half had masks on, though they seemed to be putting them on as they went up the stairs," the faculty member said. "It seems the students feel there are exceptions to mask requirements if they are talking on the phone or carrying food."
Bobby Woodard, senior vice president for Student Affairs, said the masking and distancing rules are being enforced.
"Both continues to be a challenge but we have enforcement measures in place for both students and for employees," said Woodard. "The bottom line is we, as a university, are taking the mask-wearing and social-distancing very seriously, we have clear policies in place and, if necessary, penalties for non-compliance.
"Of course, individuals holding themselves accountable and doing the right thing will go a long way in how successful we will be," Woodard said.
Woodard added that COVID-19 cases on campus are being handled as they were last semester.
"Quarantine and Isolation Residence Halls are running well and we have very few students at this time in either hall," Woodard said. "The numbers currently are lower than they were at this time in the fall semester."
University spokesman Preston Sparks said the day went off with no notable headaches.
"Auburn University's return to full on-site operations Monday was a success — a testament to our campus community's enduring dedication and hard work in combatting a global pandemic while meeting our mission as an institution of higher educatio," Sparks told the Opelika-Auburn News. "Moving forward together as an Auburn Family, we will continue to seek the advice of public health officials and maintain safeguards to ensure the completion of our spring semester and the fulfillment of our university's stellar academics and life-changing research, outreach and student experience."
University officials opted against requiring re-entry testing for returning students, deciding to rely on the voluntary sentinel program to monitor campus conditions. However, Fred Kam, medical director at the university's medical center, told the Auburn Board of Trustees last week that "sentinel testing participation has been low, but we are working diligently to address that."
Provost Bill Hardgrave told the trustees that 72 percent of classes were meeting in person thus far, with another 28 percent online. He said administrators would continue to work with Kam to keep an eye out for any problems with exposure or rising infections and adjust accordingly.