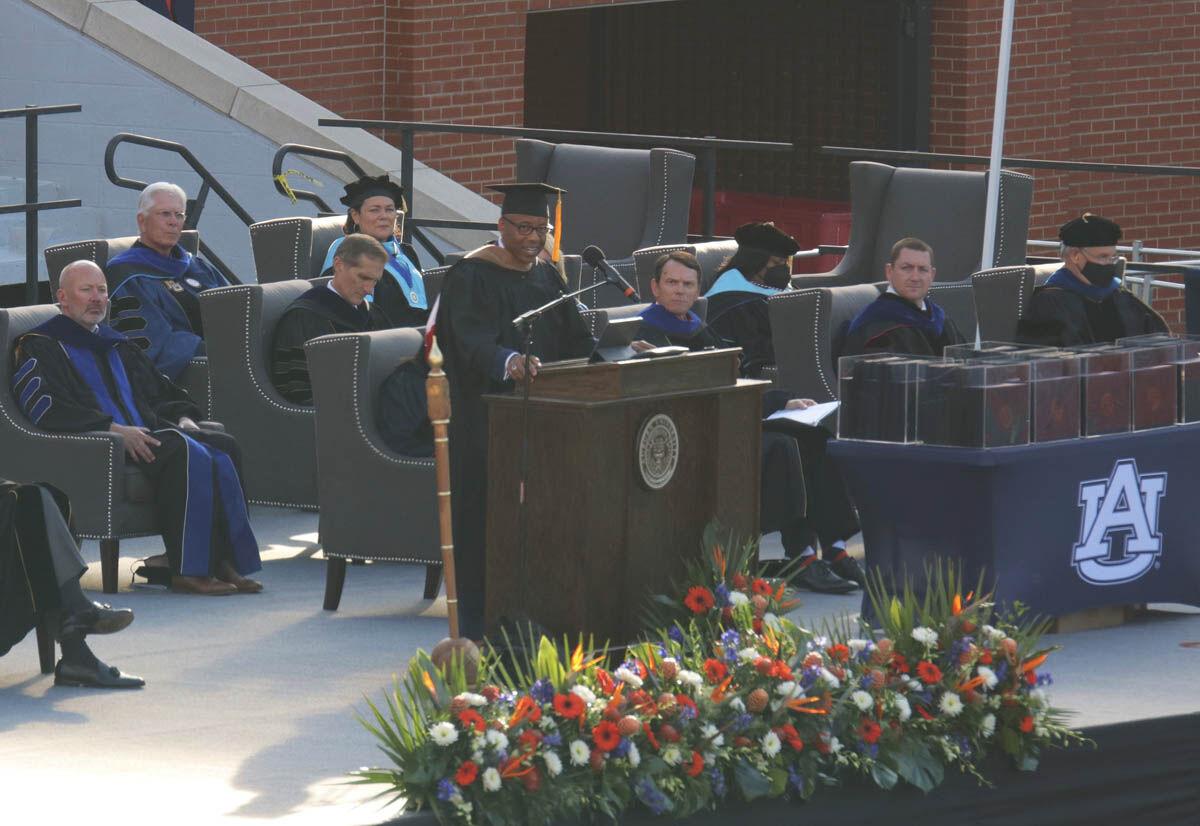 Banking executive Kenneth Kelly urged the newest batch of Auburn University graduates Friday to remember where they came from and who they represent.
"Auburn has been a nest for each of you. … To fly from this nest, you need the three virtues: confidence, challenges and character," said Kelly, a member of the Class of 1990.
Kelly spoke at Friday night's commencement ceremony in Jordan-Hare Stadium, to an audience of graduate degree recipients and academic honorees. Undergraduate degrees will be handed out Saturday, starting at 8 a.m. in Jordan-Hare.
Those three virtues are essential to success in the workplace and the surrounding world, according to Kelly.
"You'll be graded on daily behaviors, results and, just as importantly, your teamwork," he told the graduates.
Kelly told the students to appreciate the help they've received along the way – from family members, friends, classmates, teachers and bosses – and he reminded them that they also represent Auburn University, now and forever.
"I challenge you graduates to show your gratefulness today. … It is an honor to welcome you to this great family," Kelly concluded.
Kelly received an electrical engineering degree from Auburn University in 1990 and later completed the executive MBA program at the University of Alabama. He is now chairman and CEO of First Independence Bank in Detroit, and serves as a director of the American Bankers Association board.
The Eufaula native also chairs the Auburn University Engineering Alumni Council, drawing on the 27 years he spent as an electric utility executive with the Southern Company before going into banking.
Auburn University President Jay Gogue addressed the graduate students – 850 of the 4,300 students receiving degrees this weekend – before Kelly spoke.
"We're very proud of you. … You've earned a valuable degree that will help you personally and professionally," Gogue told the degree recipients.
SaturdayUndergraduate ceremonies will kick off at 8 a.m. in Jordan-Hare, starting with Education degrees at 8 a.m.
They will be followed every half-hour or so by the following colleges (in order): Agriculture, Liberal Arts, Architecture, Science and Mathematics, Business, Foresty and Wildlife Services, Human Sciences, Nursing and Engineering (which is expected to start after 2 p.m.
Guests should enter through Gates 5-8. They may sit in Sections 24-34 to allow for physical distancing. Hand sanitizer will be available to all students and guests. In the unlikely event of rain, the ceremonies will move into Auburn Arena.
Pharmacy and Veterinary Medicine degrees will be conferred at ceremonies set for Monday at Auburn Arena.