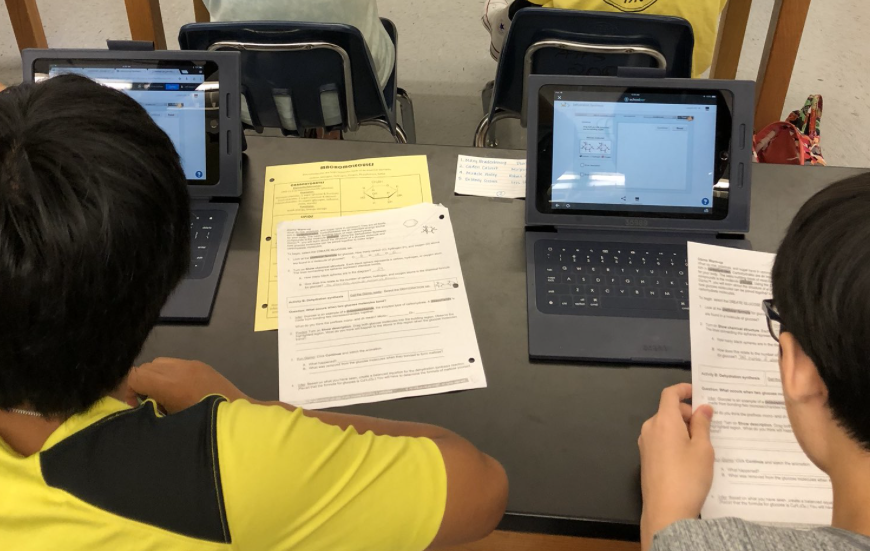 Three parents turned up to Tuesday's city school board meeting to complain about problems with Edgenuity, the vendor hired to provide remote instruction to Auburn High School students this year.
Tina Hooks told board members that her child hasn't gotten the textbook for an Advanced Placement class yet – nearly a month into the school year — for a three- to four-month curriculum that Edgenuity has condensed down to just five-and-a-half weeks.
"I've been trying to communicate with the (school) system for two-and-a-half weeks and have gotten no response from anyone in the system," said Hooks, echoing complaints made by different parents at August's school board meeting about problems of Edgenuity. "…We are not hearing from you and our children are not hearing from you, and that's making a difference in their education … we have a lot of faith in this system and I really think we can do better."
Susan Locke was just as frustrated as Hooks. Her son has two AP classes, but no textbooks and the Edgenuity program doesn't work on the iPad he was assigned, she said.
"I'm frustrated," Locke told the board members, who met in the Auburn Junior High School Auditorium. "I didn't want to get up here, but I wanted to reiterate what she (Hooks) said."
Maria Gutierrez said her daughter is also having trouble doing the Edgenuity work on her iPad and doesn't have books for her AP class either.
"She has to watch the (Edgenuity) videos over and over again" to complete assignments and she is falling behind, Gutierrez said.
Both Superintendent Cristen Herring and district spokesman Daniel Chesser said the administration is listening to parents and evaluating how best to solve these problems with the vendor.
Budget OK
The school board voted 5-0 to approve the district's Fiscal Year 2020-21 budget, which goes into effect Oct 1. The $85.9 million general budget should allow the district to maintain a 15-to-1 student-teacher ratio in elementary and secondary classrooms overall, and maintain a general fund balance of just over $19 million, according to Finance Director Liz Springer.
The plan was drawn up with projected 12% drop in sales tax collections (due to COVID-19 impacts) and a $1.9 million drop in state aid.
All told, when the general budget is combined with four other funding categories – debt service, special revenue, capital projects and fiduciary trust – the total budget reaches $138.3 million; however, revenues and expenditures for those four latter, self-contained categories cannot be mixed with one another or the general fund.
Free breakfast, lunch
Auburn City Schools' Child Nutrition Program is providing all school meals (breakfast and lunch) to students free of charge.
Herring told the school board that a federal waiver would fund free meals for students through the end of the year.
All student account balances will remain for use throughout the school year. Herring added that á la carte items are still available for purchase and not a part of the waiver.
Parents and guardians of remote learning students are being surveyed to obtain an accurate count of participation interest in meal distribution plans.
A district press release urges parents to fill out the application forms at https://www.auburnschools.org/domain/1332. The forms are needed by Auburn City Schools going forward to demonstrate the need for continued federal funding.