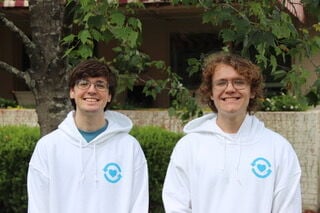 John Stanwick, a senior at Auburn High School, and Camp Steiner, an Auburn High alumnus who graduated last year, are doing their part to help save the environment with the help of Charitas.co, a nonprofit company and computer program they created that uses cryptocurrency to fund nonprofits around the world.
Stanwick said his passion for computers began at 11 years old when he figured out he could open them up and look inside. Since accidentally breaking his parents' home computer one day as a kid and spending all night putting it back together to get it working, his interest in computers and programming has only grown, leading him to launch Charitas.co in July 2020.
"My sophomore year, two years ago, I started creating a cryptocurrency miner which basically solves really complex math equations for money. Think of it like taking a tax on transactions, but it's all distributed to the people who are working instead of a centralized government-type entity," said Stanwick, 17. "It dawned on me that I could distribute the technology … and I wanted it to go to a charitable opportunity instead of just distributing it for general usage."
Steiner, who started computer programming in middle school and said he's always been the "tech support" for his family, offered to help create the website Charitas.co after hearing Stanwick talk about his idea for the charitable computer program.
"John told me about this project he was working on, and I thought, 'This is amazing. You're using technology to help charity in a new way. I'm interested, is there any way I can help?'" Steiner said.
With the help of Steiner, 18, the two started the organization to use the cryptocurrency generated from the mining program to fund donations to other environmental nonprofits who accept cryptocurrency.
While Stanwick said the idea of creating a program that mines cryptocurrency is nothing new, Charitas.co is the only one they know of who is doing it for purely charitable purposes.
"We're getting people who ordinarily wouldn't know what cryptocurrency is and using their computing power to help charity that was previously going unused," Steiner said.
According to Stanwick and Steiner, any person with a Windows operating system will be able to download the program from Charitas.co's website and turn it on or off as they like. While the program is on, it will use a computer's extra computing power to mine cryptocurrency, which will then be transferred to a charitable organization like Trees for the Future, a Maryland-based organization focused on international sustainability efforts.
"Eventually, we'd like to diversify our impact so one month it's tree charities, and another it's humanitarian or wildlife preservation. Just different causes so we can have the most benefit to what we're doing," Stanwick said.
The target audience for the program are people who use their computer casually, such as scrolling through Instagram or Facebook throughout the day, and the Charitas program can be using their unused CPU to generate money throughout the day without the user even noticing a difference.
"We only use the unused portion of your computer. We don't cut into the actively working part," Steiner said. "We definitely don't want to negatively impact someone's [computer] usage. We don't want someone having a slow computer."
The cryptocurrency generated from Charitas.co will all go to charity and neither Steiner nor Stanwick will see any profits, a point backed up by the open source code it uses.
"Anybody can inspect the code and modify it, because we feel it's very important to have transparency," Stanwick said.
"And verify that we're not just skimming profits off the top of it," Steiner added. "We take absolutely zero of the profits. It goes straight from mining to a charity."
Additionally, anyone can track the money Charitas.co generates and the organizations it funds, Steiner said, though they are currently limited in the number of charitable organizations that accept cryptocurrency currently.
Currently, the app only works on Windows-based laptops and desktops, though Steiner said they were working on a version of Charitas that would work on MacBooks as well.
While the number of current users is small, the two students are certain it will grow in both the number of users as well as the number of charities it can help fund.
"There are so many people who have a computer who aren't using all of that computer," Steiner said. "It's very hard to find a niche, but I feel like this is one we haven't explored that much. Everyone you know has access to a computer, and they're not using all of it, so it's very simple for this to become big."