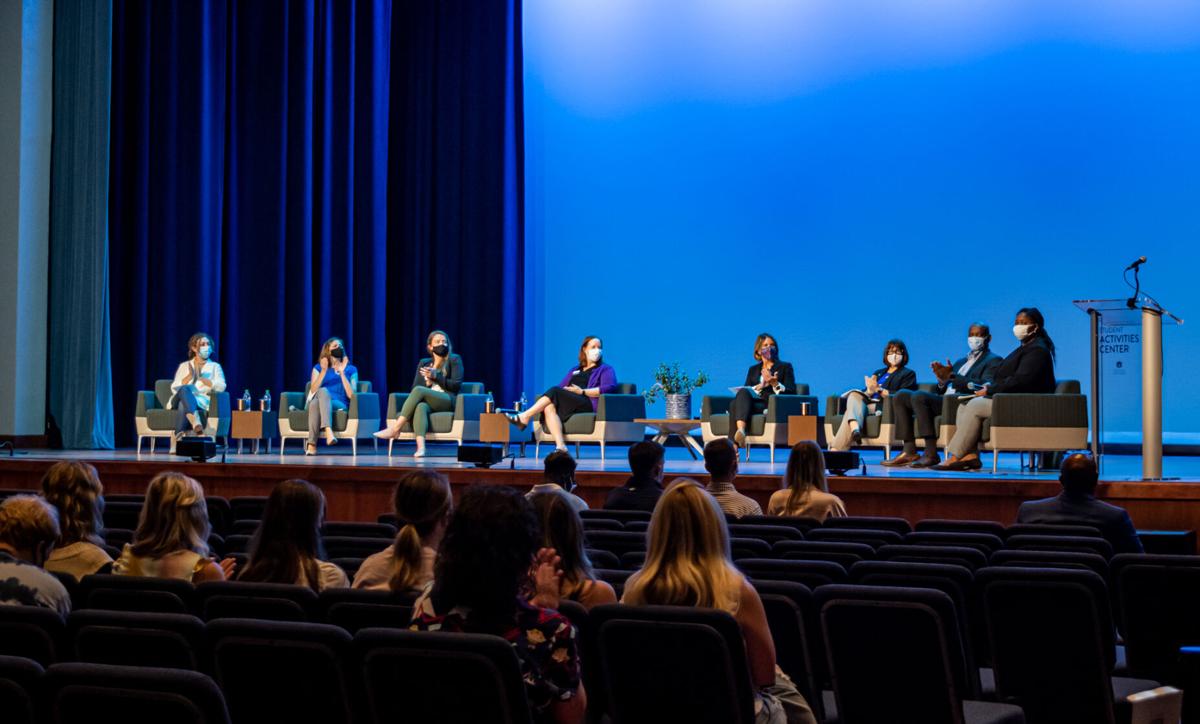 Auburn University officials with campus safety, Safe Harbor, Title IX, Student Counseling & Psychological Services and other organizations came out to the Student Activities Center for a town hall Wednesday to explain available resources and answer questions concerning sexual assault.
"We want to make sure that you feel safe on our campus," Vice President of Student Affairs Bobby Woodard said while introducing the town hall. "Together, with communications like this and events like this we can communicate with our student body and make a safe campus."
The town hall came after a release from Auburn University Campus Safety on Sept. 14 said a student disclosed to police that she was raped the night of Sept. 10 at an unnamed fraternity house, and while the sexual assault survivor did not recall the details of the incident, she disclosed physical injuries consistent with a rape.
Campus safety also released a statement Sept. 10 about a female student having reported that she was fondled by a stranger while walking near Aubie Hall earlier that morning and another statement on Sept. 8 that said another student reported being raped and physically assaulted a week prior at an on-campus residential facility by an acquaintance.
The three recent reports of sexual assaults led to a protest at Toomer's Corner the night of Sept. 14 that drew over 100 Auburn University students and alumni to decry the alleged assaults and voice their desire for more accountability and action to be taken by the school.Director of Campus Safety & Compliance Susan McCallister addressed the reports in the recent weeks and said her department receives reports about crimes from a variety of different sources, including from law enforcement, the Title IX office and from about 1,500 people across campus considered campus security authorities. Every report her department receives is evaluated to determine if an event happened on campus or if it represents an ongoing threat to campus, but investigations are usually processed through the police or the Title IX office, McCallister said.
"The first two [reports] came in through campus security authorities with very little information. We did not have information on the offenders or even the survivors of those crimes, just the explanation of what happened, where it happened and when, and we made an assessment and determined we should send something out to the campus," McCallister said. "The third one did come from the police, but it was disclosed during a response to an unrelated incident off campus, and based on what was disclosed during that incident, we felt there was enough information to send it out to the campus."
Katherine Weathers, assistant director of Title IX at Auburn, said her office always reaches out to victims of sexual harrassment and sexual assault if their names are included in reports they receive, and the office will provide the victim with resources like Safe Harbor and student counseling. Additionally, they provide the victims with contact information with the Title IX office in order to discuss options that are available to them.
"Since August 2020, we have received 64 reports of sexual assaults," Weathers said. "Out of those 64, 27 of them had no named perpetrator, and 18 of them, while we did have the name of the perpetrator, weren't affiliated with the university. Out of the 64, we had 19 individuals who were identified and who were affiliated with the university and who were accused of having sexually assaulted somebody else at the university."
Weathers said her office didn't know two of the victims but reached out to the other 62 and had 18 respond to them.
"We would absolutely like to see that number increase, but we understand and that's why we leave it up to the person who's been harmed to decide how they want to handle the situation and move forward with it," Weathers said.
Auburn Police Division Assistant Chief Clarence Stewart said that law enforcement investigations of incidents often happen concurrently with Title IX investigations and that it was important for those who were sexually assaulted to report the incidents to them even if they aren't wanting to prosecute right away.
"[Reports] are usually delayed. Why? For several reasons, some of which may be guilt, or they blame themselves and think no one will believe them. They might be afraid of repercussions from the person they reported," Stewart said. "We have to get past that so that they will come and report these incidents. … The fact of the matter is that these are incidents that need to be looked into, and the [victims] need help, and there's a ton of resources out there. In order to do that, someone needs to be notified."
Resources on and off campus available for sexual assault survivors to contact include Safe Harbor at 334-844-7233, Rape Counselors of East Alabama at 334-705-0510 and Auburn University Student Counseling & Psychological Services at 334-844-5123.
Campus safety officials also encouraged victims to call contact police using 911 for emergency situations or to call the Auburn Police Division at 334-501-3100 to report a sexual assault.
Student survivors can also report incidents to the Auburn University Title IX Coordinator at 334-844-4794 and find more resources at www.auburn.edu/titleix