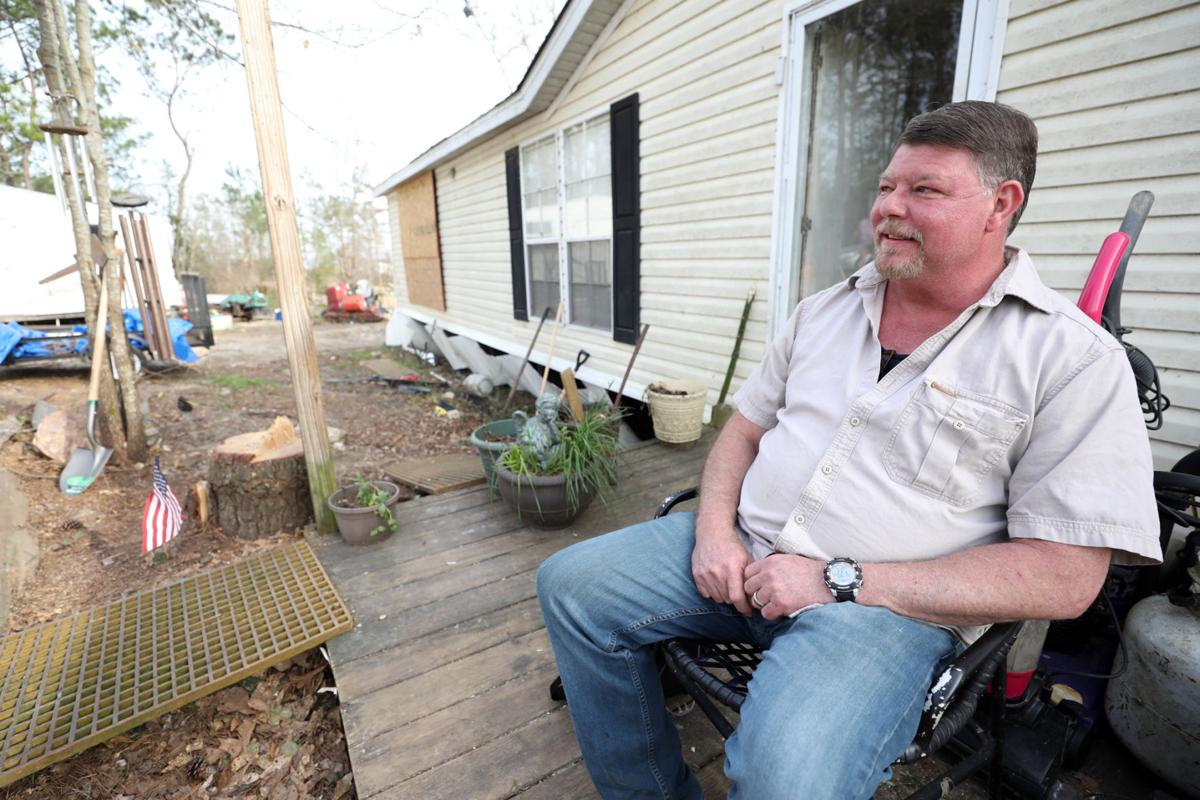 Having already lost hundreds of trees and multiple storage buildings from the tornado in early March, the thought of strangers ransacking what the storm didn't destroy kept a family on Lee County Road 721 from seeking shelter elsewhere after they experienced a brief encounter with possible looters.
"We didn't leave; we were scared to leave. I mean, (the tornado) already took all the storage out of two houses. There was a storage shed sitting right there, I have no clue where it or anything in it went. It's gone," said resident David Kelley as he pointed to an area of his yard on Wednesday. "And I know things are replaceable… but it's just not worth leaving, you know."
Law enforcement has received a handful of reports of suspicious persons, but minimal looting has actually occurred since the storm, according to Lee County Sheriff Jay Jones.
The day after the storm, Kelley, his wife, and their 18-year-old son were making plans to stay at a local motel to keep warm while their home was without electricity.
Although the dense wooded area surrounding their home and multiple storage buildings on their property were destroyed or damaged by the tornado, their home – a double-wide mobile home – is one of few residences in the area that remained livable after the storm.
As the family was getting ready to leave that morning, a group of about 12 young people approached the home, busted open a window and kicked open the front door, but then fled the area as soon as they were confronted at the door, Kelley said.
"Once they found out they were caught, they left," Kelley said. "And I mean they didn't just leave and go to the next house down. They left."
The family reported the incident to the Lee County Sheriff's Office and stayed at the home every night since, Kelley said.
"The sheriff's department has been really good about it. They came by here three or four times to check on us and, you know, update us. I don't know if they'll ever catch 'em. There's no identity," Kelley said, but added that the family was able to provide description to at least two of the suspicious persons.
Reports of suspicious persons, activity
Since the March 3 tornado, the Lee County Sheriff's Office has received a handful of isolated reports from residents, which involved people they had not seen before and believed were acting suspicious, Jones said.
"The actual circumstance of looting has been minimal at this point and we've been able to address it pretty quickly," Jones told the Opelika-Auburn News.
Reporting of suspicious activity is something the sheriff's office wants residents to do, Jones said, because it gives law enforcement the "edge of being able to respond and check it out."
Jones believes home repair fraud or related scams are more likely to be more in the forefront of recovery issues in the coming days as opposed to looting.
Outside law enforcement agencies will continue to help monitor the affected areas to make sure people who don't belong there aren't, Jones said.
Get local news delivered to your inbox!
Subscribe to our Daily Headlines newsletter.