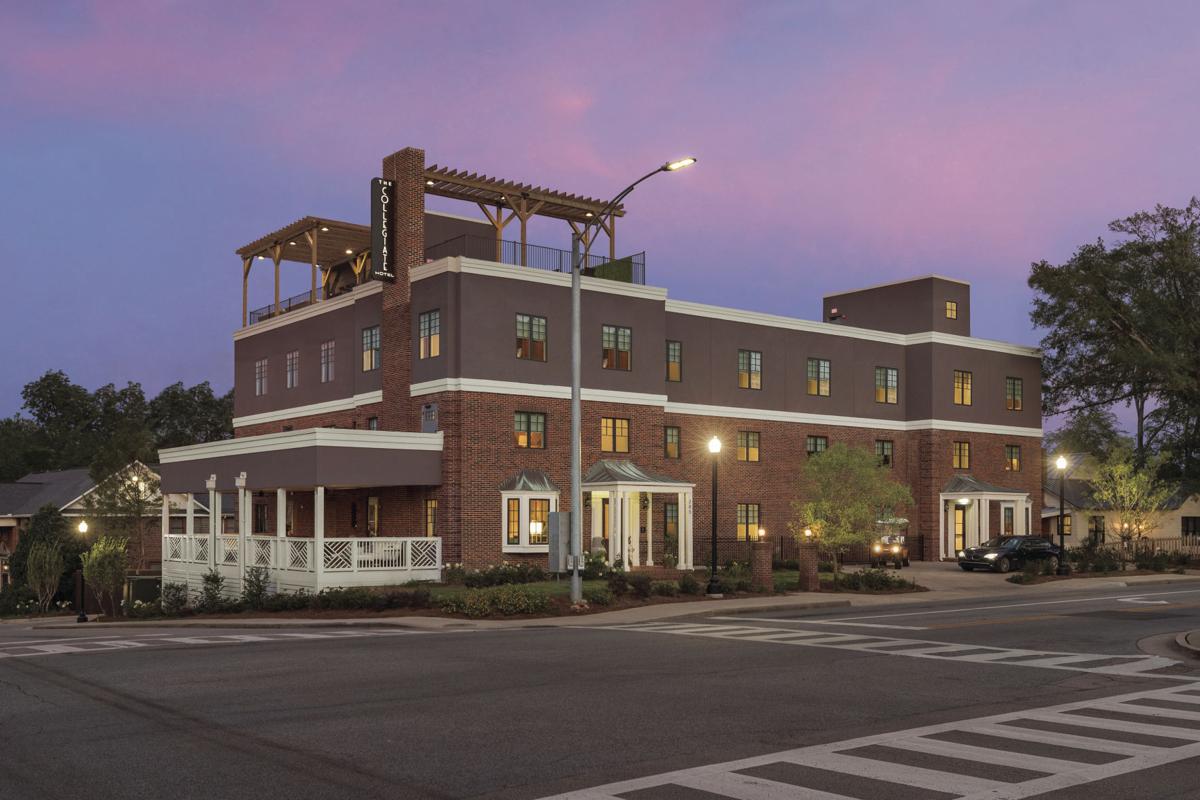 Owners of some of Auburn's local lodging businesses say they're booked this weekend and most other home game weekends as Auburn University alumni, Tigers fans and parents of Auburn students seek places to stay on the Plains during football season.
Kimberly Wirth, owner of the Collegiate Hotel at Auburn, said the hotel's 40 rooms are full all the remaining Saturdays the team is playing in town.
"We're kind of seeing ourselves back to the crowds that we had pre-COVID, at least for this weekend," she said. "I think the weather's also helped — we expected to have a full house this weekend and hopefully a good turnout locally for our bars."
Both the hotel's rooftop and indoor bars were buzzing on Friday night as visitors and residents mingled after Friday night's homecoming parade. Wirth said she's anticipating the upcoming Georgia game on Oct. 9 to bring an even greater crowd out for drinks.
"The challenge with the Iron Bowl is it's always a big game that coincides with Thanksgiving for a lot of individuals," she said. "We think that really all the four remaining SEC games hopefully will be big audiences for us but just anecdotally from conversations with people expecting that Georgia might be our largest game … but only time will tell."
Art Seessel and his wife Janet, both of Memphis, Tenn., were among the Collegiate Hotel's guests Saturday morning and were able to reserve their room because of a cancellation. He said he learned of the hotel through word of mouth and focused on snagging a room there because of the hotel's proximity to campus.
"We had a booking in Opelika, but we cancelled it when we got this one," saod Seessel, whose stay in Auburn this weekend was his first one ever as he and Janet were visiting their granddaughter attending Auburn University.
Wirth said she understands the competitive nature of booking rooms ahead of football seasons and said the energy is already there for next year, notably Sept. 17, 2022, when the Tigers face a rematch with the Penn State Nittany Lions at home.
"Football we do a bit differently because it's based on our loyalty program because it's so small, but we typically book rooms about six months in advance," she said. "We've been laughing because we've had a lot of Penn State fans calling for next year."
While the guests are ready, Wirth said this year she's faced challenges in hiring new employees, with many prospective hires ending up no-shows after applying. Wirth had to lay off her entire staff during the worst of the pandemic, and though they've all since returned, she said the hotel is still in need of additional help.
"We're still looking to actively hire two or three new people; it's been over nine months, and we have not been able to hire anyone in six months, especially on the housekeeping side," she said. "People apply for jobs, and they never call us back or they never show up for their interviews. It's frustrating and it's time consuming, and I've gone through that 30 or 40 times."
Jennifer Nunnelley, owner of the Crenshaw Guest House, said her eight-room bed and breakfast is not in as dire of a staffing situation as she seeks out college students first, but she said the house could hire up to five more students for the rest of the fall.
"I like to have a big pool of college students to draw from because they all have different scheduling needs, so I just put out shifts and the ones who are in the pool can just pick up the ones they're interested in," she said.
The pandemic's impact on the hospitality industry didn't spare the Crenshaw Guest House, and Nunnelley said she had to essentially shutter the business for a year until Auburn began to see tourism bounce back. She said her largely student staff this season is all new to their positions and are learning from her rather than other employees.
"A drawback to having students (is) they graduate, and they move onto different careers," Nunnelley said. "(I'm) even just retraining them on our scheduling software because with COVID, we stopped using it, and there's nobody left working for me who knows how to use it."
Overall, other Auburn area hotels seem to be optimistic about stays picking back up this year despite some employment difficulties, according to John Wild, president of Auburn-Opelika Tourism. Wild said lodging businesses that still have rooms open on home game weekends can plan on filling those as football progresses.
"Everybody's excited about rebounding; it's getting there—it's not 100% yet—but it's getting there pretty quickly," he said.
The hotel space has expanded in the area this year, with two new franchised hotels opening on South College Street across the street from one another — Avid Hotel and Staybridge Suites — both of hospitality brand IHG Hotels & Resorts. Wild said he understands both hotels have been busy in the last few weeks, which he said he feels is indicative of a healthy tourism trend.
"It's so exciting to see that fans are finding both of those and starting to use them; that's a great sign that your fanbase is back and that we're seeing spending at regular levels if not exceeding it as we get further into the year," Wild said.