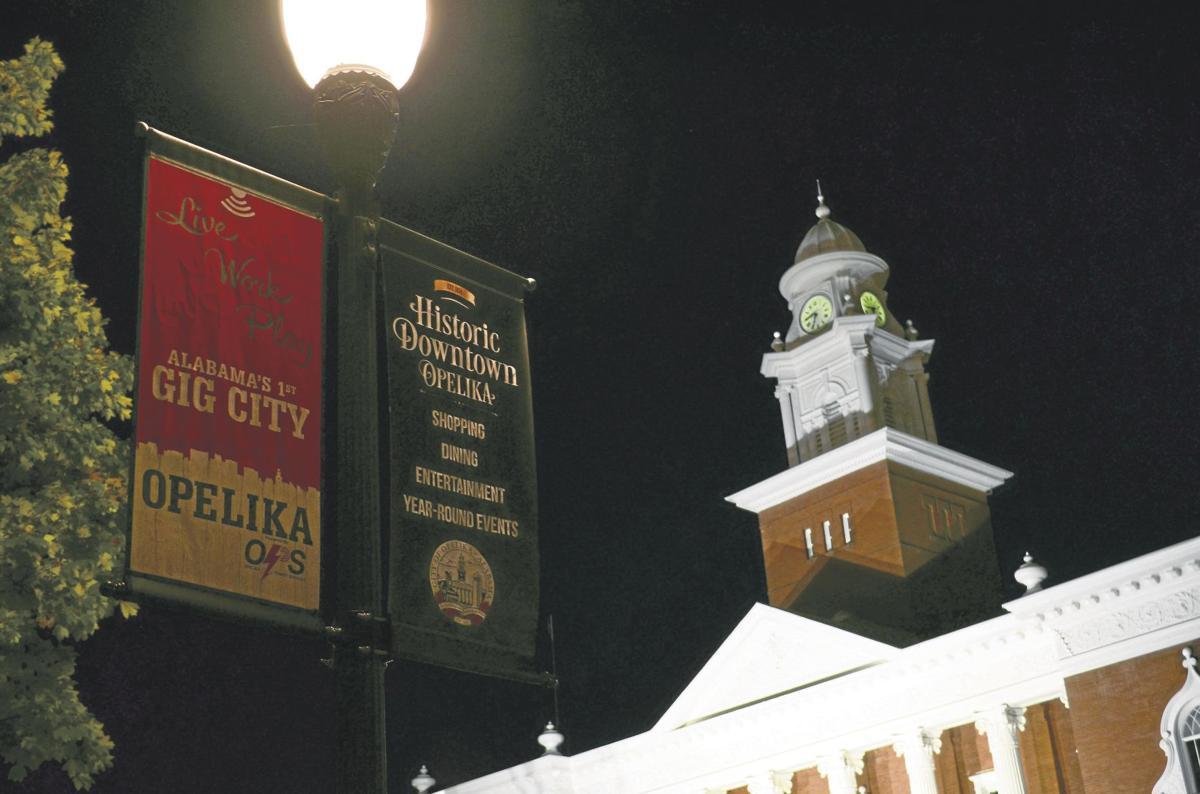 Opelika was and will always be Alabama's first "gig city" to Mayor Gary Fuller.
The sale of OPS ONE, Opelika's fiber internet service, to Point Broadband is a bittersweet one for the mayor.
"We were never going to be able to enlarge our footprint. It was not going to happen," Fuller said. "The state law was not going to change in the foreseeable future, based on some heavy hitters not wanting it to happen."
OPS ONE sold to Point Broadband, a West Point, Ga.-based company, for over $14 million. Those funds will go toward paying the debt owed to Regions Bank, according to Opelika city attorney Guy Gunter.
Point Broadband has a 5-star rating on Google, and the reviews are generally positive.
The decision to sell came at the city council meeting on Oct. 16, about seven months after Point Broadband approached the city.
"We brought competition to the cable industry," Fuller said.
In 2017, OPS ONE had a negative balance of $13.4 million, according to the 2017 audit. The startup loan of $13.5 million contributed to the negative balance. The startup and the later borrowing of $7 million affected the overall progress.
In July, John Boles, a CPA with Barfield, Murphy, Shank & Smith, conducted an audit of the city and found that the major deficit issues were in the Telecommunications Fund.
Referencing the city's 2017 audit in discussing OPS ONE's debt, Fuller said, "the 2017 Audit Report, the Telecommunications Fund had a total debt of approximately $20.9 million, of which $13.5 million was borrowed from a bank and approximately $7.4 million borrowed from within the city."
Fuller said the major issue that impeded the progression was OPS ONE's inability to expand its footprint after countless bills proposed in the legislature. State law prohibited the expansion past corporate limits of Opelika — excluding those just across the street, Fuller said.
Sen. Tom Whatley, R-Auburn, proposed bills in Montgomery pushing for the expansion of Opelika's gigabit internet to North and South Auburn. Then in 2017, Rep. Joe Lovvorn, R-Auburn, proposed a bill in the House.
"We couldn't even get it out of committee," Fuller said.
According to Fuller, AT&T hired 26 lobbyists to "work against Opelika." They didn't want the city to serve their neighbors, Fuller said.
Moving forward, Fuller said the decision was made to accept Point Broadband's offer.
Fuller said the initial goal of OPS ONE's expansion into fiber technology in 2010 was to offer a competitive option to Charter, now Spectrum, services. Fuller said the complaints brought forward against the service were overwhelming and the city wanted something local and communicative.
Fuller said Point Broadband will do what OPS ONE couldn't do. Specifically, Fuller said they will be able to provide more competitive rates and special deals while continuing to provide a better customer experience.
"This is what [Point Broadband] does," Fuller said. "They are honorable people. They are small-town people."
Point Broadband CEO Todd Holt said he is a resident of Auburn, and that he looks forward to working with the people in the surrounding areas.
The new partnership will expand beyond the city limits into nearby areas, including Opelika's neighbor to the south. Fuller previously said that with the change, "there will be some folks in Auburn who will be turning backflips knowing that Point is on the way."
Newly-elected Auburn Mayor Ron Anders said he is a proponent for whatever company can provide Auburn citizens with the best service possible.
Point Broadband is awaiting the passage of one more resolution that will establish a franchise in Opelika. This resolution requires a public hearing at the Nov. 6 city council meeting.
"We wouldn't expect anyone to buy local just because it is local," Holt said.
He said local, quality community service is in the DNA, and they are passionate about serving the area well. Some in the community have not particularly warmed up to the sell, though.
"This is absolutely foolish," said Nelson Marsh, owner of downtown Opelika business Ampersand Wine Bar. "We ended up in this situation because Opelika had a very unique opportunity of owning our own right-of-way and power service."
Marsh said for Opelika leaders to give up that opportunity when operations got rough is a waste of the time, money and effort it took to get where the city was.
He said the sale was far below what he believes was worth it, and he said he sees the deal putting Opelika in the same position it was in with Charter.
"This is a service we worked hard to provide, and the advantages that it gives to our citizens are entirely a result of it being a public entity," Marsh said. "The way I see it, we haven't done anything to cut our losses. We have just spent an enormous amount of money to give someone access to a very expensive network."
Marsh said the majority of people he has spoken with see the decision as a cataclysmic mistake.
Opelika resident Garrison Snelling agrees. He works remotely and his job relies heavily on connectivity. He is a customer of OPS ONE and has been thrilled with the results.
"I think [the sell] is a little disheartening because one of the things that are nice about a municipality owning a utility like that is the trust," Snelling said. "It is consistent. Companies have a bottom line to worry about."
Snelling said what he has now is amazing and he knew he could always rely on it. He said the sale is not worth the reasons city council members have provided, adding that the service is fantastic at the moment and even if it improves from this point on, they are losing the trust and direct control.
The council rushed the ordinances on Tuesday night, bypassing the normal requirements necessary in passing such resolutions and ordinances. Snelling and Marsh said they did not favor that decision.
"It's an asset, right?" Snelling questioned. "We are the first 'gig city' in Alabama, and I think that it is odd and concerning that they would try to rush something like that. It's iconic to our town."