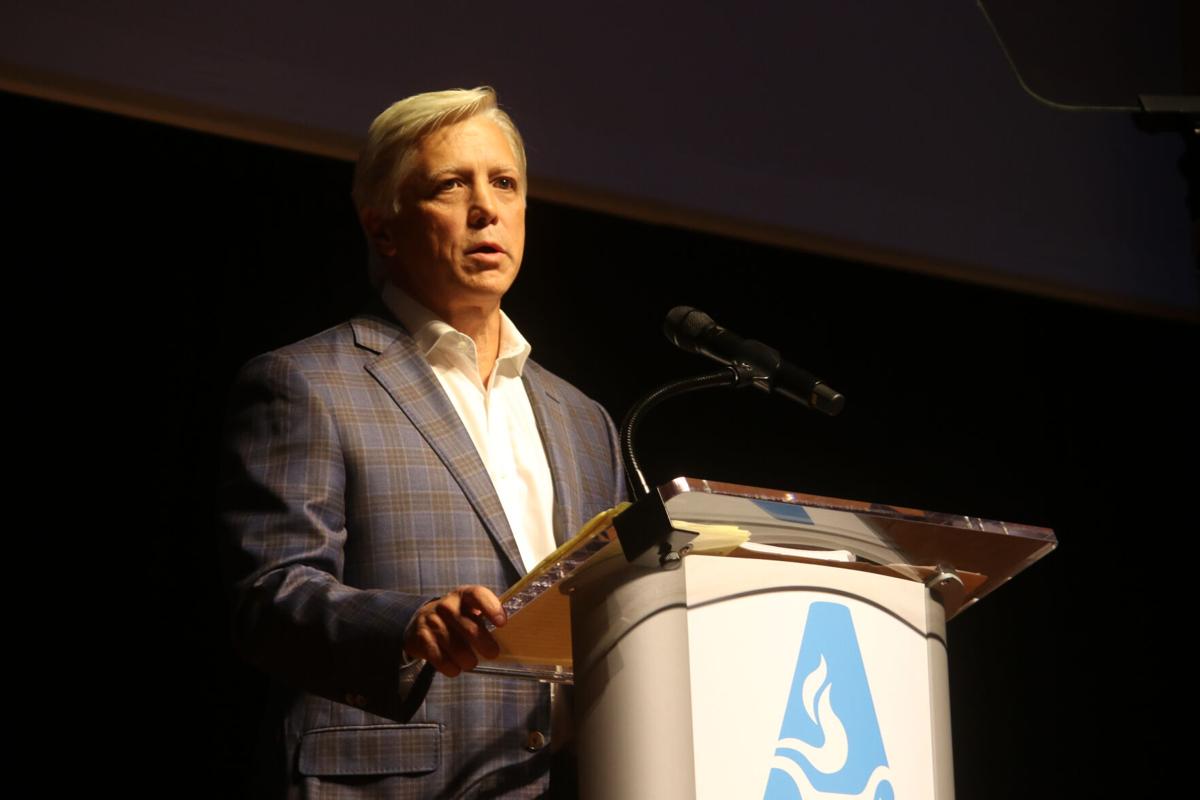 In Auburn Mayor Ron Anders' third annual State of the City address, the message was clear: Auburn is a city growing beyond its conventional college boundaries and into career sectors like technology, and the growth hasn't been stopped by the pandemic.
An audience filled the lower level of the Woltosz Theatre in the Jay and Susie Gogue Performing Arts Center on Monday to listen to the mayor reflect on progress in the last year and give thanks for community resilience throughout pandemic challenges.
"The good things about Auburn are the things that cause it to grow," he said.
"Following an introduction, Anders began his highlights by commending East Alabama Medical Center for its flexibility in offering a community vaccine clinic from February to June in the former Tuesday Morning storefront on Opelika Road. He said the City of Auburn staff clocked in 4,200 hours at the clinic and volunteers served for 8,900 hours.
"City staff joined hundreds of community volunteers organized by Auburn United Methodist Church to make the operation run as smoothly as possible," Anders said. "We were taking care of each other, keeping our businesses open and helping our community through a tough time."
Anders described the city's small businesses as the "backbone of Auburn" and showed appreciation for those who have weathered economic difficulties in the last year.
He also spoke highly of larger business and industry entering Auburn. AUBix, a $120 million dollar data center, is opening in Auburn Technology Park, and Buc-ee's and Publix are constructing new locations in the city. In light of those and other significant additions to the city, he named the city's Work in Auburn initiative that's taking shape as a welcome addition to the city.
"(Work in Auburn) will give the community easy access to all manufacturing jobs available in our city," he said. "During the last two years our industries have announced the creation of 796 jobs in a total capital investment of over $350 million."
The mayor spoke much about the City of Auburn's departmental efforts in the past year and its upgrades, such as the new Public Safety Building on Ross Street which also includes a new chamber for the Auburn City Council. He called attention to Megan Crouch's becoming Auburn's latest city manager and gave a farewell to Jim Buston, who departed earlier this year.
Anders called attention to multiple developments by Auburn Parks and Recreation including the recent grand opening of Dinius Park, plans to construct an inclusive playground at Town Creek Park and an expansion to the Jan Dempsey Community Arts Center.
"Our parks and rec department has certainly been busy and we are starting to see the fruits of the Parks, Recreation and Cultural Master Plan that was adopted in 2018," he said.
He noted several roadway improvements being performed by the city in its streetscapes and the Alabama Department of Transportation with projects like the Farmville Road roundabout opened in September.
Auburn City Schools hit a record enrollment of 9,221 students this fall semester, and Anders said the city school system has performed well in athletics and saw teacher Kimberly Johnson receive the Alabama Teacher of the Year Award.
"During the last fiscal year, the city made a significant contribution from the general fund in support of education," he said. "We have used the ad valorem revenue from the city's five mill fund to support recent debt service for school projects."
The mayor also focused on Auburn Public Library's opening of its microlibrary at the Boykin Community Center.
In addition, while the city is expanding beyond its "college town" title, Anders recognized Auburn University for its future Tony and Libba Rane Culinary Science Center as well as efforts to promote student entrepreneurship. He also acknowledged Auburn University President Jay Gogue's planned departure and said he is a member of the presidential search committee formed to find Gogue's successor.
"I assure you that I will do my best to represent the interest of our great city during this process," Anders said.
Each State of the City Address features the Mayor's Lamplighter Awards, and this year, Anders presented awards of recognition to six individuals in the Auburn community.
The full list of recipients and the reason for their award is as follows:
Pat Giddens, for her community volunteer work supporting those affected by dementia and her kindness to Auburn citizens.
Glen Gulledge, owner of Byron's Smokehouse, for his long-time restaurant becoming a community favorite.
LaDextric Oliver, teacher at Wrights Mill Road Elementary School and coach for Auburn High, in appreciation of his leadership.
Jani Price, member of Auburn United Methodist Church, who developed the idea for Park and Pray organized on top level parking deck.
Nolan Tolbert, church leader and Auburn Housing Authority board member, for bringing the northwest Auburn community together.
Greg Williams, head coach of the Auburn University equestrian team, for his founding of the equestrian team, which has gone on to win six national championships in 27 years.