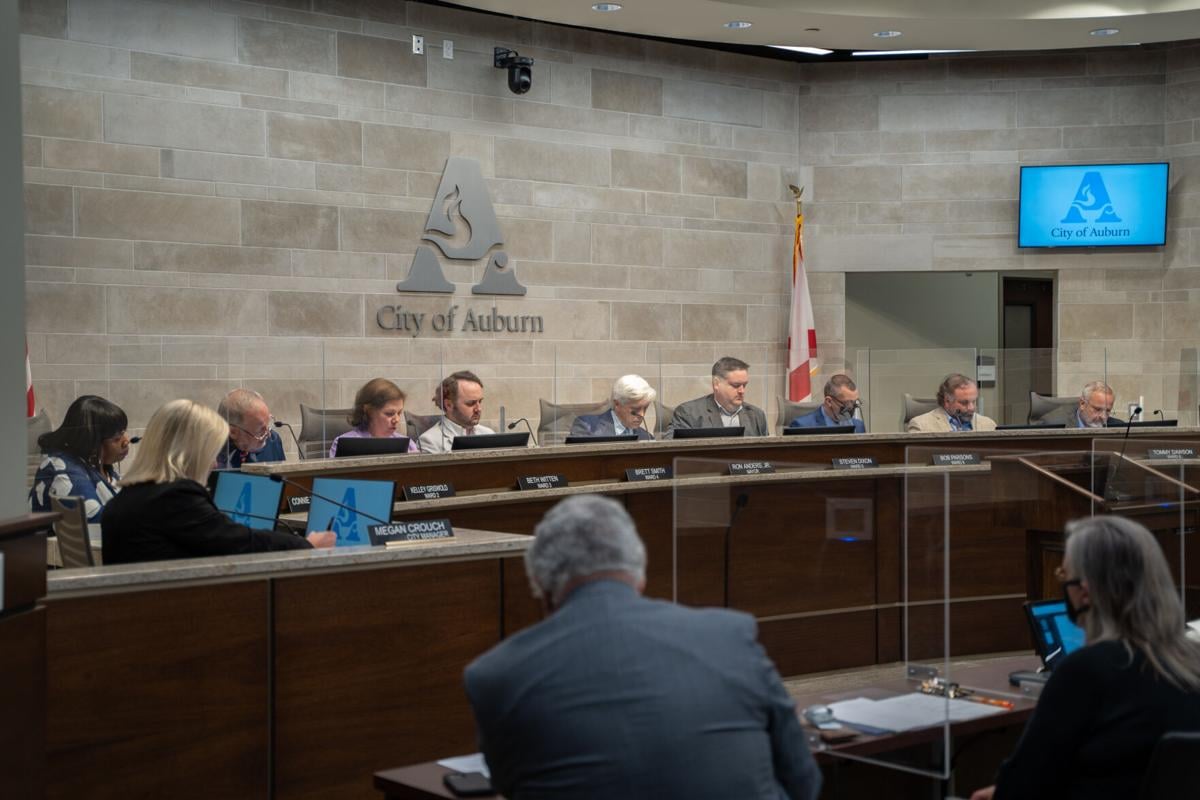 Incumbent and former Auburn City Schools Superintendent Dr. Terry Jenkins will serve a second Board of Education term and a short-term rental business license ordinance will have to wait following Tuesday's Auburn City Council meeting.
The Council met for its second in-person meeting since the beginning of the pandemic last March in the new Council chamber at 141 N. Ross Street for approximately 30 minutes.
Incumbent and former Auburn City Schools Superintendent Terry Jenkins will serve a second term after being nominated for the Board of Education appointment during the Council's Committee of the Whole and appointed later on in the regular meeting.
The Council voted 7-2 at its April 6 meeting to suspend the rules requiring an interview for the seat's appointment. Ward 2 Councilperson Kelley Griswold reiterated his objection to suspension of the rules and suggested a letter of apology be sent to the other applicants.
Jenkins' second term begins June 1, 2021 and ends May 31, 2026.
Community Block Grant Annual Action Plan approvedThe Council adopted the Community Development Block Grant Fiscal Year 2021 Annual Action Plan and funding recommendations for the $676,129 received from the U.S. Department of Housing and Urban Development.
"I do want to applaud you for taking such little money and stretching it out for many services," Ward 1 Councilperson Connie Fitch Taylor said. "Thank you."
Short-term rentals business license ordinance delayedThe City Council pushed back discussions to amend the City of Auburn Business License Ordinance to include a short-term rental business licensing regulations category after Ward 5 Councilperson Steven Dixon denied unanimous consent.
Dixon, a short-term rental owner, cited his need to discuss with City staff his ability to vote on the matter. He previously recused himself from the short-term rental regulations vote in March.
Section 2-4 of the City Code and Section 11-43A-24 of the Code of Alabama requires unanimous consent of the City Council to pass an ordinance at the same meeting at which it is introduced.
Under the proposed ordinance included in the ePacket, an annual business license fee is hereby fixed at an amount equal to a percentage of gross receipts set at a quarter of 1% (gross receipts multiplied by .0025), provided that the minimum business license fee shall be $100 for businesses that fall into one of the two categories: short-term non-primary rental or homestay as defined in the zoning ordinance.
The short-term rental business license ordinance is expected at an upcoming Council meeting.
Other businessIn other business, City Council amended City Code to reconcile the City's regulations for vehicles for hire with the State of Alabama law regarding app-based ride share services like Uber and Lyft, or Transportation Network Companies (TNCs).
The State of Alabama passed legislation regulating Ubers, Lyfts and the like and therefore limiting municipalities from regulating or licensing them in 2018 the City Council passed the current ordinance on August 2, 2016.
While the state takes over local authority to license or regulate in-town TNCs, municipalities with an existing ordinance like Auburn are allowed to request auditing and public safety-related information within certain parameters.