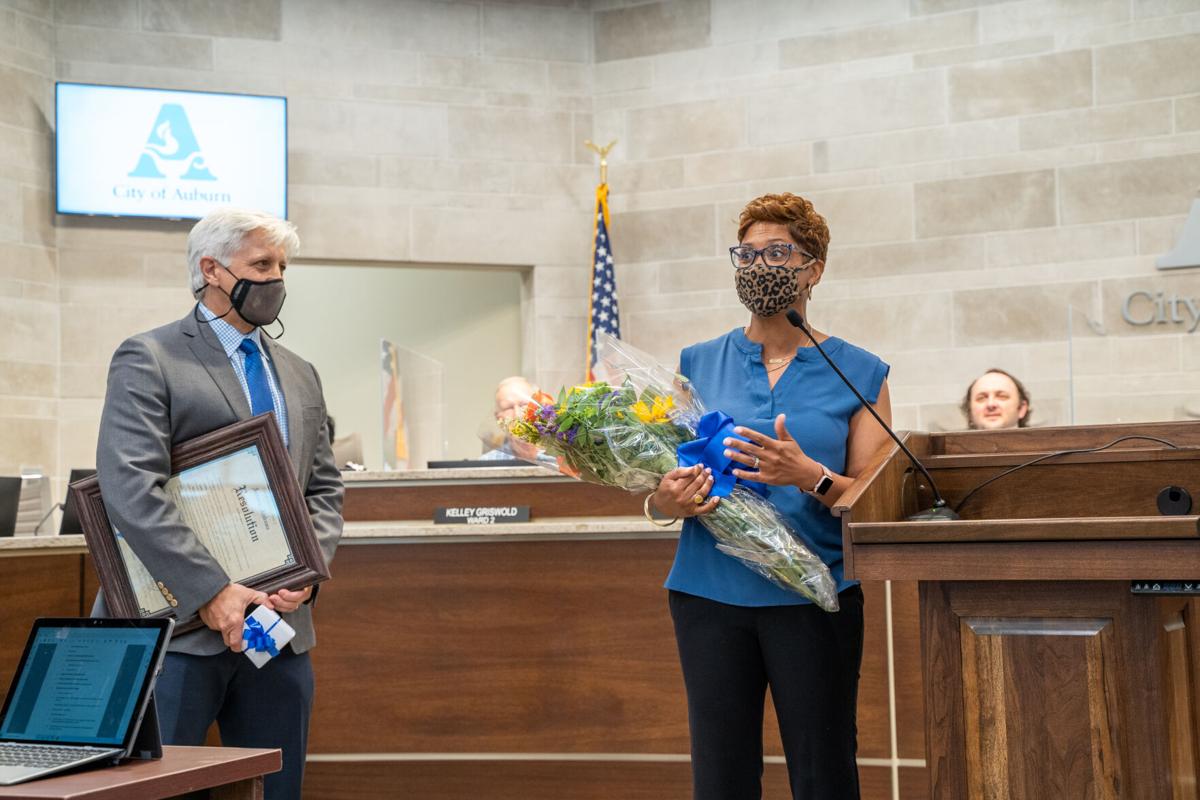 Mayor Ron Anders and the Auburn City Council recognized and thanked Auburn Junior High School teacher Kimberly Johnson at their meeting Tuesday for her work in education after she was recognized as the 2021-2022 Alabama Teacher of the Year.
"This past week our city, our school system, our children and our families were honored to be a part of the same system that the best teacher in the state of Alabama works in," Anders said. "Kim has been a special part of our community for many, many years, and to think that of all the great teachers in this state who'd give their lives to teaching all of our wonderful children across the state of Alabama, that she was recognized by her peers and people in educational leadership positions in Alabama as the very best teacher is just awesome."
Johnson, who taught language arts for 18 years and now teaches study skills to students at Auburn Junior High School, was awarded a bouquet of flowers and a key to the city from the mayor before being applauded by all in the council chamber.
"I am honored and blessed to be a part of this city and this community," Johnsons said. "I'll tell anybody that the way we teach kids, the way we approach education and how we take care of our students no matter where they come from is important, and it's a model for other people. … I love our kids and believe in them, and it's important that teachers in this state understand that."
After being named teacher of the year on Aug.11, Johnson will now serve as the state's official ambassador and spokeswoman for public education and the teaching profession, and she will be an official candidate for the National Teacher of the Year Award.
Ward 7 Councilmember Jay Hovey praised Johnson and the work that Auburn City Schools did for the children and families of the city.
"This city has benefited, profited and blossomed because of our school system for the last two generations, and I mean that seriously," Hovey said. "We've heard a lot of conversation the last couple of weeks about our school system, but I want them to know … that I fully support them in general, and our city wouldn't be what it is without our school system."
Ward 3 Councilmember Beth Witten also praised the work that Auburn City Schools did for the city as well as her own daughters who went to school here.
"We don't celebrate them enough publicly," Witten said. "When we hear parents voice their concerns, and rightfully so, it seems to drown out the goodness that happens on a daily basis, and I just hope that as our community continues to flourish and celebrate the goodness of our schools that we acknowledge the leadership, top to bottom, is why we thrive. … Mrs. Johnson is representative of the goodness and excellence of all teachers and leadership of Auburn City Schools."