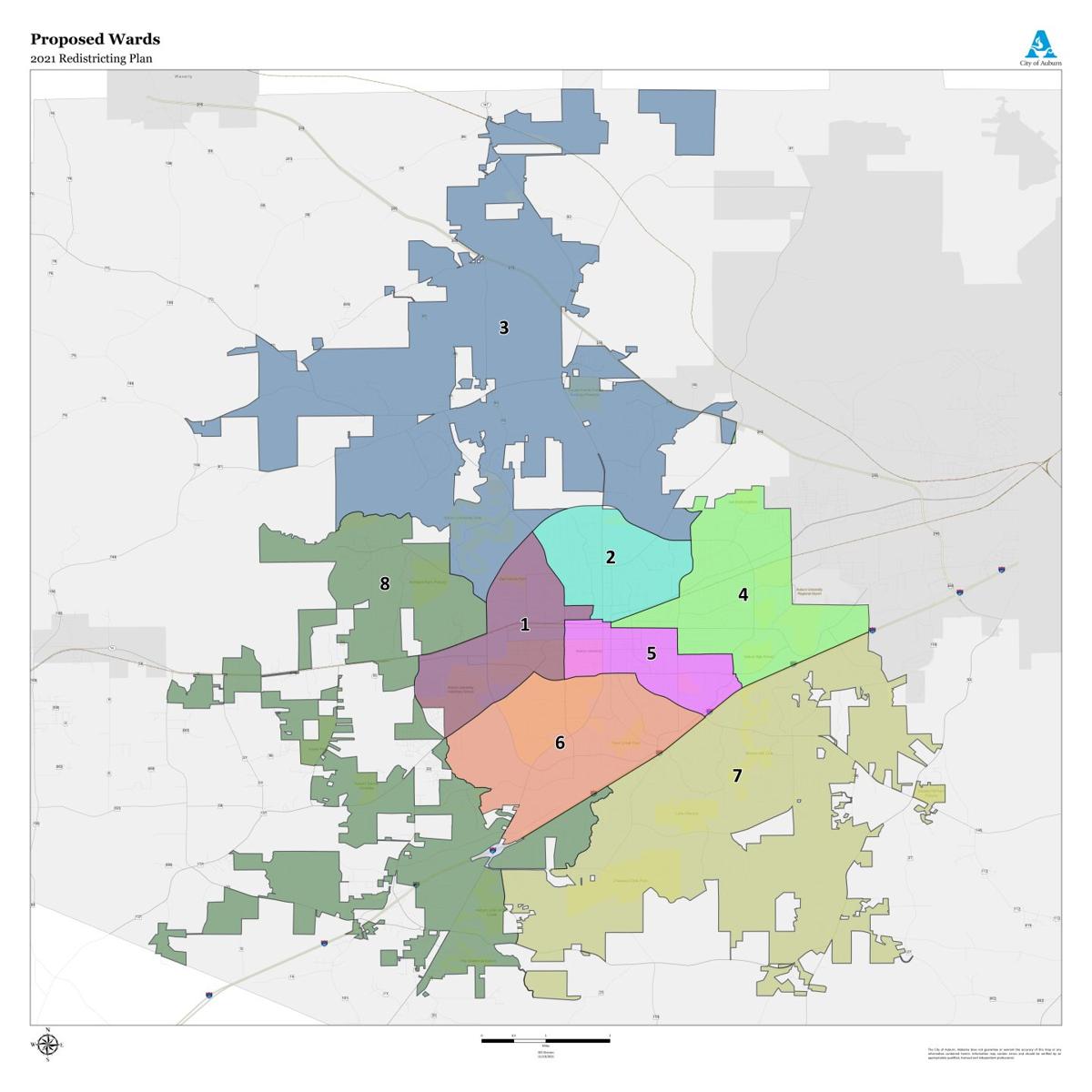 Auburn's plan to redistrict its voting wards has been delayed again, to the City Council's next meeting, as the city evaluates an alternative map from the local NAACP branch, but this time the plan wasn't without new concern from some residents.
Multiple Auburn residents voiced their worries at Tuesday's City Council about two things: the redistricting consultant on retainer by the city attorney and the existence of multiple polling places per voter. The comments came as council members voted unanimously to postpone both the public hearing and the vote on redistricting to their Jan. 18 meeting.
Auburn City Attorney Rick Davidson brought on Balch and Bingham attorney Dorman Walker to act as a consultant for Auburn's redistricting, but Walker's past correspondence with the late Thomas Hofeller was raised at the council meeting. Hofeller was a political strategist who gained notoriety in the 1970s and 1980s by gerrymandering to allegedly reduce Black voter power and simplify elections for Republicans, according to the New York Times.
Hofeller contacted Walker during Alabama's state redistricting process in 2011, which saw federal courts rule against the state as legislators had applied race in drawing a dozen voting districts, per a Montgomery Advertiser article in 2019.
Warren Tidwell, community resilence and outreach director for the Hometown Organizing Project, spoke before the City Council to say Walker's past associations with Hofeller muddy the nonpartisan aim of the city's redistricting.
"I have followed the state government's redistricting process closely this year and have been appalled at the lack of transparency, accountability and brazen partisanship," Tidwell told council members on Tuesday. "One committee member said they didn't think it was possible to have a nonpartisan redistricting effort and not have politics be a part of it. That committee member was attorney Dorman Walker."
City Manager Megan Crouch said in a rebuttal to Tidwell's comments that Walker had no role in drawing the City of Auburn's proposed redistricted map and that it was drawn internally by city staff.
"The staff drew the districts based on data and data only in the federal law that I have repeatedly informed the council that we have followed," Crouch told the council. "The only role Walker has played is being on retainer of the city attorney, which we retain consultants every day of the week to do city business. His role has been to tell us whether the districts meet the law."
Crouch said the redistricting plan is not her office's plan but is the city's plan by state law which the City Council is considering. She added that the council does not have the ability to fire consultants.
"The retention of Walker is only through the city attorney," she said. "I did not surf the internet and seek out redistricting consultants — this was based on a discussion that happened over the summer about getting it right, and I believe we have gotten it right and proposed an absolute, very solid redistricting plan in meeting the law."
On the voting effects of redistricting, Carolyn Carr, an Auburn resident with a history of serving as a chief inspector of local polling places, told council members she wants the city to better collaborate with Lee County to ensure citizens can have more consistency in where they vote. She said citizens are often assigned to a different polling location depending on whether an election is local, county, state or federal.
"Ten years ago, the city redistricted our wards without working with the county to shim up the lines between the beats and the boxes and the actual ward boundaries so they no longer matched. This led to some real problems," Carr told the council. "In the first election after that redistricting, we had so many people coming in confused about where they were supposed to be voting."
Carr said she and other concerned citizens have brought up the issue to city officials since 2010 but it hadn't been addressed as late as the 2020 presidential election. She said in this year's redistricting, she's more concerned about the city and county working together to ensure the situation is resolved over the boundaries of the wards.
"I really have a feeling that we've lived through a stupid decision 10 years ago and we may be heading into another similar decision of having these various polling places," Carr said.
Crouch later addressed Carr and said the City of Auburn has been in touch with Judge Bill English, chair of the Lee County Commission, in its handling of the city's redistricting after the commission adopted a county redistricting in late November. However, she said the city can't base city ward boundaries on the county map and has to finish its redistricting process before evaluating polling places.
"We're growing rapidly and things in Auburn are changing," Crouch said. "People … may think Joe Lovvorn represents them, (but) it now may be Pebblin Warren or it may be other things. As best we can we'll do multiple postcard mailings, (but) I cannot guarantee polling locations are going to align."
The city is working with Auburn University to set up a polling location on campus for future elections, which Crouch said may help alignment with the county in joining voters in multiple wards.